The Daily Escape: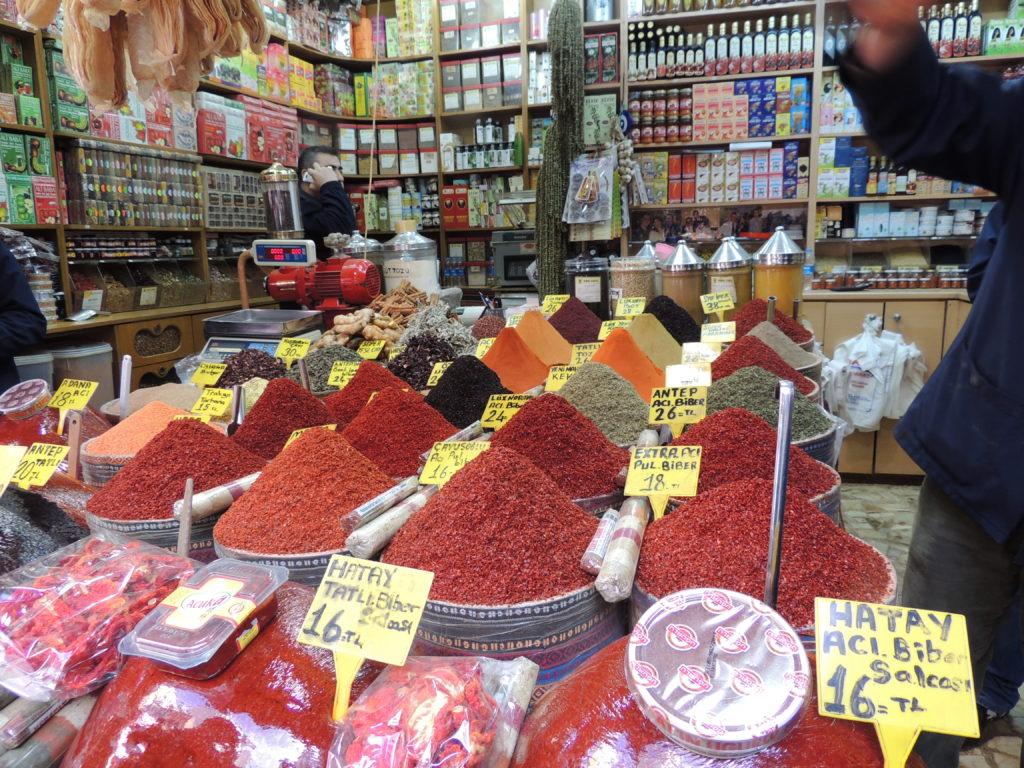 Spice market, Grand Bazaar, Istanbul – 2013 photo by Wrongo
The struggle between the neocons and Trump over control of foreign policy has become ridiculous. The WSJ's Dion Nissenbaum reported on Sunday that John Bolton asked the Pentagon to provide military options to strike Iran:
The request, which hasn't been previously reported, came after militants fired three mortars into Baghdad's sprawling diplomatic quarter, home to the US Embassy, on a warm night in early September. The shells—launched by a group aligned with Iran—landed in an open lot and harmed no one.
Bolton's team held a series of meetings to discuss a forceful American response. Their request triggered alarm. The WSJ reported:
People were shocked. It was mind-boggling how cavalier they were about hitting Iran.
More:
The Pentagon complied with the National Security Council's request to develop options for striking Iran, the officials said. But it isn't clear….whether Mr. Trump knew of the request or whether serious plans for a US strike against Iran took shape at that time.
If that isn't serious enough, the WSJ reported:
Alongside the requests in regards to Iran, the National Security Council asked the Pentagon to provide the White House with options to respond with strikes in Iraq and Syria as well.
Anyone surprised that someone like Bolton, with his neocon bone fides wants war with Iran? Since Bolton took his post last April, the Trump administration has been more confrontational with Iran. Some will say that the Pentagon already has detailed plans drawn up for a strike against Iran, and that this is completely routine for our military.
That may be true, but a request from the White House is a different matter. Bullies love to taunt the weak, but Iran isn't weak. The Iranian military wouldn't be the pushover for us that the Iraq army was. They are much better equipped, motivated and have a healthy stock of air defense missiles.
And where is our strategy? Once you send a few bombs into Iran, you've started a war, and you never know where it will go. Suppose the Iranians consider (probably correctly) that it was Israel's influence on the Trump administration that led to the US attack.
And they launch a few missiles at Israel. What would happen next? Would Hezbollah again move against Israel too? If the US attacks Iran, then there is no reason whatsoever for Iran not to attack the various US military units scattered around the Middle East in places like Iraq, Afghanistan and Syria.
And who would the Russians side with? If Russia intervenes, is the US prepared to lose an aircraft carrier in the Mediterranean?
Finally, how would the conflict end? Iran can't be occupied by the US, and there isn't a significant loyal Iranian opposition to back.
Surely even Trump must realize that Bolton's idea is lunacy squared. It would be a major ME escalation, with Trump's name all over it. It would sink his 2020 chances. How would he justify his response to a few mortars that landed in a car park? How would he justify the certain loss of American lives?
We have to be thankful that Trump didn't authorize military strikes against Iran, but it is time to revisit our alliances and policies in the ME.
We back our loyal ally Saudi Arabia, and have made Iran our enemy. But let's compare these two countries: Would you believe that Iran has a Jewish population that feel safe there, and has no interest in living in Israel?
In Saudi Arabia, if you renounce Islam, it can be a death sentence, as we saw with the Saudi young woman who sought asylum in Canada.
Women have careers in Iran, and can drive cars. In fact, there's a female owned and operated taxi company in Tehran with 700 female drivers. Women in Saudi Arabia have few freedoms.
Iran has taken in refugees from the recent ME wars. Saudi Arabia has taken virtually none from Syria or Yemen, where they are perpetuating a humanitarian nightmare.
Iran is a multicultural country. Saudi Arabia is a medieval monarchy that has been exporting the most extreme version of Islam (Wahhabism) around the world, fueled by their oil money. Many of the jihadis in the past few decades can be traced to Saudi's Wahhabi teachings.
If you have a choice, and you will in 2020, which country sounds like a more attractive ally for the US?
When are we going to stop our failed "Assad must go"; "Gadhafi must go"; "Saddam must go"; and "Mubarak must go" foreign policy?
We shouldn't even be thinking about bombing Iran.