The Daily Escape: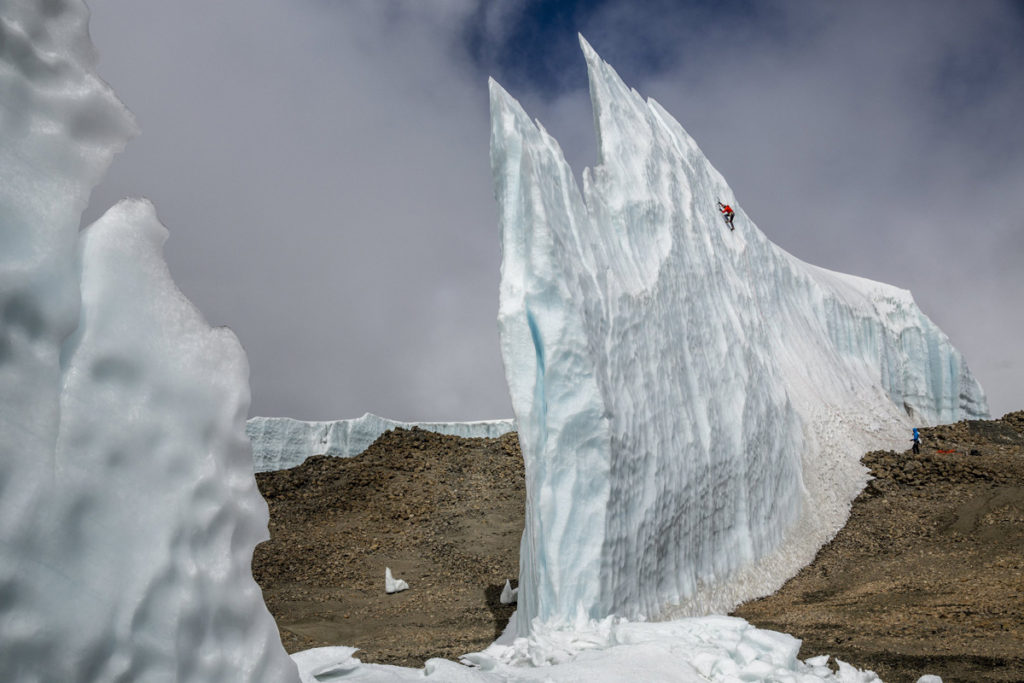 Ice climbing remnant glaciers on Mt. Kilimanjaro, Tanzania – 2018 photo by Christian Pondella. The climber, (upper right) Will Gadd, said: "We were climbing ice that is easily 10,000 years old and isn't going to be there next week….We camped up on top of Kilimanjaro for about five days, and some of the things we climbed on, we came back and they had fallen over."
Now that the key non-findings of the Mueller Report are known, the first thing we are hearing is that Mueller found no conspiracy with Russia. Unless the House committees turn up something that Mueller didn't, there won't be any legal consequences for Trump, his spawn, or what remains of his inner circle.
The Attorney General's conclusions are that the Mueller report says Trump neither colluded with Russia, nor obstructed justice. This will help Trump and the GOP, who are already crowing, "EXONERATION!"
Like many others, Wrongo is disappointed that Muller didn't give us a quick, clean end to the horror of this administration. This disappointment marks the third time in the past 20 years that Wrongo has felt the country was wobbling on its axis because of the GOP.
The first time was in 2000 when the Supreme Court gave the presidency to Bush II. That was a terrible outcome for our democratic process, one that led to a gigantic strategic error, as Bush 43 took us into war in the Middle East.
The second was Trump winning the presidency in 2016. Everything that has happened since that November night was predictable, and again, we are a weaker, and a more divided country as a result.
Now, the Mueller report represents the third time that America has been divided by our anachronistic system. Now, we've had three occasions where we trusted that our system would make crucial decisions that had enormous impact on our democratic system, and in each case, our trust was misplaced.
Today's news was the worst case scenario. While Wrongo has never believed that Russian election interference changed the outcome of the 2016 election, he thinks there was a quid pro quo with the Russians regarding a possible Moscow Trump Tower in 2016.
We all hoped AG Barr might rise to the occasion. Instead, Barr (and not Mueller) made the call on obstruction. Instead, Barr (not Mueller) cast the lack of proof on collusion by narrowing it to solely collusion with "the Russian government." Apparently, the Trump Tower quid pro quo wasn't on the table.
That said, we have to hope that all of this may turn out for the best.
Barr's letter may not be the final aria sung by the metabolically challenged diva. She may return to the stage in due time. The Mueller/Barr punt says this is now Congress's job to sort out.
Wake up America! Now we must acknowledge that we're in a war to reclaim our system of government. To win the fight requires America to take control of the Congress and the White House away from the GOP in 2020.
And it can't be by razor-thin margins, or there's a decent chance the Democrats will be outplayed again.
This is a necessary battle. If it isn't won, our country will continue to spiral out of control. It isn't just about getting Trump out of office through the democratic process. This is a fight to reaffirm who we are as a country.
This is a battle we have to fight.
Let's go.