The Daily Escape: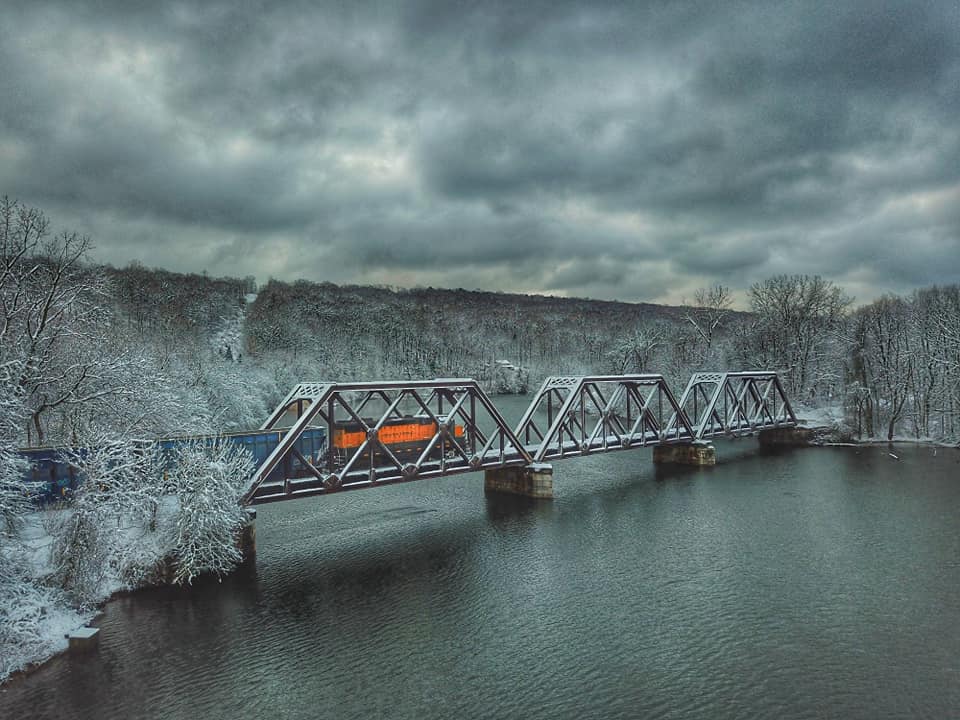 Railroad bridge over Housatonic River in snow – 2019 photo by Quadco Joe
We start driving back from sunny, warm FL this am. While you are having coffee and listening to music, we'll be once again driving by a few Civil War battlefields. But today, let's talk about Paul Manafort. On Thursday, Trump's former campaign manager and a one-time lobbyist for unsavory people, was sentenced to 47 months on tax evasion, when the sentencing guidelines called for something like twenty years.
Manafort was sentenced to four years, just like the rest of us. But his seems lenient, while ours seems harsh.
Manafort's judge was T. S. Ellis III, of the Eastern District in Virginia, who isn't a model of judicial consistency. Few remember Rep. William J. Jefferson (D- LA), who was convicted of corruption. He was sentenced in 2009 to 13 years by Judge Ellis, who said that he hoped Jefferson's punishment would serve as a "beacon" to warn other public officials not to succumb to corruption.
Ellis gave Jefferson the longest corruption sentence ever for a member of Congress. It was five years longer than a different judge gave former Rep. Randy "Duke" Cunningham, (R-CA), after he plead guilty to more egregious charges, of steering defense contracts in return for bribes.
After the Supreme Court's 2016 decision in McDonnell v. United States, which narrowed the definition of public corruption, Mr. Jefferson appealed his conviction. Judge Ellis threw out 7 of the 10 charges against him, accepted Jefferson's plea on the three remaining counts, and sentenced him to time served. In total, Jefferson served five and a half years.
Think about it: Ellis made an example of Jefferson, while sending the opposite message with Manafort's sentence, and ignoring sentencing guidelines. Ellis said: "He's [Manafort] lived an otherwise blameless life." Franklin Foer in The Atlantic debunked that:
"In an otherwise blameless life, Paul Manafort lobbied on behalf of the tobacco industry and wangled millions in tax breaks for corporations.

In an otherwise blameless life, he helped the Philippine President Ferdinand Marcos bolster his image in Washington after he assassinated his primary political opponent.

In an otherwise blameless life, he worked to keep arms flowing to the Angolan generalissimo Jonas Savimbi, a monstrous leader bankrolled by the apartheid government in South Africa. While Manafort helped portray his client as an anti-communist "freedom fighter," Savimbi's army planted millions of landmines in peasant fields, resulting in 15,000 amputees.

In an otherwise blameless life, Manafort was kicked out of the lobbying firm he co-founded, accused of inflating his expenses and cutting his partners out of deals.

In an otherwise blameless life, he spent a decade as the chief political adviser to a clique of former gangsters in Ukraine. This clique hoped to capture control of the state, so that it could enrich itself with government contracts and privatization agreements. This was a group closely allied with the Kremlin, and Manafort masterminded its rise to power—thereby enabling Ukraine's slide into Vladimir Putin's orbit."
There's more, but you get the drift. People will argue that Manafort wasn't charged with ruining the world, he was charged with tax evasion. And that using one crime to punish others the subject was not charged with is not a good practice.
True, but had Judge Ellis heard about Al Capone?
And giving less than one quarter of the recommended punishment says that Ellis, a Reagan appointee, saw the Republican in Manafort, while he saw the Democrat in Jefferson.
Time to leave the world behind and line up for your Saturday Soother. Let's start by sampling the AK-47 Espresso Blend from Black Rifle Coffee, a veteran-owned coffee company who calls their products "freedom fuel". Wrongo saw their billboard while driving through North Carolina, and doesn't want to hear any comments from wussy liberals about how the South is different.
Now, settle into your most comfortable chair and listen to Pablo Villegas, playing "Recuerdos de la Alhambra" (Memories of the Alhambra) by Spanish composer Francisco Tárrega, live at Philadelphia's Kimmel Center in 2013:
The piece showcases the challenging guitar technique known as tremolo.
Those who read the Wrongologist in email can view the video here.