The Daily Escape: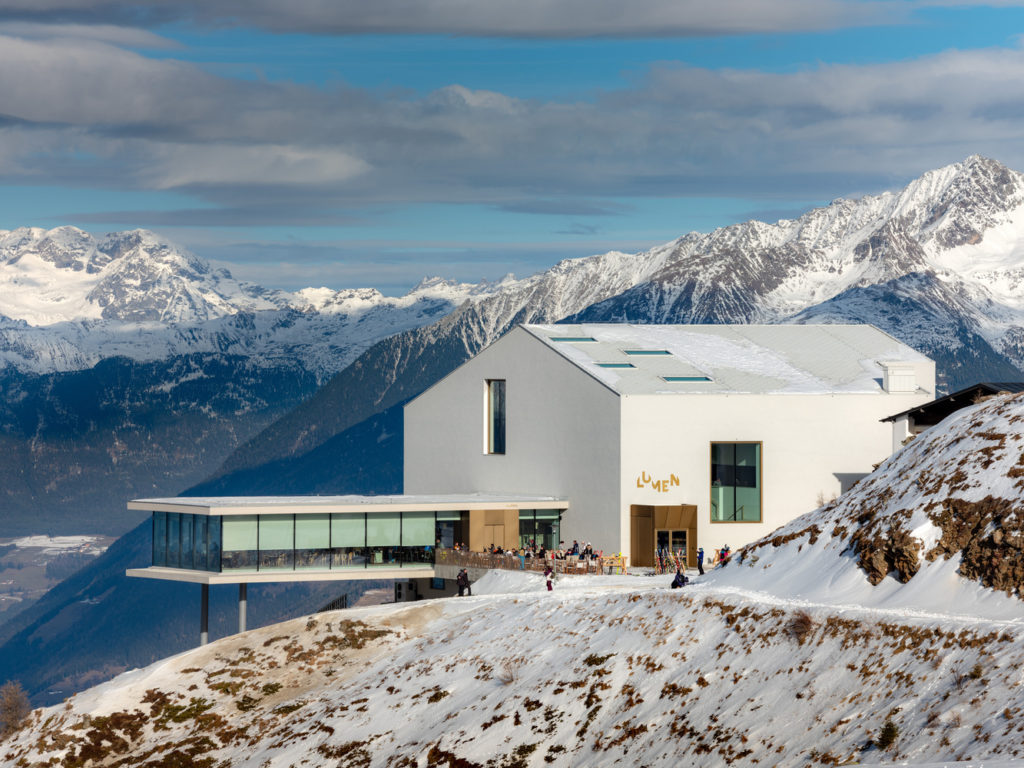 Lumen Museum of Mountain Photography, Italy – 2018 photo by Marco Zanta. The glass-enclosed extension is a restaurant.
Every Democratic candidate for the 2020 nomination is discussing domestic policy: Medicare for All, Free College, and all of the other jump shifts in policy, but what about global politics?
Biden isn't unique among candidates in saying the 2020 election is about a return to the way things were before Trump, the Economist reports:
"'This too shall pass,' Joe Biden told America's allies at the Munich Security Conference in February. 'We will be back.' The applause he received reflects a longing to return to a world order that existed before President Donald Trump started swinging his wrecking ball."
It is problematic to rely on the ideas of a Clinton operative, but the Economist quotes Jake Sullivan, a 2016 Hillary advisor who says that the thrust of the Democrats' foreign policy approach is simple: reverse much of what Trump has done. Sullivan talks of a "back to basics" approach: Value alliances, stress diplomacy:
"Compared with domestic policy….there is less focus on new ideas."
All of the Democratic candidates would rejoin the Paris climate agreement. They would rejoin the Iran nuclear deal, possibly with new pre-conditions for lifting sanctions. All would reassure NATO allies of their full commitment to the alliance.
Most Dems agree with Trump's more confrontational approach to China. However, they would ask America's allies to work with us on the outcomes.
Biden has a long foreign policy track record. He proposed cutting Iraq into three states for the Sunni, Shia and Kurds. He wanted to arm the Ukrainians against Russia. He opposed the surge in Afghanistan, and the intervention in Libya.
The other candidates have said less, and have no distinctive foreign policy positions.
It would be great if we actually talked about foreign policy in the 2020 primaries. Let's take a step back and remember 1991. After the fall of the Soviet Union, the world's other nuclear-armed superpower, we became the sole superpower. Until then, our strategy had been to contain the Soviet Union, but afterwards, lacking a global competitor, neither Party put forth a coherent global strategy.
We blundered into the Middle East with the Gulf War in 1991. After 9/11, we attacked Afghanistan and Iraq. We then hatched the war on terror, and subsequently expanded our globalized military across the world. And when the ledger finally closes on our expenditures in Iraq and Afghanistan, the cost will approach $4 trillion.
Had we spent that amount on domestic priorities, we could have shored up Social Security and Medicare for a generation. We could have paid for the repair of our crumbling infrastructure. Instead, we've emerged from our Middle East blunder with two global competitors, China and Russia, along with a huge fiscal deficit. Neither had to happen.
America has failed to see the connections between our global strategy and domestic strategy. Providing incentives to our multinational corporations that enabled them to make goods abroad has marooned large swaths of our domestic workers.
A reasonable question to discuss is whether we can continue supporting globalization while building good jobs in the heartland of America.
And there should be a real debate regarding Trump's foreign policy. He has sided more closely with Israel. He's walked out of the Iran nuclear deal. He's threatened Venezuela with possible "military options" that are being seriously discussed at the Pentagon.
Over the weekend, the Israelis told Bolton and Pompeo that the Iranians are preparing to attack the approximately 5000 US military personnel in Iraq. That may or may not be true, but it led to Pompeo visiting Baghdad.
Do American voters want another war in the Middle East? Trump is daring Iran to fully withdraw from the Nuclear Deal. Who will become the fall guy if there is an Iranian closing of the Straits of Hormuz? Trump, or Iran?
Trade talks with China seem stalled. North Korea's recent missile tests press Trump's bet on a deal with NK. Surely Kim is carefully watching Trump's moves in the Middle East.
Then there is Russia. The Dems overreached with Russiagate, but the Russians are working with Syria to eliminate one of the last places in Syria (Idlib) where terrorists still hold sway. Neither Israel nor Bolton seem to want a stable Syria. Will they try to force Trump to obstruct this important operation?
Debate by Democrats may focus on military spending, with some wanting to cut it, and the mainstreamers being more cautious. A new policy towards the Middle East, and Israel in particular, should be discussed.
Regardless, Trump will surely attack Dems as "soft" on national defense.
But Democrats should thoughtfully challenge the Right-wing assumption that America must have a military-first strategy, rather than a diplomacy-first strategy.
We're stretched thin trying to have a military presence everywhere in the world. It's worth a real debate.