The Daily Escape: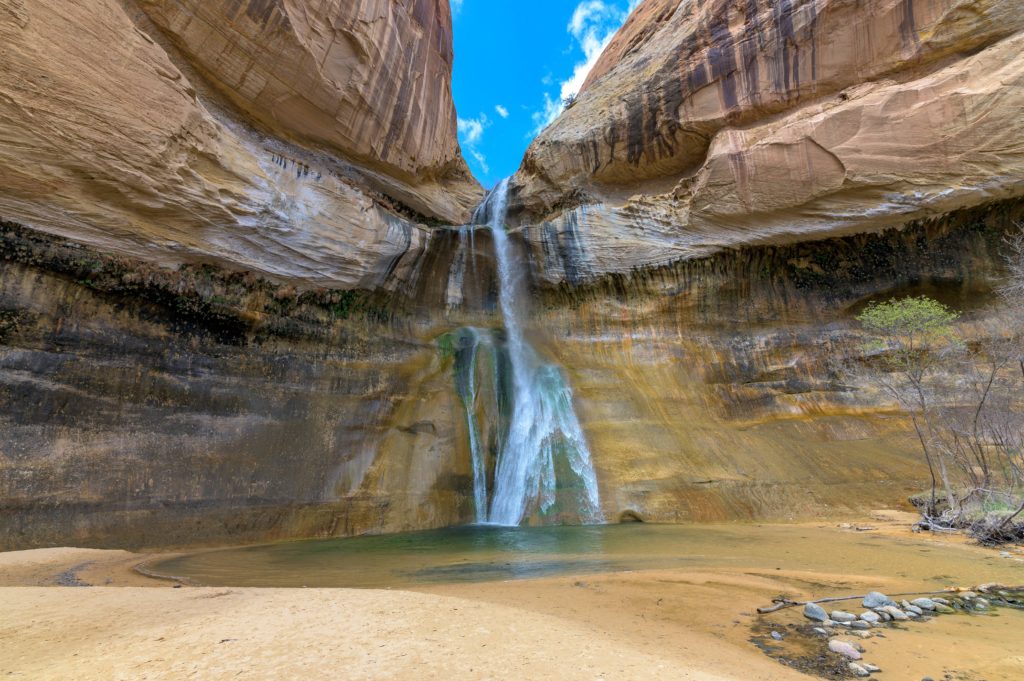 Calf Creek Falls, Grand Staircase Escalante NP, UT – 2019 photo by Foobucket
The question is, how will we avoid four more years of Trump? The simple answer is electing a Democrat as president in 2020. And looking at 2020 presidential polling from 538, Biden is up big against the rest of the Democratic field, and in some polls, wins head-to-head vs. Trump.
The average of polls by 538 makes it pretty clear that Biden's the frontrunner. They also have a good summary of the key state-by-state polling, which isn't quite as good for Biden, but, it doesn't show any other candidate as particularly strong. Biden is +21 on the Democrats in Iowa, Sanders is +6 over Biden in NH, and Biden is +36 in SC. In CA, Sanders is +1 over Harris, although a new, smaller Quinnipiac survey of 484 registered voters has Biden leading at +8.
None of this is reason to jump on the Biden Express. Frontrunners at this stage can win but many don't, as we outlined here.
Wrongo thinks that Biden is a vulnerable frontrunner, but a path to victory for Biden is emerging: Since his announcement, he's getting more cable media coverage than all the other Democratic candidates combined. The problem for most of the non-Biden candidates is that they are, like Biden, running to "restore" the Obama coalition. That group includes Cory Booker, Beto O'Rourke, Pete Buttigieg, Kirsten Gillibrand, Kamala Harris, and Amy Klobuchar.
The question for these candidates is how to differentiate themselves from Biden: all are younger, and all are less left-leaning than Sanders and Warren. But few have gained traction.
One small thing that people forget about Biden is that he introduced the Comprehensive Forfeiture Act that has enabled cops to steal more from Americans via Civil Asset Forfeiture than robbers can. Apparently, Biden continues to support it.
Here are Jamelle Bouie's "electability" arguments for Biden:
"The case for Biden's unique electability rests on his overall popularity as vice president to President Barack Obama and his particular appeal to the blue-collar whites who backed Trump in the 2016 election. Fifty-six percent of Americans said they had a favorable view of the former vice president in a February Gallup survey, including 80 percent of Democrats. A more recent poll, from CNN, shows Biden leading Trump in a hypothetical matchup, 51 percent to 45 percent. That same poll shows Biden losing blue-collar whites by just 13 percent, a better margin than his competitors' and a huge improvement over Clinton's 37-point deficit against Trump in 2016."
Sounds good, but Jamelle Bouie also says:
"Biden, like Clinton, is extremely vulnerable to Trumpian forms of faux-populist attack. He is a 36-year veteran of Washington who backed the Iraq War, cultivated close ties with banks and credit card companies and played a leading role in shaping the punitive policies that helped produced mass incarceration…..Trump can slam him on these issues and sow division among Democratic voters. It's how he won in 2016…"
Also, Anita Hill. Bouie also points out that like Biden, Hillary Clinton was widely admired by the public at the start of her campaign. In 2012, 65% of Americans said they had a favorable view of her. This, of course, did not last. By November, 2016, Clinton was the second-most unpopular nominee in history, next to Trump.
Biden's front-running in the polls shows just how nervous moderate Democrats are. Their sole objective is to win the White House. The 2016 election should have been a wake-up for Democrats, but a lot of them really believe that everything back then was OK, except that Trump was elected.
Dems also think that once Trump's gone, everything will be "restored" to the status quo ante. That's a fantasy. Trump won because Republicans and quite a few Obama Democrats liked his policies and his rhetoric. Many of them will likely vote for him again in 2020. Besides, the GOP controls the Senate.
Biden isn't Wrongo's favorite candidate. That person will be the one most likely to expand the Democratic base by much more than the 80,000 votes in PA, WI, and MI that cost Hillary the 2016 election. That candidate will have long coattails that keep the House majority and can bring the Senate into play.