The Daily Escape: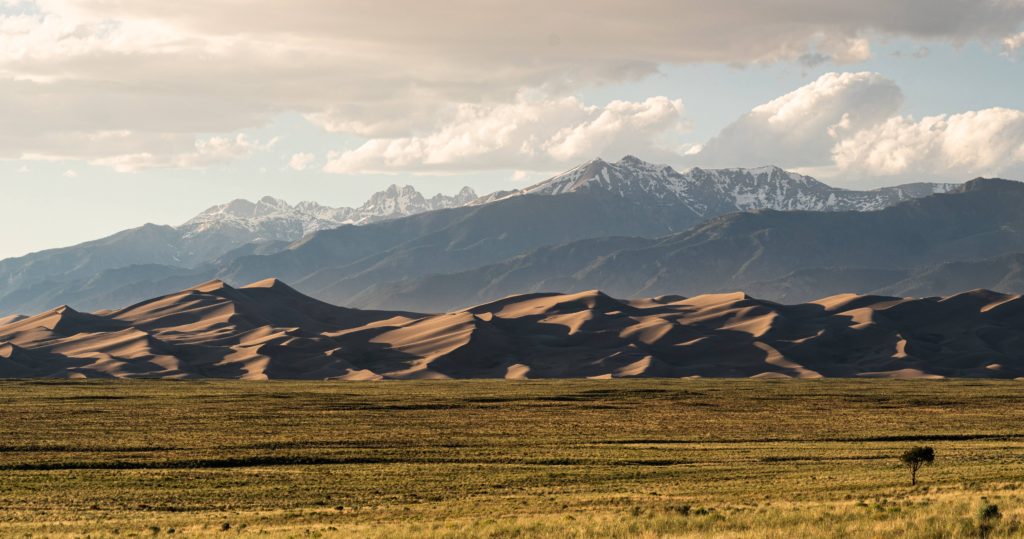 Great Sand Dunes, Colorado – 2019 photo by VincentLedvina
Whomever the Democrats nominate for President must share their vision on immigration. Democrats need to have clear answers about how we got here, and how Trump is making it worse. And they have to say what we should do about it.
The American voter barely pays attention, but they are persuadable by big ideas that are communicated clearly.
The UN reports that a quarter of a billion people worldwide are immigrating. Moral considerations aside, the developed world needs to deal with migration on an epic scale over the next 20 years. This is partly due to climate change in the global South, and is partly due to mass destabilization caused by tribal warfare throughout the third world.
These factors create two kinds of migrants: economic migrants seeking a better life, and refugees fleeing personal danger. The WaPo reports that we're seeing huge numbers of migrants: (brackets by Wrongo)
US Customs and Border Protection statistics …show more than 144,000 migrants were taken into custody [in May], a 32% jump from April. It was…the largest one-month arrest total since…Trump took office, and it was the highest monthly figure in 13 years….May was the third month in a row that border detentions topped 100,000, led by record-breaking levels of illegal crossings by Guatemalan and Honduran parents bringing children.
Some 45 million foreign-born people now make their home in the US. About 12 million live here illegally. Globally, immigration is remaking nations on a world-altering scale.
Politicians throughout the developed world are aware of these trends, and either deny their existence, or are calling for draconian policies to protect their borders and keep migrants out. In America, we see some people who want open borders and many who want the borders closed.
Wrongo witnessed how open borders work in Eastern Europe last year. The EU has the Schengen policy that allows cross-border migration throughout Europe. Poland and Hungary continually lose educated, younger workers to Western Europe, because pay and working conditions are better. Open borders have caused Poland's and Hungary's populations to skew older, and less skilled.
America needs a comprehensive policy that deals humanely with all types of migrants, but we must secure our borders. We can't have open borders.
How should we secure our borders? We need physical border control in all high traffic areas, and we have to add border enforcement wherever it is easy to cross unimpeded.
Democrats should take Trump's wall off the table for 2020. Its cost is a rounding error in the annual budget, and more security is better than less.
We need a hard annual cap of immigrants to the US. It could be high, say 1 million, or lower. The level is worth a serious debate.
Once the cap is exceeded, anyone trying to enter will be returned to their home country.
We should give preference to those immigrants who have demonstrable skills or educational preparation. American economic growth relies on the skill and productivity of our people. When an immigrant joins the American economy, that person is asking us to honor a multi-generational commitment to him/her and to each of his/her descendants. We should be selective.
We should continue having geographic quotas that apply against the overall hard cap.
We should expand work, temporary work and student visa quotas.
We should deport any immigrant convicted of a serious crime either in the US, or in their home country.
We should provide amnesty to all law-abiding illegal immigrants now resident in the US.
Any illegal migrant who is physically in the country must be treated humanely and with respect until their case is adjudicated. Cages must go.
To accomplish this will require a substantial financial investment to support migrants who the border patrol is apprehending. We'll need more case workers, immigration judges, medical staff, and substantially increased, and humanely built and operated facilities.
This will cost billions, but eventually, the bulge of migrants attempting to enter may decline, and we will then be able to cut back on the level of services.
Pushing our border control back on Mexico is a partial solution. Trump is correct about that. His gratuitous brutalities shock our conscience, and fail even on their own terms. Intended as deterrents, they are not deterring.
If Mexico can cut off a portion of the illegal immigration before migrants try to enter the US, we are better off, but Mexico is worse off. It would be easier to get Mexico's support via cooperation, rather than by coercion via tariffs.
Democrats want to restore development funding for Guatemala, Honduras and Nicaragua. That's a fine idea, but we should not expect that it will achieve much of a decrease in economic migration. Most of the funding will be siphoned off by the governments and by local criminals. Little will reach the target.
America needs a bipartisan immigration solution. If we weren't paralyzed by partisan rancor, we would already have one. Controlling immigration, and selecting the immigrants more carefully, enables us to quickly and successfully absorb those who come here, and to ensure equality of opportunity to both the newly arrived, and the rest of us.
Our goal must be to make everyone feel that they belong to one nation.