The Daily Escape: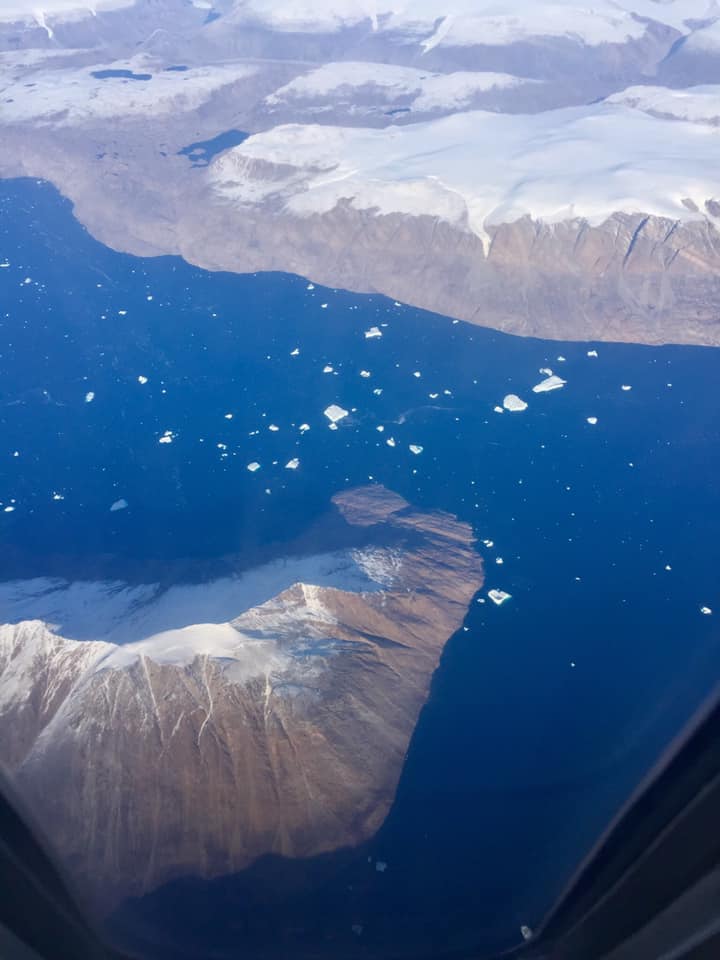 Greenland shows its melting glaciers – September 14, 2019 photo by Steve Mueller. Mueller gives a personal testimony, describing similar flights over Greenland in the 1970s, 80s, and 90s when ice & snow covered most of it. Sadly, that's no longer true today.
Wrongo rarely writes about climate change, because he's had very little hope that the world will act to solve, or delay the reality in front of us.
Until now.
There is something very hopeful when young people around the globe are calling out those in power and calling out the rest of us who have exacerbated the warming problem through our commitment to economic growth at any price. That price includes income inequality and the ever-accelerating use of our planet's resources to fuel that economic growth.
The emergence of young people as activists adds a different dimension to the argument. They are worried about what kind of world we're leaving them. The movement is personified by the 16-year-old Swedish teenage activist Greta Thunberg. On Monday, she spoke to the UN Climate Change Summit, and did not mince words. She implored world leaders to act urgently:
"I shouldn't be up here. I should be back in school on the other side of the ocean. Yet you all come to us for hope. How dare you. You have stolen my dreams and my childhood with your empty words."
"Anger is an energy" said the Sex Pistols in 1972. And we're seeing both anger and all of its kinetic energy on display by these kids. It's reminiscent of teenagers in the 1960s and 1970's in the US, first with the Civil Rights movement, and later, with less effect, in the Vietnam War protests.
Time will tell if this social movement ends up helping to create big policy change, or if it's just another footnote, a bit like Occupy Wall Street. But, It's given Wrongo some hope that it is still possible to battle against entrenched money interests, at least on the question of climate change.
Returning to the climate consequences as shown in Steve Mueller's photo, The Economist's cover story this week is about climate. They point out that temperatures in the Arctic are warming twice as fast as the global average: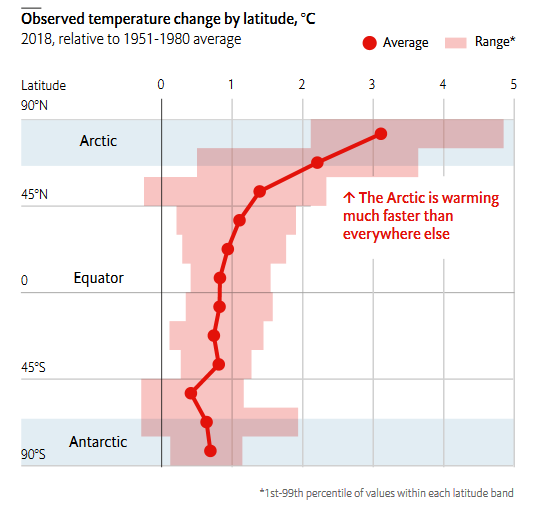 When floating sea ice vanishes, it exposes deep blue waters, which absorb more solar energy than the white ice does. In turn, this speeds up melting: it's a classic positive-feedback loop. The ice recedes to an annual minimum extent every September. The record low was set in 2012.
Some sceptics point to cold snaps in North America as evidence that concern about global warming is overblown. They should be told that such days are caused by chilly air escaping polar latitudes. Which in itself, may be another consequence of a warming Arctic.
A good analogy is the problem supertankers face if they try to make a U-turn. It takes a tremendous amount of energy and time to overcome the ship's momentum, to slow the tanker from cruising speed to a point where a u-turn can begin.
For climate change, we must overcome our momentum, reversing how we create energy, how we manufacture our goods, how we travel, how we heat and cool our homes, and how we provision our foods.
The next challenge is if this can be done while continuing to expand the global economy, keeping in mind that the global population may be 50% larger by 2100.
Back in corporate life, Wrongo used to talk about things that could be fixed "If your life depended on it" and those that couldn't be fixed even if your life did depend on it.
If the problem can be fixed if your life depended on it, you fix it or die, no excuses. This is where we are today. Maybe it's not our lives that depend on it,  it's those of our grandchildren. They are counting on us to rise up now, in a global movement to make change.
Wake up America! The kids couldn't be clearer:  They do not want pats on the head, where we tell them how "inspiring" they are.
For Boomers and Millennials, the climate problems posed in the second half of the 21st century can still seem largely hypothetical. But for those born after 2000 like Greta Thunberg, and 2.6 billion others, it's more like half their lives. This gives a huge moral weight to their demands.
But it will take more than political activism. The kids want our leadership, our votes, and most importantly, our action to confront this crisis.