The Daily Escape: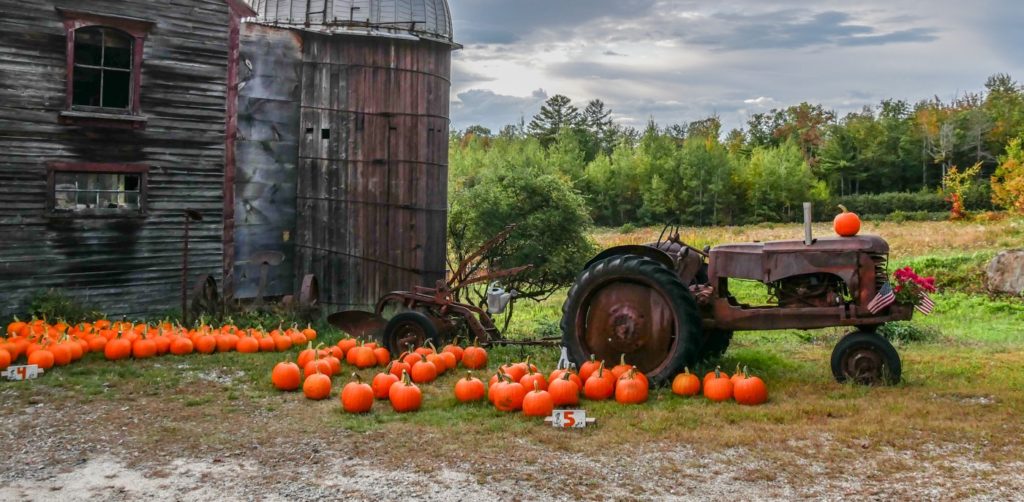 Hopkinton NH — September 2019 photo by Karen Randall
Wrongo has been skeptical of the House Democrats' ability to investigate an administration that has zero interest in playing by the old rules.
He was skeptical of the effort to make Russian interference in the 2016 elections a means of impeachment of Trump. He was skeptical of Robert Mueller as the potential savior of the Democratic Party in 2018.
Now, we've stepped back into the waters of impeachment because of the Ukraine president's convo with Trump. Are Democrats once again placing false hope in impeachment? Trump is corrupt in a completely ham-fisted way that makes his efforts at self-dealing blatantly obvious. Here's Trump, talking to the Ukraine's president Zelensky:
"There's a lot of talk about Biden's son, that Biden stopped the prosecution and a lot of people want to find out about that so whatever you can do with the Attorney General would be great….Biden went around bragging that he stopped the prosecution so if you can look into it … It sounds horrible to me."
That fired up Democrats, since it appears that Trump was trying to pressure Zelensky by withholding US military aid unless Zelensky agreed to investigate both Joe Biden and his son, Hunter.
Here's Wrongo's take. For the past few months, Americans were finally concentrating on subjects like healthcare and college debt forgiveness. These ideas were getting both air time and traction, via the debates. The battalion of Democratic candidates were telling us their positions on these ideas, and others, like a wealth tax.
But the Democrats have now introduced impeachment 2.0, focused on the Trump/Ukraine story. By doing that, they have also rehabilitated a debunked Biden/Ukraine story, something that has been high on the GOP's radar for years.
What's the Hunter Biden/Joe Biden/Ukraine story? It begins with the 2014 appointment of Hunter Biden to the board of Burisma Holdings, a small Ukrainian energy company. In late 2015, VP Joe Biden traveled to Ukraine, in part to send a message to the Ukrainian government that it needed to crack down on corruption.
That message was somewhat undermined by Hunter's work with Burisma Holdings, and with its owner, Mykola Zlochevsky. Zlochevsky had been Ukraine's ecology minister under former Ukrainian President Viktor Yanukovych.
Hunter had joined the board of Burisma the same month that Britain's Serious Fraud Office, an independent government agency, was conducting a money-laundering investigation into Zlochevsky and Burisma. But the British investigation ended after Ukrainian prosecutors refused to cooperate. They wouldn't turn over documents needed in the British investigation, and without that evidence, a British court ordered the assets unfrozen.
According to an Intercept piece on May 10th, Biden, during a visit to Kiev in late 2015, did threaten to withhold $1 billion in US loan guarantees unless the then- prosecutor was dismissed. But the Intercept argues that Biden did Ukraine a favor by hastening the prosecutor's departure, because he had failed to properly investigate corrupt officials, including Zlochevsky.
By getting the prosecutor fired, Joe Biden made it more, rather than less likely, that Mykola Zlochevsky, the oligarch who Hunter worked for, would be subject to prosecution for corruption. Yet, it never happened.
There is no evidence that Joe Biden did anything to shield Hunter or Burisma Holdings from scrutiny, as claimed by Trump and Giuliani. But it is true that Hunter continued to work to repair Burisma's reputation. That isn't a praiseworthy activity for a presidential wanna-be's son.
And Hunter's no saint. In 2014, he was discharged from the Navy Reserve after testing positive for cocaine. Later, he was involved in a hedge fund with his uncle, James Biden, Joe Biden's brother, that went belly up.
This story isn't going to die. As long as the impeachment inquiry against Trump lasts, the Biden story will be linked to it for many Americans. Even if impeachment happens, the Republicans will use this against Joe Biden if he's the nominee. Joe has said that he never discussed Hunter's business interests in Ukraine with him, but maybe he should have.
A question that Democrats should be asking is whether this is the hill that they are prepared to die on: Is Trump's Ukraine effort sufficient for an impeachment? Is it anything more than a "he said, she said" debate?
Are the Dems prepared for another investigative loss, much like in Russiagate and the Mueller Report?
Presidents know that they have few constraints on their activities. GW Bush (or perhaps Cheney) realized that, and went on to exploit presidential power in ways that radically changed America. And when the Dems came into power, Obama and Pelosi ruled out pursuing Bush and Cheney.
Trump is on a much more dangerous path than Bush and Cheney.
Would taking Trump down restore the balance of power in our politics?
Is that worth the downside risk to the Democrats?