(Blogging will be light until Tuesday 10/29 as Wrongo and Ms. Right will be in London. Yesterday's Brexit votes seem to leave things up in the air, so it should be interesting.)
Vanity Fair has an article on possible manipulation of the stock markets with advance information about big news coming from the White House. Several publications have noticed that a killing was made several times on positions taken just before news breaks, but VF lays out just how much. The vehicle was "S&P e-minis", electronically traded futures contracts linked to the Standard & Poor's 500 stock index: (emphasis by Wrongo)
"In the last 10 minutes of trading on Friday, August 23, as the markets were roiling in the face of more bad trade news, someone bought 386,000 September e-minis. Three days later, Trump lied about getting a call from China to restart the trade talks, and the S&P 500 index shot up nearly 80 points. The potential profit on the trade was more than $1.5 billion."
There were several more.
On September 10th in the last 10 minutes of trading, someone bought 82,000 S&P e-minis when the index was trading at 2969. On September 11 in Beijing, the Chinese government announced that it would lift tariffs on a range of American-made products. That same day, Trump said he would postpone tariffs on some Chinese goods. The S&P index moved up 47 points. If you were the lucky one who bought the 82,000 e-mini contracts, well, then you were sitting on a one-day profit of roughly $190 million.
In the last 10 minutes of trading on Friday, September 13, someone got lucky. That's when someone sold short 120,000 S&P e-minis when the index was trading around 3010. The time was 3:50 p.m. in New York, but it was nearly midnight in Tehran. A few hours later, drones attacked a large swath of Saudi Arabia's oil infrastructure, choking off production in the country and sending oil prices soaring. By the time the market opened for pre-trading on Sunday night, the S&P index had fallen 30 points, giving that lucky ducky a quick $180 million profit.
But these wins were peanuts. A trader, or group of traders bought 420,000 September e-minis in the last 30 minutes of trading on June 28. That was about 40% of the day's trading volume in September e-minis. At the time, Trump was in Osaka, Japan, 14 hours ahead of Chicago, meeting with China's President Xi Jinping. On Saturday in Osaka, after the market had closed in Chicago, Trump emerged from his meeting with Xi and announced that the trade talks were "back on track." On Thursday, June 27, the S&P 500 index stood at about 2915; a week later, it was just below 3000, a gain of 84 points. Whoever bought the 420,000 e-minis on June 28 had made a profit of nearly $1.8 billion.
You get the picture. Traders have been watching these wagers intently since the start of the Trump presidency. The precision and timing of the trades, and the vast amount of money being made, make the traders wonder if all this is on the level. Or, is it some form of insider trading?
So far, the SEC and the Commodity Futures Trading Commission (CFTC) seem disinterested in pursuing what might be behind these trades. On to cartoons.
America hosts the G-7. Naturally, Trump picks his own hotel: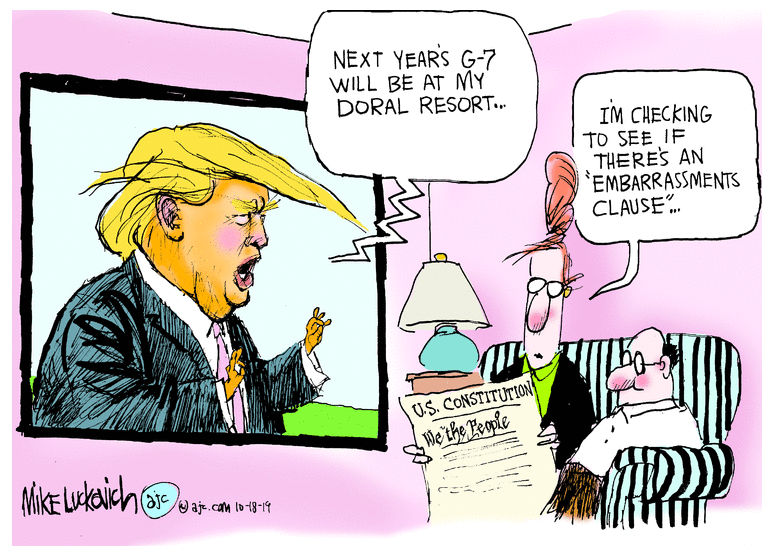 The Mikes try to clean up Trump's Turkey mess: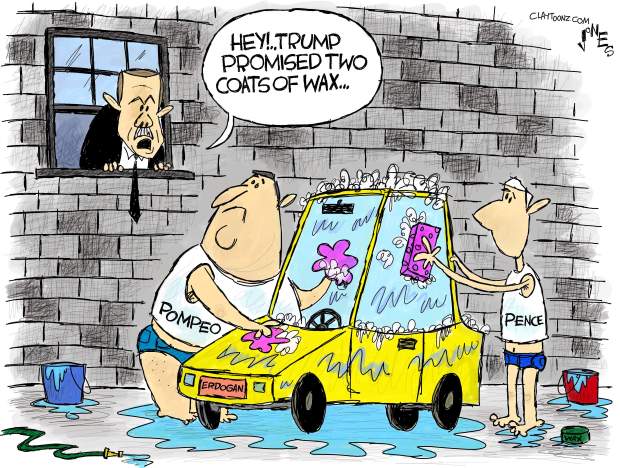 The arguments against Brexit are stronger:
RIP Elijah Cummings: