The Daily Escape: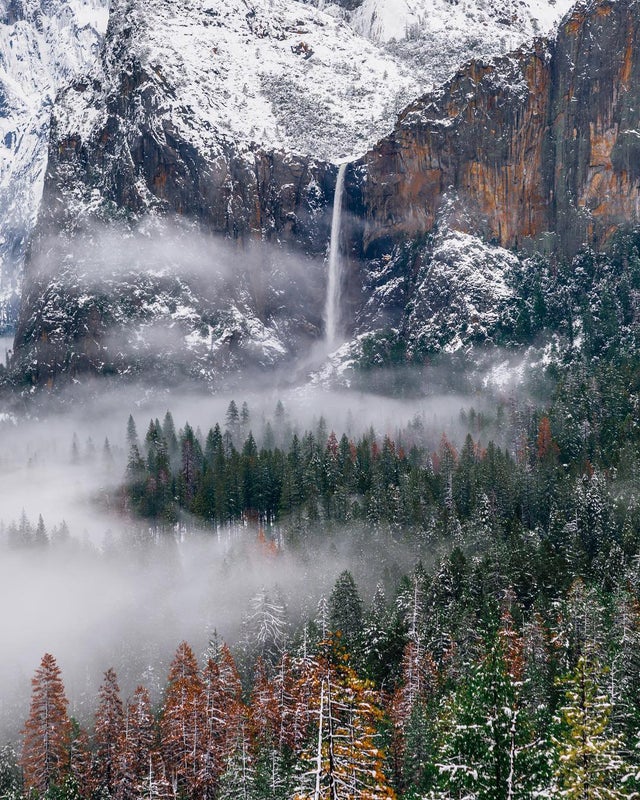 Light snow and morning fog, Yosemite NP CA – December 2019 photo by worldpins
Wrongo and Ms. Right visited the WWII museum in New Orleans last week. In most ways, it was the last war that engaged all of America. At the start of the war, we were woefully under resourced, our army had more horses than tanks. People became deeply involved in the war effort.
During the war, Wrongo as a very young boy, managed to lose our family's sugar ration card. Businesses gave their production capacity over to the country's war needs. President Roosevelt was on the radio each week, keeping support for the war effort high. WWII lasted for six years, from 1939-1945.
You know where this is going: Last week, we learned that our government has covered up the reality of how we were doing in Afghanistan, much like our government covered up the truth during the Vietnam War.
We learned this due to work by WaPo reporter Craig Whitlock who has given us an indispensable look into our continuing failure in Afghanistan. The documents include transcripts of interviews with soldiers, diplomats, and others with direct experience in the war effort. Excerpts:
"We were devoid of a fundamental understanding of Afghanistan — we didn't know what we were doing," Douglas Lute, a three-star Army general who served as the White House's Afghan war czar during the Bush and Obama administrations, told government interviewers in 2015. He added: "What are we trying to do here? We didn't have the foggiest notion of what we were undertaking."

"If the American people knew the magnitude of this dysfunction. . . 2,400 lives lost," Lute added, blaming the deaths of US military personnel on bureaucratic breakdowns among Congress, the Pentagon and the State Department. "Who will say this was in vain?"
More:
"What did we get for this $1 trillion effort? Was it worth $1 trillion?" Jeffrey Eggers, a retired Navy SEAL and White House staffer for Bush and Obama, told government interviewers. He added, "After the killing of Osama bin Laden, I said that Osama was probably laughing in his watery grave considering how much we have spent on Afghanistan."
The WaPo documents contradict years of public statements from US presidents, military commanders and diplomats who assured Americans year after year that we were making progress in Afghanistan and that the war was worth fighting:
"Every data point was altered to present the best picture possible," Bob Crowley, an Army colonel who served as a senior counterinsurgency adviser to US military commanders in 2013 and 2014, told government interviewers. "Surveys, for instance, were totally unreliable but reinforced that everything we were doing was right and we became a self-licking ice cream cone."
Bush, Obama and so far, Trump, have all failed us miserably for the past 18+ years. The war has cost America $975 billion-plus tens of $ billions spent by the VA on the wounds of Afghanistan veterans, a price that will rise for the next six decades. The most serious costs are the 2,434 US deaths and 20,646 wounded in action.
The Afghan mess was made worse by piling lie upon lie. We now know that the top brass in the military knew all along that we were losing, and that three successive White Houses also knew.
The greatest tragedy is that the losing is still ongoing.
These revelations are an indictment of our senior military leaders. We had advantages in resources and technology in Afghanistan (we often outnumbered the insurgents on the battlefield) and still lost. But beyond that, it indicts our political leaders, who need to understand our strategy, and be a check on our military.
Time to wake up America! This is also an indictment of all of us, for not paying attention. For not insisting on ending it years ago!
We've managed to blow through vast resources that were desperately needed at home. We've stood by while our government fruitlessly sacrificed the lives of many of our men and women. We grew our National Debt beyond what we needed to do, and got stuck in another foreign quagmire.
When we finally feel either shame or anger about Afghanistan and that we were lied to, we can take the first steps to political reform.