The Daily Escape: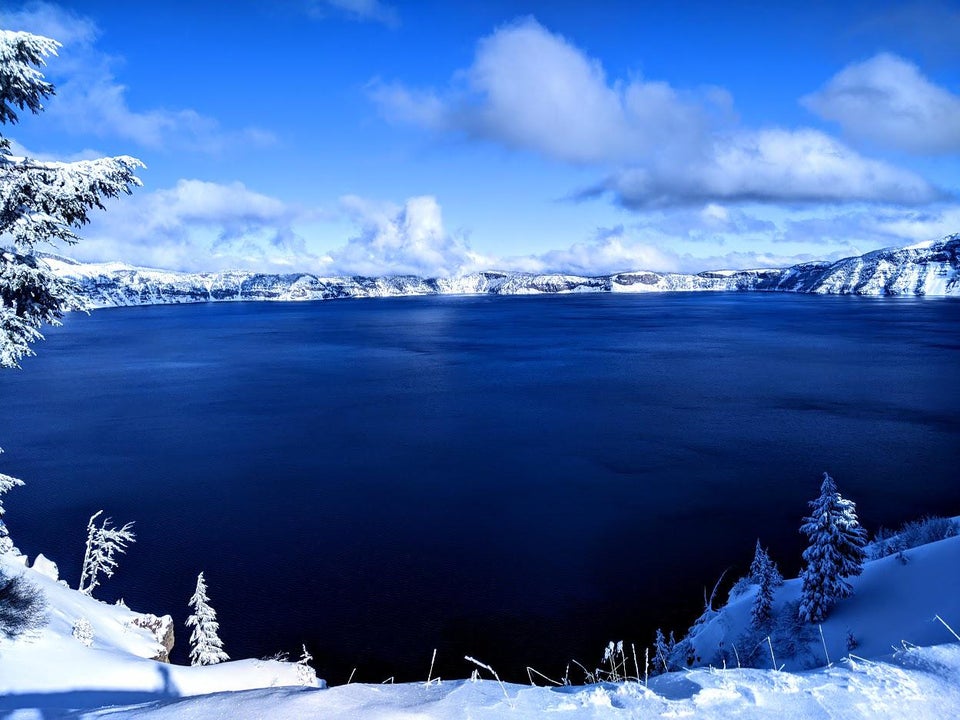 Crater Lake, OR on Thanksgiving, 2019 – photo by hglwvac9. This is the fourth time we've featured Crater Lake.
An issue that gets no traction in the US media is what should be done with ISIS fighters who have been captured in the fighting in Syria and Iraq. In November, a federal judge ruled that a New Jersey-born woman who joined the Islamic State five years ago, was no longer an American citizen, and would be denied re-entry into the US. She had burned her US passport in 2014, and declared herself to be a part of the caliphate. She used social media to encourage others to join. She then married an Australian-born ISIS fighter who was killed in 2015, and then married a Tunisian-born fighter who was also killed.
GZero has an article by Willis Sparks that reviews the pros and cons of allowing ISIS members to return to their home country. They come from more than 100 countries, many thousands are held by Turkey, while there are more than 10,000 women and children (mostly family members of ISIS fighters) still living in camps inside Syria.
Turkey says it intends to send most home. Syria won't keep them either. This creates a policy dilemma: Should these terrorists and/or their families be allowed to return to their native countries? Or should countries refuse to allow them back? Sparks offers the arguments on both sides. First, arguments to bring them home:
Repatriated fighters and their families should stand trial as terrorists at home. That's better than allowing them to remain at large.
Some of the women were coerced to join the fight. Yes, many who claim to be victims may be lying, but it's better to allow a guilty person to return home to stand trial than to leave an innocent person to a potentially terrible fate they don't deserve.
Thousands of children were born into ISIS fighter families in Syria. They're guilty of nothing. Many are sick and/or at risk of death inside refugee camps, where they can also be radicalized.
Governments must abide by their own laws. Many of the fighters and family members are still citizens of the countries they left, and therefore have the rights of citizens. In many countries, like the US, the children of citizens are also citizens, even if they were born elsewhere.
Arguments to reject them:
A citizen who declares war on his or her own government and carries out or enables the murder of innocent people should forfeit some rights — especially the right of citizenship.
While some of them may have been tricked or coerced to go to war, how are courts expected to separate fact from fiction so far from the battlefield?
It is not the responsibility of governments to rescue people from their bad decisions.
Government's responsibility is to protect all its citizens, not just those who chose terrorism. The greater good argues for protecting all against the few.
The debate will become more important in the near future, because the detention of thousands of people in camps in countries that don't want them can't be sustained.
Wrongo's view is that it isn't our government's responsibility to rescue people from their bad decisions, but is it right to abandon them? We have a few ethicists and religious among our readers. Hopefully they will weigh in.
But enough! Xmas is just around the corner, and there is work to be done, menus to dream up and for the non-Scrooges among us, presents to buy. We need to turn our attention away from impeachment and Bidenpartisanship to preparation for the onslaught. First, let's take a few minutes for ourselves in our weekly Saturday Soother. Start by brewing up a fine cup of Panama Esmeralda Geisha Portón Oro Yeast ($69.95/60z. Sure, it's expensive, treat yourself for the Holidays!) It's from Klatch Coffee of Los Angeles, CA.
Now settle back in a comfy chair, and listen to the wonderful Anna Netrebko sing "Solveig's Song" from Grieg's Peer Gynt Suite No.2 accompanied in 2008 by the Prague Philharmonia conducted by Emmanuel Villaume:
Those who read the Wrongologist in email can view the video here.