The Daily Escape: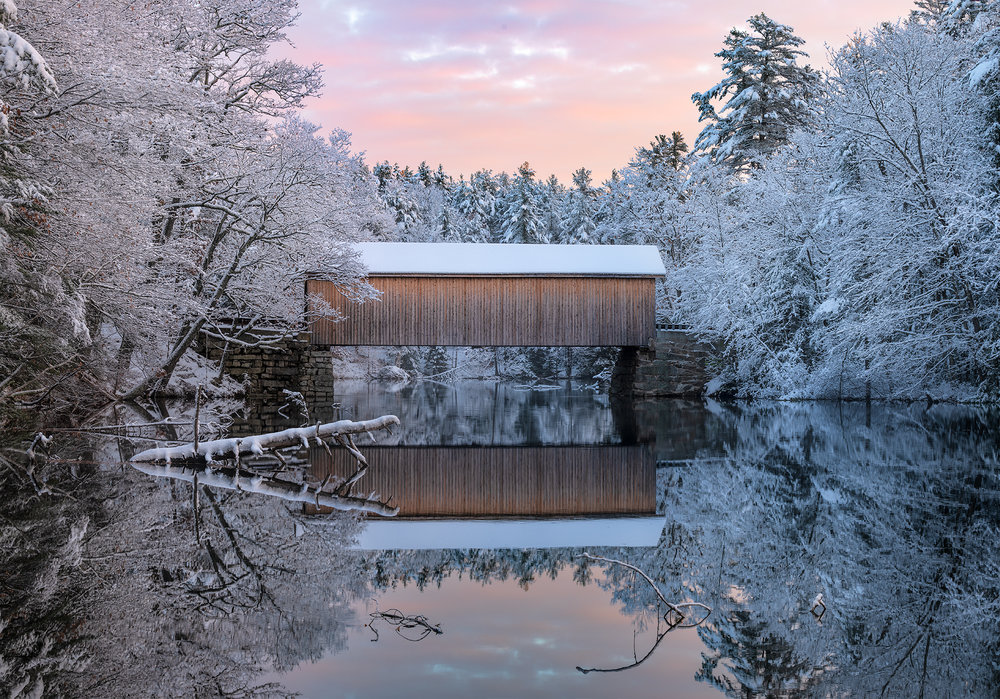 Babbs Bridge, Wentworth ME – photo by Colin Zwiner. It is Maine's oldest covered bridge, built in 1840.
Now that a few facts in John Bolton's book have leaked, including his claim that President Trump told him $391 million in Ukraine military aid would be held hostage until Ukraine investigated the Bidens, the key question is whether Senate Republicans will hold hands and jump off the cliff together rather than call him as a witness.
Will they, like Butch Cassidy and Sundance, feel as if they have no choice, since the posse is closing in? Don't ask if they are going to jump, ask why they think they have no choice.
Let's review: Bolton's manuscript has been in the hands of the White House since December 1st. They had ample time to review it and let Trump's legal staff and GOP Senators know what would happen if its contents leaked. But Sunday's revelations came as a surprise to GOP Senators.
Assuming Bolton is just trying to sell his book, he's burning a lot of bridges along the way to a payday.
The NY Times story is pretty specific, which means it was likely leaked on purpose. The NYT further reports that the manuscript is in nearly final form, with Amazon listing its publication date as March 17th. That's St. Patrick's Day, and you can be sure there will be lots of GOP drinking going on.
So the GOP has only two choices: Call Bolton as a witness, or call no witnesses. Surely, if they call no witnesses, many other and possibly worse things will leak out about Trump after he's acquitted by the Senate. And then, the fight moves to November. With additional dirt surfacing, Republican Senators will have a lot to answer for with their constituents.
Republicans could argue that even if everything Bolton is reported to have said in his book is true, it doesn't matter, because Trump's behavior doesn't rise to an impeachable offense. That's been their strategy all along, so it requires no changes.
But it might become an untenable strategy if Bolton actually sits as a witness.
The GOP could argue that Bolton can't testify because he's covered by presidential privilege. But they can't be sure that Chief Justice John Roberts would go along with that interpretation of the law, and Republican Senators voting to overrule Roberts would certainly look terrible to voters.
Yet, allowing Bolton to testify would probably make Trump's acquittal harder to justify. So denying him as a witness must still look like their best option. Republican Senators could discover that the cost of saving Trump's presidency spells the end to some of their individual political careers.
Wrongo's instinct is never to trust John Bolton. Bolton's long history as a neo-con war hawk doesn't make him seem like a proper Democratic ally. It is a great leap of faith to think that Bolton is so principled that he would turn on the Republican Party to offer his version of the truth.
And his refusal to testify before the House impeachment inquiry suggested that he wasn't eager to lend Democrats a hand in impeaching Trump. At the time, some said this was because no one would buy his book if they already knew what was in it.
Then again, Matt Tait's take may be best:
"What an irony if the only regime Bolton ever actually succeeded in overthrowing was his own"

https://twitter.com/pwnallthethings/status/1221805542680793088
6:41 AM – 27 Jan 2020
This story will develop over the next few days, at least until the Senate Republicans' defense of Trump rests.
Wrongo thinks the chances that Bolton is called as a witness are nearly zero.