The Daily Escape: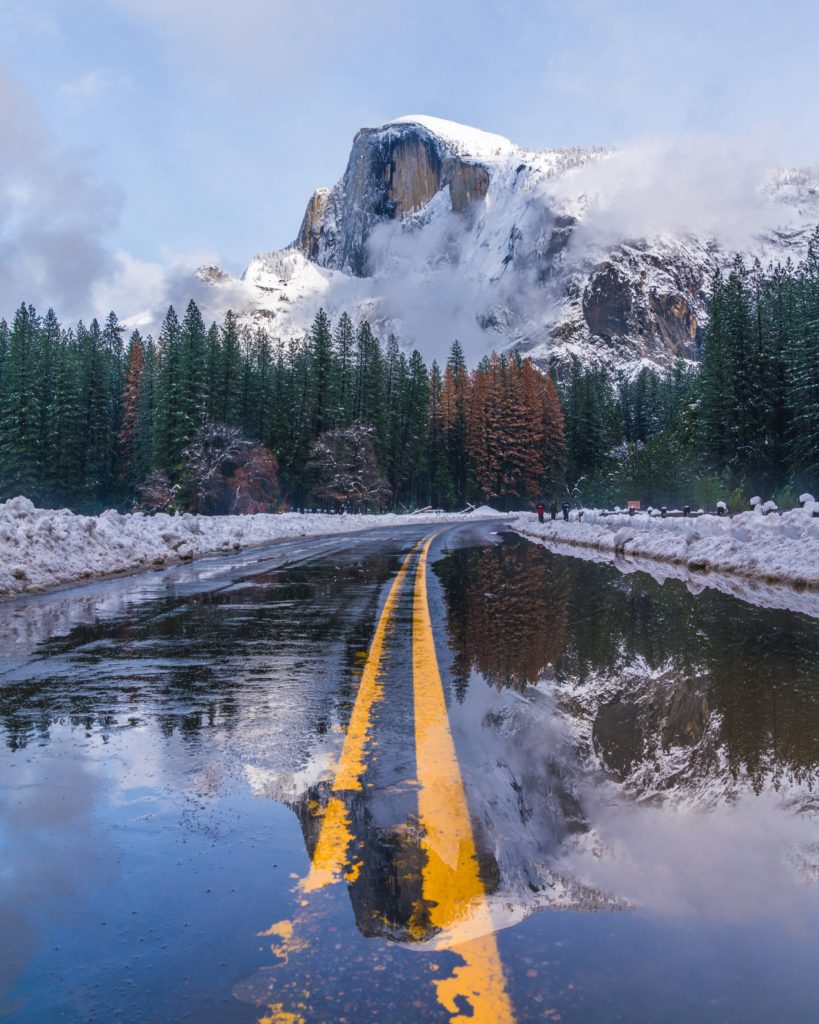 Road in Yosemite after rain – December 2019 photo by worldpins
Did we just avoid a war, or was a future war thrust upon us? You have to go way back to find a time when the thought of an overseas conflict united Americans behind the plan.
Today, all we have are questions about which war we consider to be a war worth fighting. Certainly it wouldn't be a war on climate change, or vote suppression, or spiraling health care costs. Those aren't considered just wars in today's politics.
One Party is always willing to fight the other when the topic is intervention in the Middle East. Doug Collins, the mouthy Republican Congress Critter from Georgia, who's willing to self-promote on any TV channel, went on Fox (Lou Dobbs) to criticize Democrats:
"They're in love with terrorists. We see that they mourn Soleimani more than they mourn our Gold Star families, who are the ones who suffered under Soleimani. That's a problem."
That led Preet Bharara, former US Attorney, to clap back at Collins: (emphasis by Wrongo)
"No American is "in love" with terrorists or "mourns" the death of that Iranian general on an airstrip in Baghdad. Many of us do, however, mourn the death of decency, honesty and reason here at home.

I realize that you are a politician and that hyperbolic, hyperpartisan claptrap is the unfortunate fashion of the day. But even allowing for the new normal of nastiness in political rhetoric, your casual slur of countless good Americans hits a new bottom. Americans can, in good faith, differ about the legality or efficacy of killing Soleimani. That doesn't make them unpatriotic or lovers of terrorists. It is hostility to differences of opinion that is un-American."
More:
"You are a pastor, an attorney and a sitting member of Congress. Therefore, the evidence would suggest you should know better. To utter such garbage, which you know to be false and defamatory, goes against all the training and teaching you must have received. But you got your cheap shot across, and perhaps that's all that matters to you."
Iraq War veteran Sen. Tammy Duckworth (D-Ill) chimed in about what Collins said:
"I'm not going to dignify that with a response. I left parts of my body in Iraq fighting terrorists. I don't need to justify myself to anyone."
Collins then recanted:
"Let me be clear: I do not believe Democrats are in love with terrorists, and I apologize for what I said earlier this week."
But, even though Collins appeared on Fox on Friday morning, he didn't apologize. Instead, he later apologized on his Twitter feed, which has less than 300k followers.
Let's give Preet the last word: (emphasis by Wrongo)
"…I am not making some old and familiar naive call for a return to "civility" in our politics. I don't have much hope for that….I just want people like you to knock off the worst scurrilous nonsense…..If we are going to come together, protect the homeland and heal the hearts of people who have suffered the scars of terrorism, we need our leaders to do better than lazy trash talk."
Collins was deployed as a Navy Chaplain to Iraq in 2008, so he knows better. He's certainly seen Democrats die fighting terrorists. Yesterday, Wrongo said Democrats can't let Republicans slide, they need to be called out when they are wrong, like Bharara and Duckworth just did to Collins.
Sometimes, Wrongo wonders if all this is happening because he didn't forward at least a thousand Facebook messages to ten people. If so, Wrongo apologizes, America!
Time for all of us to de-stress from the first week of the new decade. Let's hope most weeks are calmer than what we just lived through. To help calm things down, it's time for our Saturday Soother!
Start by brewing up a mug of Panama Esmeralda Geisha Natural ($19.95/4oz.). Wrongo knows that's expensive, but the stock market had a great week, even if Gen. Soleimani didn't, so you can afford it. It's from Paradise Roasters in Minneapolis.
Now, grab a seat by the window and listen to something soothing. Today, we hear Beethoven's "Für Elise" played on glass harp by Robert Tiso. The score was not published until 1867, 40 years after the composer's death. And it may not have really been dedicated to Elise:
Those who read the Wrongologist in email can view the video here.