The Daily Escape: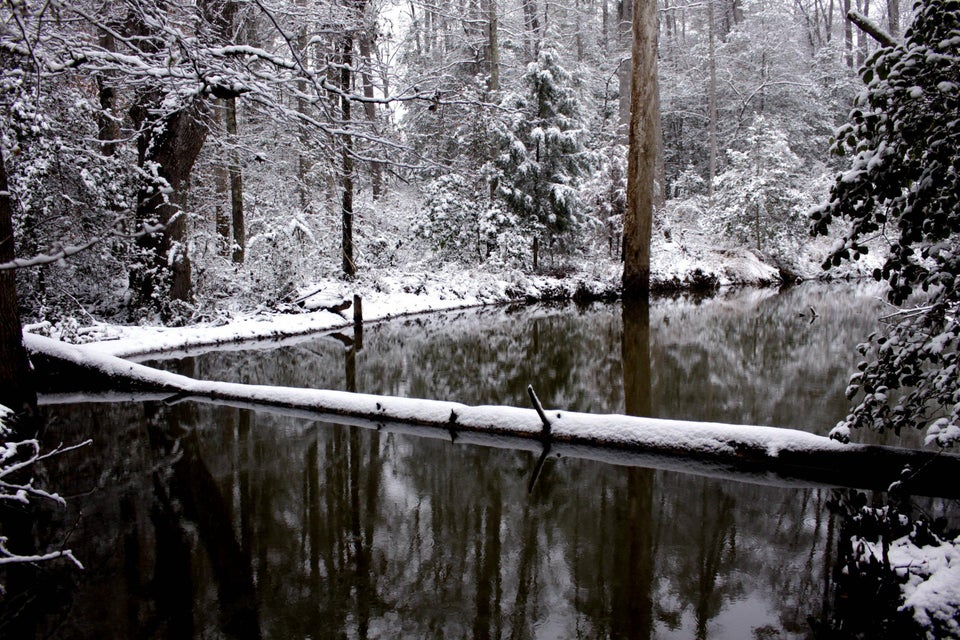 Pond, Greenville County SC – February 2020 photo by Ninjiteex. It's rare to see snow in SC
On Facebook, Wrongo mostly reads the posts of friends who are involved in showing dogs at AKC events. People who show dogs skew older and female, and thus, so do Wrongo's Facebook friends. Many share a constant amount of pro-Trump (dis)information.
So, Wrongo tried a week-long experiment, letting some of those posters know that their posts were factually incorrect. Let's focus on one, a picture of a very young Bernie Sanders being hauled away by police: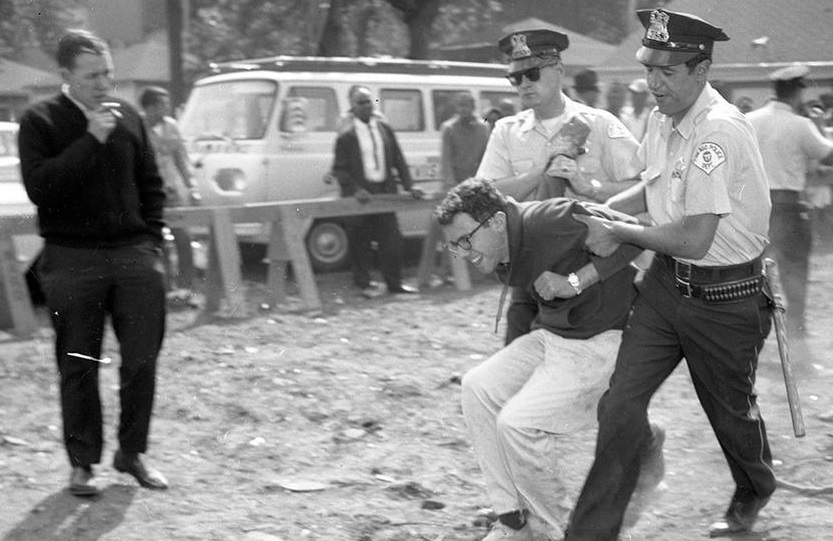 The photo's caption says:
"In 1963 Bernie Sanders was arrested for throwing eggs at black civil rights protestors. This is the side of Bernie that CNN and the fake news media don't want you to know"
The picture is real, the caption is false. Sanders was actually protesting police brutality and segregation, and was arrested for "resisting arrest". Facebook has now taken down the post, but it was up for over a week.
When Wrongo told friends that their posts were false, everyone deflected, and minimized their intent. One, a fervent Trumper, said, "I just wanted to post a picture of him when he was young". Never mind that this photo is available all over the internet with the simplest of searches, all with the correct reference.
Despite a week's worth of trying, no one was willing to delete a false post. Many of these people post disinformation six or more times a day, so it was an exercise in futility to try and make these "friends" admit the truth about their posts, much less show any awareness about their biases.
This is a small example of what McKay Coppins wrote in his Atlantic article, "The Billion-Dollar Disinformation Campaign to Reelect the President." As an experiment, Coppins signed up at many pro-Trump social media sites, and soon was deluged with alternative facts: (emphasis by Wrongo)
"What I was seeing was a strategy that has been deployed by illiberal political leaders around the world. Rather than shutting down dissenting voices, these leaders have learned to harness the democratizing power of social media for their own purposes—jamming the signals, sowing confusion. They no longer need to silence the dissident shouting in the streets; they can use a megaphone to drown him out. Scholars have a name for this: censorship through noise."
All of this is helped by Facebook's excellent micro-targeting tools. They allow an advertiser to slice the electorate into narrow and distinct niches and then reach them with precisely tailored digital messages. More from Coppins:
"An ad that calls for defunding Planned Parenthood might get a mixed response from a large national audience, but serve it directly via Facebook to 800 Roman Catholic women in Dubuque, Iowa, and its reception will be much more positive."
The results can be overwhelming. The Trump campaign runs hundreds of iterations of ads. In the 10 weeks after the House of Representatives began its impeachment inquiry, the Trump campaign ran roughly 14,000 different ads containing the word impeachment.
No one has the bandwidth to sift through all of them, and then call them out.
It gets worse. Coppins says that the Republican National Committee and the Trump campaign have compiled an average of 3,000 data points on every voter in America. They have spent years experimenting with ways to tweak their messages based not just on gender and geography, but on whether the recipient owns a dog or, a gun.
Raw Story quotes former Rep. David Jolly (R-FL) saying that Donald Trump intentionally wants America to be anxious: (emphasis by Wrongo)
"I had a colleague that was in a meeting in the Roosevelt Room and….he heard Trump say, 'Have you ever seen the nation so divided?' My colleagues and others said, 'No, we haven't.' Trump said, 'I love it that way.''
He thinks this how he'll be re-elected!
Last Sunday, Walter Schaub, former director of the US Office of Government Ethics had a remarkable tweet thread on this, saying: (emphasis and brackets by Wrongo)
"…we're in a dangerous new phase of Trump's war on democracy. What do we do now?

….the greatest threat we face is despondency. The enemies of democracy…want you drowning in hopelessness. A hopeless populace is a helpless one. To that end, a hostile foreign power set up an infrastructure to weaponize social media against you.

Compounding the assault on your senses, he [Trump] also wields a corrupted government, which follows his lead in disseminating lies to sow confusion…

In the face of this psychological warfare, our most urgent mission—our civic duty—is to reject despondency. Everyone has a bad day, so we may need to take turns leading the charge. But our job as citizens is to resist the temptation to spread defeatism on social media."
You said it, Walter!
We gotta keep hope alive.