The Daily Escape: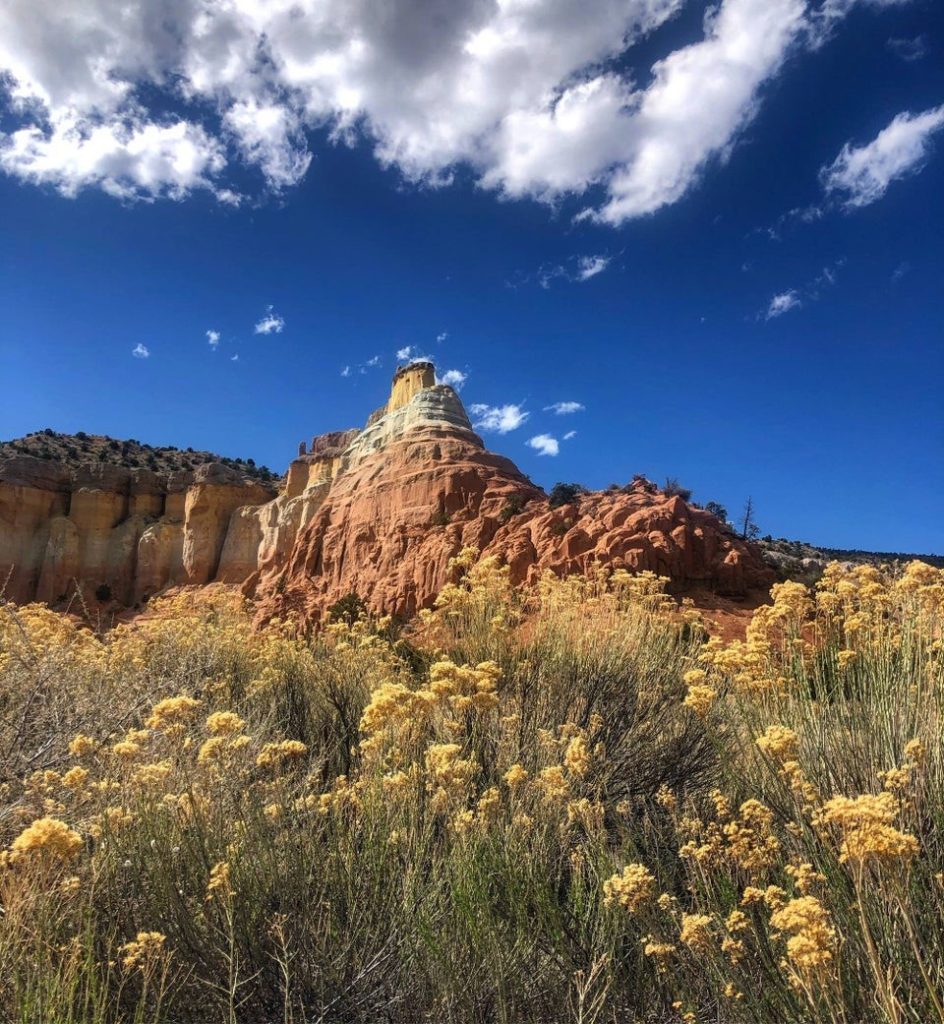 Chamisa plants near Abiquiu, NM – photo by zuzofthewolves
(Publishing of daily COVID-19 data is on hold while Wrongo tries to understand inconsistencies in the data)
Trump isn't wrong to begin thinking about what comes next. At some point, we will again poke our heads out of our burrows, and feel the warmth of sunlight. We'll attempt to resume the life we had before the virus struck. There are two risks in this: First, will we be back in the swing of things too soon? And second, what should we demand be different, given what the nation has experienced?
In Trump's view the answer is simple. He wants most people back to work in time to have a robust economy come Election Day. He's targeted May 1st as the start date for his governor buddies to begin revitalizing the economy.
Once again, the Trump administration is showing itself to be utterly incapable of dealing with this crisis.
He's moving the country to re-open, despite warnings from public health officials and from most state governors. Here's a germane comment on Wrongo's Saturday's column by long-time blog reader Terry McKenna:
"We really know so little. To begin with, we don't know how the virus spreads. We are learning but that's all. In the beginning, we guessed wrong that it was not spread by healthy (asymptomatic) persons. Doctors disagree over the size of the droplets that carry the virus. So we are almost like we were before we had the germ theory where all we can do it isolate.

Also "test" is a simplistic word. Which test? We need a test that tells a clinician that someone had the virus in his system, and a test with a fast result is essential. But a negative test means little, especially in a healthy (asymptomatic) person, because in the absence of a vaccine, that person could be infected next week or next month. So we need a test of antibodies – but even still, we don't know how long immunity lasts.

And then we have the notion that the president can order the country back to work. Even if a business reopens, who will come? And yes, I know someone will, but imagine the NY Mets having their opening day May 15. Will anyone show up? And if they do, will we see a spike in sickness a few weeks later?

We need time for the science to do its work. We may get lucky, viruses do became less virulent over time (sometimes to re-emerge with vigor)."
A partial re-opening of those portions of the economy that are now shuttered is a risk both to the workers, and to the returning customers. Terry is right to ask if we'll see a spike in sickness a few weeks later, and if we do, what will be Trump's plan then?
Broadening out our view, many are starting to think about what needs to be different post-pandemic. As we emerge from this crisis, we have a rare opportunity to focus on change: Do we want a Star Trek, or Blade Runner future? A utopian, or a dystopian one?
As Viet Thanh Nguyen said in the NYT:
"Our real enemy is not the virus but our response to the virus — a response that has been degraded and deformed by the structural inequalities of our society."
We have a once-in-a-generation opportunity to rebuild for tomorrow. Or will we just prop up the economic and political process that has given us today's problems? As an example, if we don't want sick and contagious people trying to go to work, America must have paid sick leave.
During the lead up to passing the CARES Act, Democrats in Congress recognized this, but at the behest of business lobbies, the Act exempted 80% of all workers, including all those working at firms with over 500 employees AND those working at firms with under 50 employees!
Here's an illuminating chart: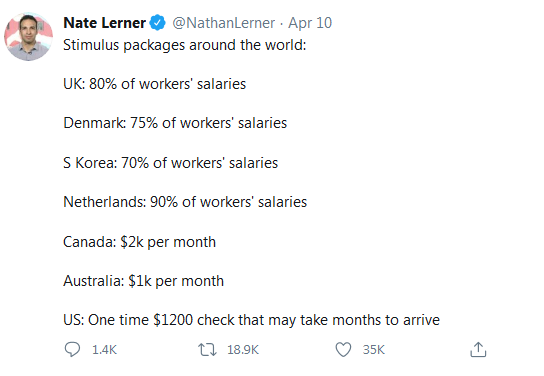 And in America, add $600 for four months for 20% of our workers. This is post-Reagan America. Assistance to the poor and working class is given grudgingly, and with strings attached. The rich and corporations are showered in subsidies since they are too virtuous and important to let fail. MAGA really means "Make Americans Grovel Again".
What has to die after Covid-19 is the myth that America is the best country on earth. We're not as healthy as we thought we were. The symptoms — racial and economic inequality, callousness and selfishness, have been covered up by our unquestioned acceptance of American Exceptionalism.
We've lost our right to that view, despite the many, many small acts of heroism every day by health workers and all the "essential" hourly workers who face becoming infected every day.