The Daily Escape:
View of grasslands, south of Denver, CO – 2020 photo by crappydenverphotog
Happy Saturday fellow disease vectors!
Jerome Powell, the Chairman of the Federal Reserve said on Wednesday that the effects of the pandemic could permanently damage the economy if Congress and the White House did not provide sufficient financial support. Job losses average 25% currently, and are higher in some states.
Powell thinks the country needs more funding for the segments of the economy that are seriously underwater. While the House has offered up a plan for new money, Mitch McConnell says he's far from interested in new money for the states, or those who are out of work.
We can't say often enough how badly federal leadership has failed us throughout this crisis.
In the executive branch, we've seen incompetence and political ideology overwhelm what little crisis leadership there might have been. Test kits were available from the WHO in January, but the CDC choose not to use them. Then, their own tests didn't work.
Testing was deliberately limited by the administration as disease transmission grew, and the virus escaped early containment. Supplies of PPE were not allocated to hospitals according to need. And, no federal system to manage the global medical supply chains exists, despite every governor saying it's needed.
Congress wasn't much better. Action was marred by politics, and a misunderstanding of the economic issues. Instead of simply replacing lost wages, the SBA issued rules that firms found difficult to comply with. Banks gave preference to their big clients, and the money soon ran out. The effort to save the economy by pouring money into it through conventional channels was inadequate, inefficient, and in some cases, corrupt. The only thing that can be said is that it was better than doing nothing.
The push to reopen the economy is premature. Some state governments facing fiscal disaster are reopening. Georgia, for example, has now lost the jobs of 39.5% of those who were employed in February 2020. It is unclear that closed retail businesses can be profitable when reopened, since their capacity will be limited for public health reasons. Right now, many businesses may face bankruptcy.
In any event, rents, mortgages, utility bills and other debts continue to accrue for individuals and businesses. And we found out that 40% of low income households have experienced job losses, compared to 20% overall.
Employees are also potential victims of the reopening. The Trump administration is advising state governments on how to remove workers from unemployment insurance.  Employers can demand workers show up, and if they refuse, they no longer qualify. Why would the workers refuse? Because their workplaces will still be unsafe.
It gets worse: Nearly half of people surveyed by Magnify Money now say they have to draw money from their retirement accounts because of the COVID-19 lockdowns: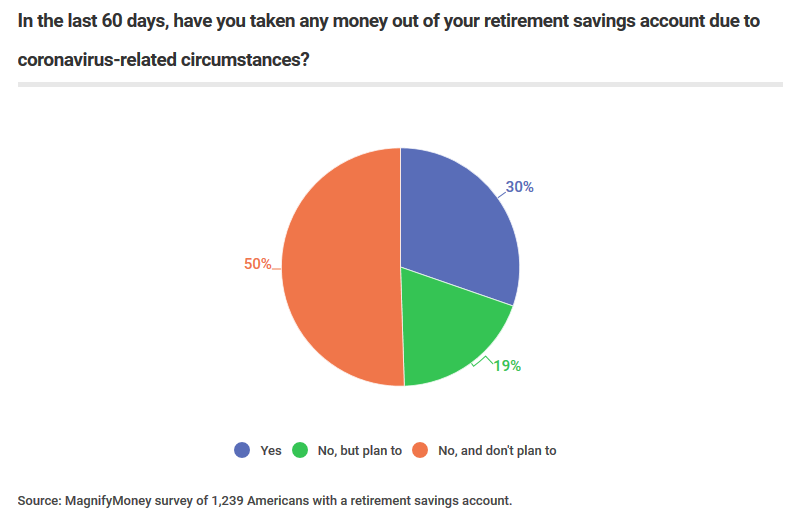 The majority of respondents who withdrew funds to cover basic expenses is disheartening. The survey revealed that 60% of respondents used their retirement funds to pay for groceries, 42% spent it on household bills, 31% used it for rent or mortgage payments and 27% used it for debt payments.
Although the scale of the pandemic-caused economic catastrophe was known almost immediately, the Trump administration had limited interest in the health and well-being of the rest of us. Their main interest appeared to be winning the presidency in November.
But you can't beat something with nothing.
People need help. If they aren't offered anything good, many will accept something pretty awful, like more Trump for example. Biden is promising a return to the status quo ante, but that's magical thinking.
The economy wasn't working for many Americans before the pandemic. Now, the pandemic has taken a sledgehammer to it, and we are looking at what is left. American Capitalism needs to be reformed.
Sorry that we're entering the weekend on a gloomy note. Since it's our Saturday Soother, let's kick back and forget about all that's weighing us down. Let's free our minds for a few moments. It's going to be a spring-like weekend here at the fields of Wrong, so time for more yard work.
To help you settle into the weekend, start by listening to Vaughan Williams composition from 1903, "The Solent", played by the Royal Liverpool Philharmonic Orchestra, conducted by Paul Daniel.
The Solent is the channel between the Isle of Wight and southern England:
Those who read the Wrongologist in email can view the video here.