RIP Rep. John Lewis. He was Wrongo's contemporary. On our bookshelves, we have Lewis's memoir, "Walking with the Wind", autographed to Ms. Right, with Lewis saying to her, "Keep the faith". And we've tried to do just that.
There was no fight for Black civil rights in which John Lewis was not on the front lines. How it must have pained him to witness the evisceration of the Voting Rights Act by the John Roberts-led Supreme Court.
He was among the first Freedom Riders. A leader of the Student Nonviolent Coordinating Committee (SNCC). He was one of the organizers of the 1963 March on Washington.
Lewis was drawn to Dr. King's theme of "redemptive suffering" to describe his willingness to sacrifice life and well-being for the sake of justice, described by MLK as a suffering that "opens us and those around us to a force beyond ourselves, a force that is right and moral, the force of righteous truth that is at the basis of human conscience."
At the March on Washington, the-then 23 year old Lewis read a speech that had been heavily revised by Dr. King, Jr. and others who thought it too pugnacious. After editing, Lewis said:
"By the force of our demands, our determination and our numbers, we shall splinter the segregated South into a thousand pieces and put them together in the image of God and democracy. We must say: 'Wake up, America. Wake up!' For we cannot stop, and we will not and cannot be patient."
Lewis had his skull fractured at the Edmund Pettis Bridge in Selma in 1965. That bridge became a touchstone in Lewis's life. He returned there often during his decades in Congress, bringing lawmakers from both parties to see where "Bloody Sunday" happened. He spent 34 years representing Atlanta and the state of Georgia in the US Congress, and as of now, remains on the ballot in Georgia's 5th district.
John Lewis is the last of the March on Washington organizers to die, and as Charlie Pierce says:
"…he died at a time when the Voting Rights Act lies in ruins, and when Florida has found a clever way to bring back a poll tax. He died at a time of bad trouble, when the country is desperately in need of the "good trouble" he always recommended to his fellow citizens. He boycotted the inauguration of this president…."
Speaking of good trouble, a phrase that is irrevocably tied to Lewis, he tweeted this recently: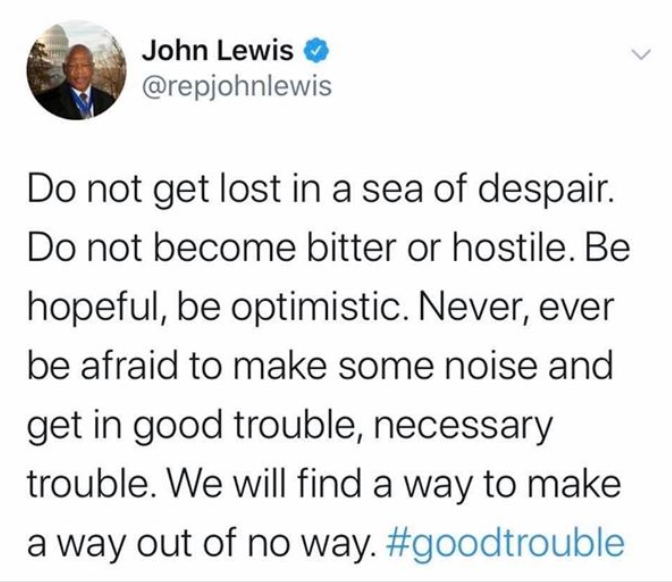 On to cartoons. Let's hope he causes as much trouble as heaven allows: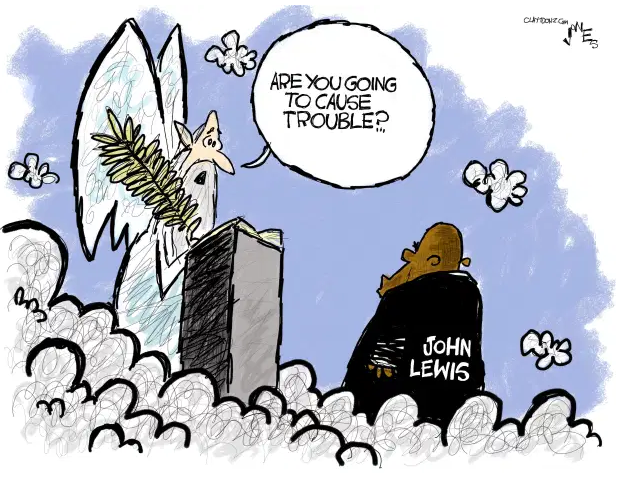 Lewis crosses the bridge: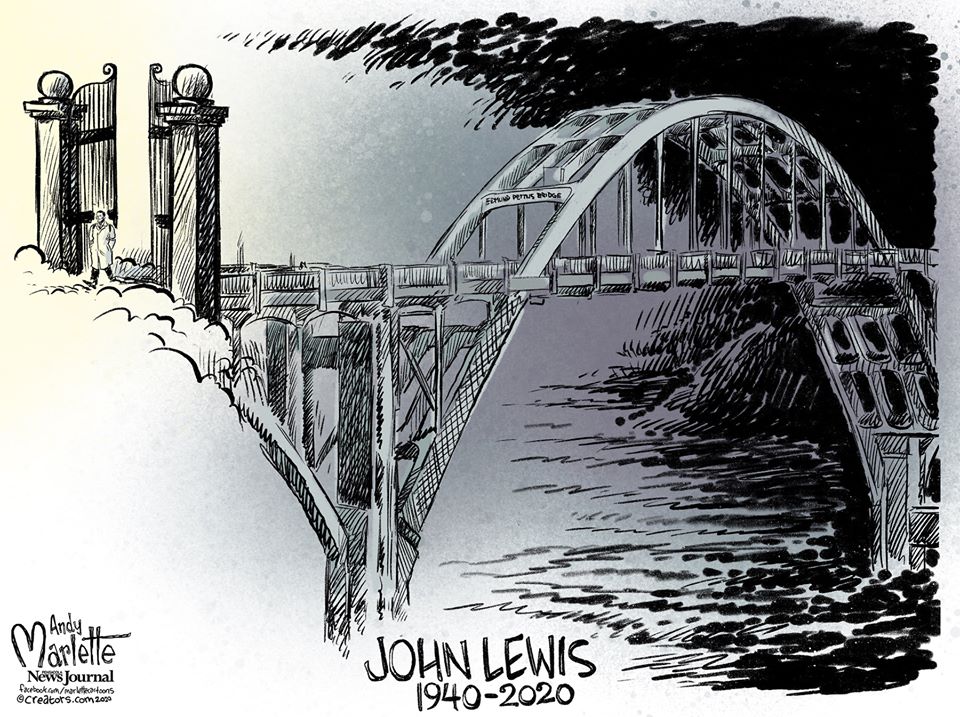 Finally, the school reopening debate continues. 71% of Americans say reopening the schools is risky: