The Daily Escape: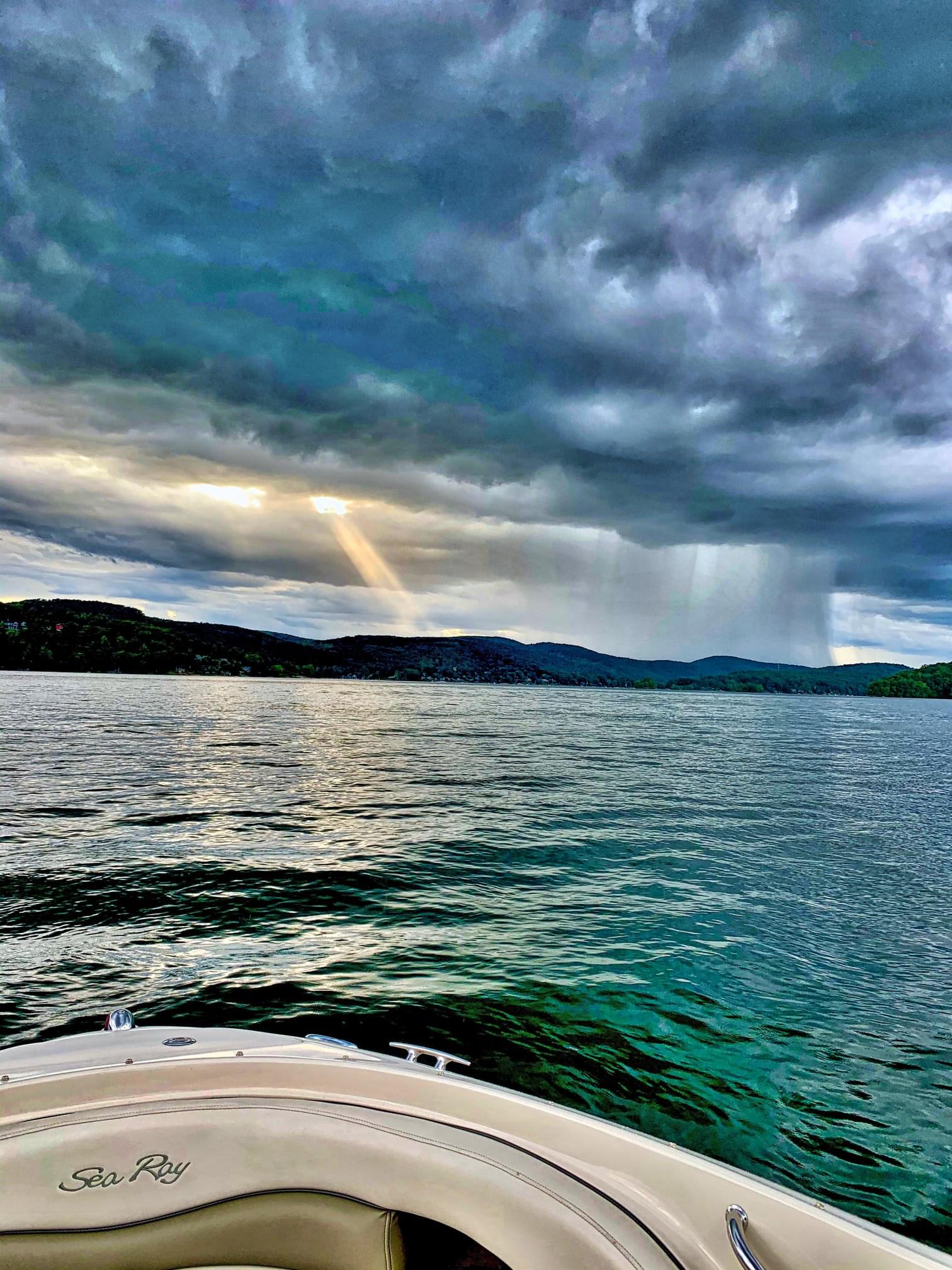 Afternoon rain, Candlewood Lake, Brookfield CT – photo by Kevin Lane
We're 10 days away from the first presidential debate on Sept. 29 at Notre Dame in South Bend, IN. The debates should have zero meaning for the election, since Trump will lie his way through all three of them. That has been the reality since 2016, and it's continued, non-stop. From Politico:
"Four years after he won the Midwest by vowing to revitalize the US manufacturing workforce, President Donald Trump is campaigning for reelection on a job well done. The numbers tell a different story."
It's highly doubtful that economic anxiety alone won the Midwest for Trump. We should remember that there was a near-perfect conjunction among racism, sexism and Whites voting for Trump in 2016.
Here's Trump lying on Sept. 10 at a rally near Saginaw, Michigan:
"You better vote for me, I got you so many damn car plants….And we're going to bring you a lot more."
So many car plants: That would be zero.
And Michigan was down 66,500 manufacturing workers for the year from July 2019 to July 2020. Much of those losses were due to the pandemic, but there were 10,200 fewer manufacturing workers in Michigan in February 2020 than there were in February 2019. Earlier, Trump lied in Ohio at a Whirlpool factory:
"Over the last six months, we've witnessed one manufacturing miracle after another".
Ohio was down 48,000 manufacturing workers in July vs. last year. Pre-pandemic, it had lost 2,200 workers in February from last year. Politico quotes Mark Muro, a Brookings economist:
"Trump has been all in on this huge resurgence of manufacturing employment, and that has not materialized."
More:
"…the White House's trade wars kicked the [manufacturing] sector into another slump in 2019, with Michigan, Ohio, Indiana, Wisconsin, Minnesota and Pennsylvania facing declines or plateaus in manufacturing employment even back in February — well before Covid-19 forced layoffs at dozens of plants."
The trend is the same nationwide. Manufacturing across the US is down 720,000 workers from February, despite gaining 29,000 jobs in August.
And then there's the pandemic. Trump blamed "blue states" for increasing the nation's death rate from coronavirus, suggesting that if "you take the blue states out" of the equation the US would be far more competitive with other countries.
He's making no bones about the fact that he's president of only those who live in red states (149 million vs. 179 million in blue states.) Since he's ignorant of most facts, here's one: 53% of coronavirus deaths have occurred in blue states, and 47% have occurred in red ones. More than 90,000 people have died in red states, while about 100,000 have died in blue states. So, another lie, and not exactly a stellar record in red states.
Of course we will have to wait and see if reality vs. lies told in debates make any difference. Gimme the damn ballot.
It's Saturday, so let's take a short break from politics for our Saturday Soother.
The leaves are starting to fall here in Connecticut, long before any fall color arrives. We're expecting the first frost over the weekend, and as usual, there's yard work ahead. The last of our tomatoes need to be harvested, along with a few remaining jalapenos. Sounds like salsa to Wrongo. Oh, and the water fountain needs cleaning, too.
Before all of that, take time to brew up a vente cup of Kenya Gatuya coffee ($21.00/12oz.) from Lake Tahoe's perfectly named for a Saturday, Drink Coffee Do Stuff. The roaster says the 6,000ft elevation at Lake Tahoe makes their coffees sweeter. You be the judge.
Now, put on a sweater and think about the eternal changing of the seasons. And remember that one day, like a miracle, Trump will just disappear. Now, listen to Yo Yo Ma play Ennio Morricone's "Gabriel's oboe and The Falls" from the movie "The Mission."
Music like Morricone's whispers to us, and carries us beyond our trivial endeavors. Consider yourself soothed: