The Daily Escape: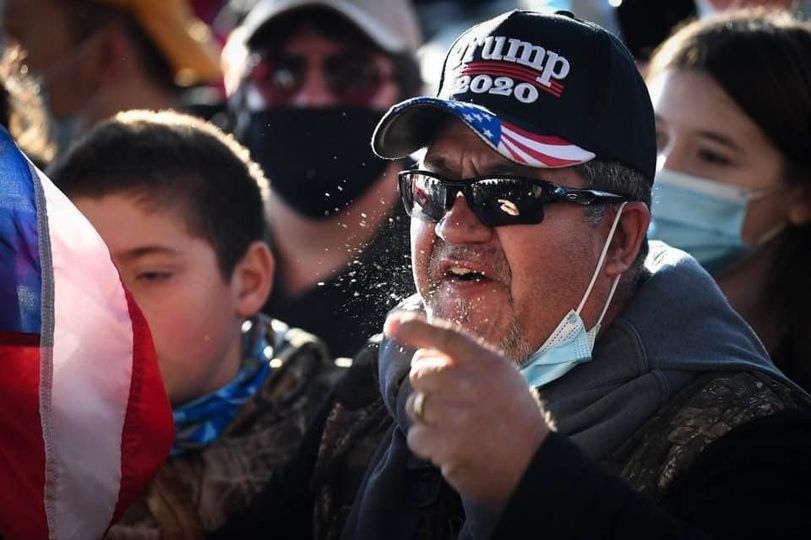 2020 Photo via Ed Hall
Doesn't this disgusting guy show absolutely everything that's wrong with America in 2020? The facts are bad, says the NYT: (emphasis by Wrongo)
"At least 1,210 new coronavirus deaths and 159,121 new cases were reported in the US on Nov. 14. Over the past week, there has been an average of 145,726 cases per day, an increase of 80% from the average two weeks earlier. As of Sunday afternoon, more than 11,050,100 people in the United States have been infected with the coronavirus and at least 245,700 have died…"
Why is stopping the Coronavirus political? The virus needs hosts and targets. If we are sufficiently far apart, the virus can't spread, and will eventually die out. But people like our fellow citizen above refuse to believe they will spread, or get sick from Covid.
Long-time blog reader Pat M. asked Ms. Right to show Wrongo an article by Dr. Leah Curtin, "Pathological individualism", in which Dr. Curtin says this:
"It seems we can no longer tell "freedom" from "license," "rights" from "responsibilities," or "laws" from "the common good." And while the world pities us…we stand like spoiled children, insisting on our "rights" and making fun of people in masks."
Curtin points out that even a superficial study of the Constitution is clear about our freedoms, our rights, and our individual responsibility to help bring about the common good: (emphasis by Wrongo)
"…to be "free" means to be able to do the doable without being subject to unjust constraints. It doesn't mean that any of us can trample on the rights of others, though we're still struggling to understand and implement the latter…..personal rights come with the responsibility to maintain them for self and others.
In other words, we don't have the freedom to infect others. Why? Because that creates conditions that violate other people's unalienable rights. If you think this is exaggerated, consider this tweet from a thread by a South Dakota ER nurse: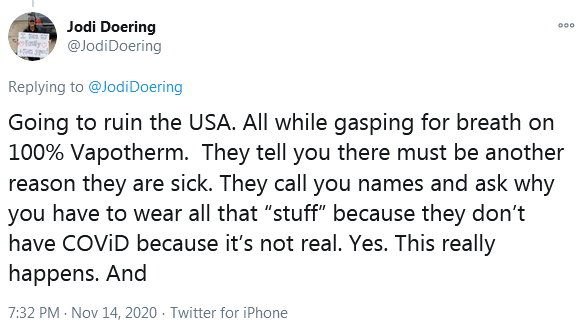 Politico reports that some Republican governors are signaling to Biden that they will not support any sort of federal mandate involving COVID-19 and masks: (emphasis by Wrongo)
"President-elect Joe Biden says he'll personally call red state governors and persuade them to impose mask mandates to slow down the coronavirus pandemic. Their early response: Don't waste your time. Almost all of the 16 Republican governors who oppose statewide mask mandates are ready to reject Biden's plea…even as they impose new restrictions on businesses and limit the size of public gatherings to keep their health systems from getting swamped."
South Dakota's governor Kristi Noem, Oklahoma's Kevin Stitt and Nebraska's Pete Ricketts, whose states are seeing tsunamis of new cases, say mask wearing should remain a personal choice, not a legal obligation. This shows how difficult it will be for Biden to build consensus around even basic public health strategies after he's sworn in.
Other Republican governors, like Eric Holcomb in Indiana and Kay Ivey in Alabama have had mask mandates for months, while Utah Gov. Gary Herbert imposed a statewide order last week when it became clear that his state's hospitals were overwhelmed. Mike DeWine in Ohio also did the right thing.
We continue to think that we can only control Covid with a binary switch. The economy is either closed, or open. We either save the economy, or save the healthcare system.
But, the Biden administration isn't proposing using an on/off switch for the country, or for individual states. They propose using a dial, with stops from fully open to fully closed, and many stops in between, depending on the local severity of the pandemic. This approach will recognize facts on the ground as they change, and keep draconian measures like lockdowns from being the only tool in the box.
When we wear masks that cover our noses and mouths in public, people should understand that:
The wearer knows that they could be asymptomatic and still give someone the virus.
They don't "live in fear" of the virus; they just want to be part of the solution, not the problem.
They don't feel like the "government is controlling them".
Wearing a mask means they are caring and responsible.
Will Republicans help Biden create a teachable moment for America? Don't count on that. As Thanksgiving approaches, it just seems that no one wants to bother: Sure, it kills other people, and that might include grandma, but it won't kill me.
Trump and Republicans have shown utter indifference to Covid and how it's affected people's lives. But it didn't seem to hurt them in the elections, at least at the state level.
What will it take to wake up, America?