The Daily Escape: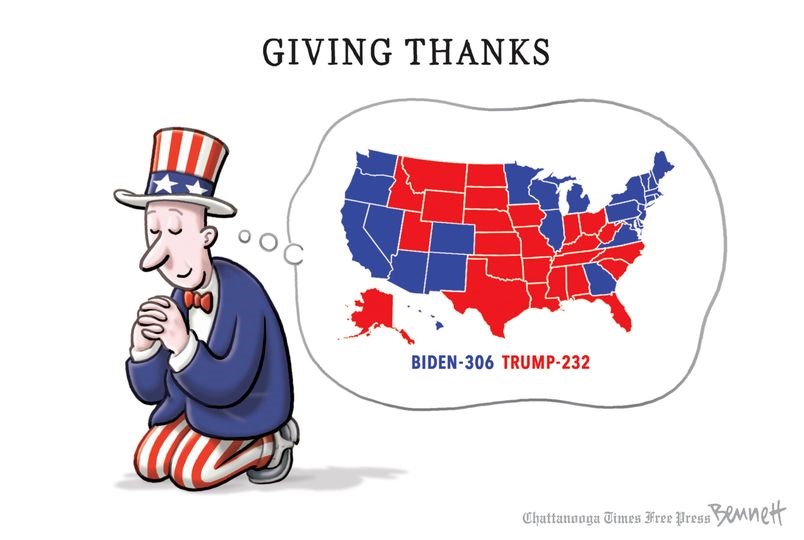 Some of us are thankful that the election is behind us. We're all thankful that 2020 is almost over, that a vaccine is on the way, and that the Dow is up. We're thankful that democracy has survived to fight another day. It has been a trying year.
Wrongo is thankful to all who read the Wrongologist. We've been at this same pop stand since 2011, and some of you have been with us the entire time. Special thanks to long haulers Monty B, Fred VK, David P, Pat M, and Terry Mck, among others.
Here are two facts about the 2020 presidential race that may have been overlooked: Dominating on social media was supposed to be all-important to winning the presidency this year. But Donald Trump has 15 million fewer votes than Twitter followers. While Joe Biden has 60 million more votes than Twitter followers.
Another crucial thing: The election of Democratic governors, lieutenant governors, attorneys-general and secretaries of state in 2018 in PA, MI and WI had a huge impact in deciding the 2020 election. They helped people vote, they fought frivolous lawsuits, and made sure that votes were counted and certified.
This is another reason why voting in state and local races is so important.
This Thanksgiving may not have as many people around the dinner table as usual. But it isn't the first time our Thanksgiving is shrouded in tragedy. When old people like Wrongo sat down to a peaceful Thanksgiving dinner in November, 1963, we were mourning the death of JFK. Twenty years before that, Wrongo's parents were celebrating while a continent apart, while my mother was pregnant with me, during WWII.
We are truly thankful to those who came before us, and to our family members and friends who we can't be with today.
We're thankful to those who are today on the front lines in the military service, or at home in our hospitals, schools, firehouses, and police stations.
Happy Thanksgiving everyone!