The Daily Escape: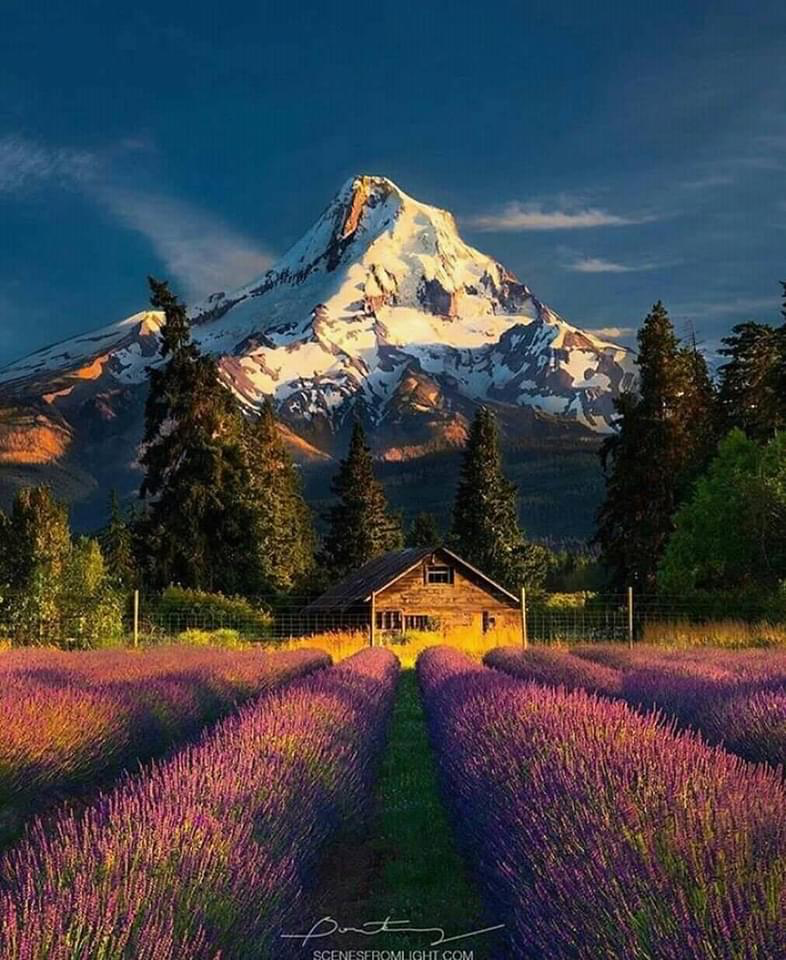 Mt Hood with lavender, from upper Hood River Valley, OR –  photo by Greg Boratyn
Readers of this blog are well aware of the importance of the US Senate run-off races in Georgia. Democrats Raphael Warnock and Jon Ossoff are facing off against GOP incumbents Kelly Loeffler and David Perdue.
Recent analysis by FiveThirtyEight places Warnock ahead of Loeffler by .1% and Perdue ahead of Ossoff by .8%, but who trusts polls anymore?
Early voting in Georgia has been heavy, with 2.3 million votes already cast. So far, the demographics show that these early voters are skewing younger and more diverse than in the November election. Possibly troubling for Republicans is that people aren't voting early in traditionally Republican counties like they have in the past. And since the early voting period ends soon because of the New Year holiday, the pressure will be on to boost turnout on Election Day, January 5.
Also possibly helping Democrats is a ruling that two Georgia counties must reverse their decision to purge thousands from voter rolls in advance of the January 5 runoff election. Georgia federal judge Leslie Abrams Gardner said in an order filed late on Monday that these two counties appeared to have improperly relied on unverified change-of-address information to invalidate voter registrations:
"Defendants are enjoined from removing any challenged voters in Ben Hill and Muscogee Counties from the registration lists on the basis of National Change of Address data,"
The judge is the sister of Georgia Democrat Stacey Abrams. Before breaking into a happy dance, it's good to remember that this order applies to only about 4,000 registrations, the vast majority of which are in Muscogee County. Biden won the county in November.
The runoff has seen record-breaking fundraising. Ossoff and Warnock each have raised more than $100 million in two months, more than their conservative opponents. The Democrats were powered by small donations collected from across the country, with nearly half of the funds coming from people who donated less than $200.
For Perdue and Loeffler, smaller donations accounted for less than 30% of what they raised. However, we need to remember the hard lessons of Jaime Harrison (NC), Sara Gideon (ME), and Amy McGrath (KY). These Democratic candidates out-raised their Republican incumbent opponents, and all lost by double digits in their races.
Ossoff and Warnock are still "sounding the alarm" about their ability to keep pace with GOP spending. They're calling for a "significant increase" in grassroots donations to prevent them running out of money, as GOP outside groups are outspending Democratic groups.
Both Parties want to shift from TV to direct get-out-the-vote contact in the last days before the election.
But there's an additional outside force that may play into the results in Georgia. Given the overwhelming popularity of increasing relief checks from $600 to $2,000, Trump has placed Senate Republicans in a brutal position. The House has passed a $2000 relief package, and now it is up to the Senate whether to take it up, or not.
Bernie Sanders (I-VT), is playing this one beautifully:
"Sen. Bernie Sanders will filibuster an override of President Donald Trump's defense bill veto unless the Senate holds a vote on providing $2,000 direct payments to Americans."
This puts the ball in Mitch McConnell's court, and it will be interesting to see where he goes. He seems to have three options:
Call Sanders's bluff by demanding that Democrats provide enough votes for cloture and the subsequent veto override. McConnell will say that if they fail to do so, he'll let the Defense bill die while pinning the blame on the Democrats.
Lump the extra stimulus with Trump's demand for action against the big tech firms. This would push consideration of the measure into the next Congress.
Alternatively, McConnell can hold a vote on the bigger stimulus checks.
On Tuesday McConnell single-handedly blocked consideration of the House $2000 bill, but that was just the first step in a series of Senate parliamentary moves that are likely to take the rest of the week.
Loeffler and Perdue decided to support the extra stimulus. That was an easy call, once they knew McConnell would block it initially. They were joined by Sens Hawley (R-MO), Sen Marco Rubio (R-FL), and Sen Deb Fischer (R-NE). If all Senate Dems support it, they would need seven more Republicans to move forward.
Whether the extra relief bill passes or fails, there's a winning message for Ossoff and Warnock to hammer: I want $2k, you want $2k, the Democrats in the House want $2k, and the Dems in the Senate want $2k. Heck, even Trump wants $2k. The only people who don't want you to have $2k are Republicans.
If you don't vote for the Democrats, you'll never see any more stimulus money.
That's the way to turn a loss in the Senate into control of the Senate on January 5.