The Daily Escape: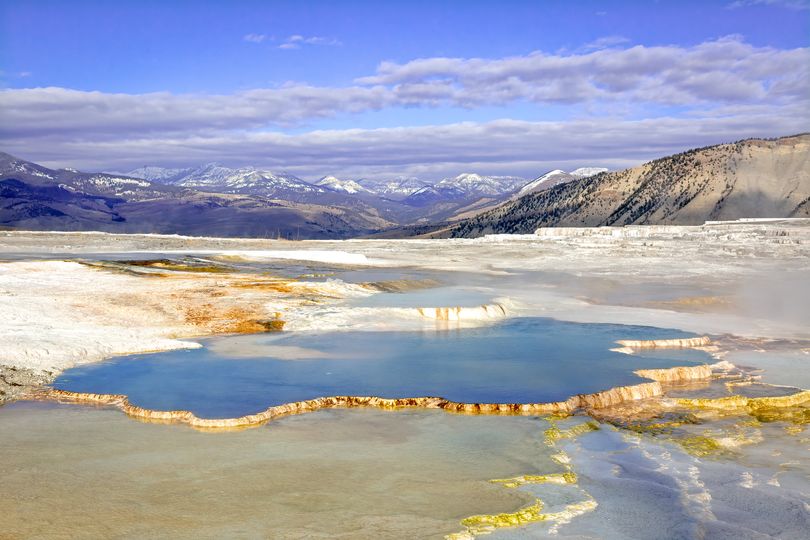 Mammoth Terraces, Yellowstone NP – photo by Jack Bell Photography
This picture is a perfect metaphor for America at the start of 2021. What we see is beautiful, but it sits on top of a mega-volcano that could erupt at any time. This could describe what our nation sees in January.
Little in America works anymore. Friend of the blog Pat M. said that when she asked the food bank in her small coastal town on the New Jersey shore what they needed most, they said "diapers". Her town is an upscale place that much like down-scale places across America, has citizens in desperate need.
Imagine being a mom in middle class America who can't afford to diaper her baby….
Our politics (and our politicians) have failed our people. There's plenty of proof of that: The hard-hearted inability of Congress to pass relief legislation until it may have been too late for some. And the so-far disastrous federal rollout of the coronavirus vaccine proves that the Trump administration is incompetent at their jobs.
Democracy now starts its first week of 2021 living dangerously. We knew that a few Republicans would object to the counting of the Electoral Votes of certain states. That the certification of Electoral Votes would be delayed to handle objections by politically motivated back-benchers in both Houses of Congress. This game plays out on Wednesday. We'll watch Republicans attempt to throw out enough of the votes of Americans in a few states, to keep Trump in power.
That effort will fail, but we should see it for what it is. There's a through line from impeaching Bill Clinton, to refusing Obama's Supreme Court nominee Merrick Garland a hearing, to Republicans in Congress refusing to confirm the election of Joe Biden. From Paul Campos:
"The logical and perhaps inevitable extension of the principle 'we won't confirm any Democratic Supreme Court nominee if we have the votes to block it' is 'we won't confirm any Democratic winner of a presidential election if we have the votes to block it.'"
Republicans don't have the votes to block Biden right now, but it's one of their goals for the  future. Back to Campos:
"…Don't fall for the claim that Mitch McConnell in particular was powerless here: The Senate majority leader has enormous formal and informal power to sanction deviationist members, by for example stripping committee assignments, blocking pet legislation, calling big soft money donors etc…"
"Vice President Mike Pence signaled support on Saturday for a futile Republican bid to overturn the election in Congress next week, after 11 Republican senators and senators-elect said that they would vote to reject President-elect Joseph R. Biden Jr.'s victory when the House and Senate meet to formally certify it."
The NYT normally pulls its punches, but this article speaks of "unambiguous results," that every state has "certified the election results after verifying their accuracy," and that Republicans have attempted to question those results by "offering vague suggestions that some wrongdoing might have occurred" and amplified them via "specious claims of widespread election rigging that have been debunked and dismissed."
That the Times says straight out that the GOP wants to overturn the election doesn't matter at all to today's Republican Party.
Our social and political systems depend on the maintenance of informal norms as much as they depend on adherence to formal rules. Our most basic norm is the assumption that sociopaths are and will remain, unable to control our systems. We count on society's guardrails to keep us from flying off the track. Here's something to think about:
All of Congress were elected in November, including those Republicans who are objecting to the election results.
Among the Senators signing onto the effort are: Steve Daines (R-MT), and Senators-Elect Cynthia Lummis (R-WY), Roger Marshall (R-KS), Bill Hagerty (R-TN), and Tommy Tuberville (R-AL), all elected in November.
All are objectors to Biden's election, but none of them are objecting to their own wins on the same day, on the same ballots, using the same election systems.
Let's give the last word to Heather Cox Richardson:
"Democracy depends on a willingness to transfer power peacefully from one group of leaders to another. By revealing that they refuse to do so, the members of the "Sedition Caucus," as they are being called on social media, are proving they are unworthy of elected office."
Wake up America! The next time you see a Republican lose it when an athlete takes a knee during our National Anthem, remind them that they sat back and watched Trump and his supporters attempt to dismantle our democracy.