The Daily Escape: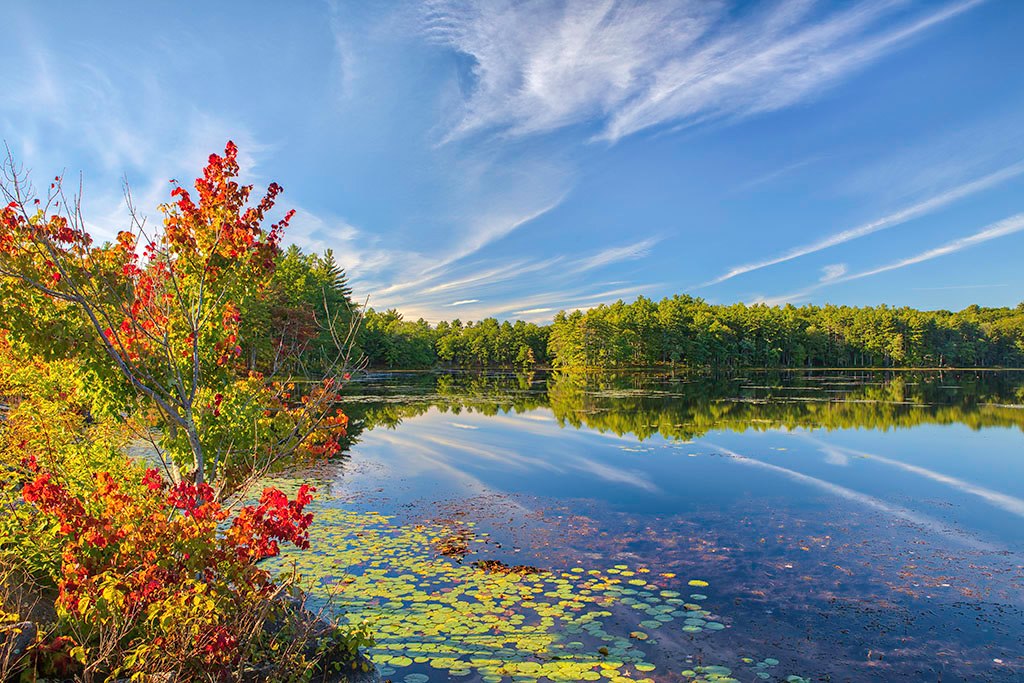 Early fall foliage, Long Pond, Rutland, MA – September 2021 photo by Jurgen Roth Photography
Charlie Sykes, talking about what will be a jam-packed week in Washington DC:
"This is going to be a helluva week. Democrats in Congress may not be able to save the Biden presidency, but they can destroy it…"
There are clear differences among Democrats on social spending priorities and the correct size of the pending human infrastructure spending bill. Several Democratic House members have vowed not to support both of Biden's bills, unless they get what they want included. Along with threats by Sens. Sinema and Manchin not to stand with Democrats in the Senate, both House Speaker Pelosi and Senate Majority Leader Schumer can't be happy trying to lead their fractious caucuses.
And among these efforts to thread the needle, are the twin crises of a Thursday cut-off of federal spending and a subsequent (possible) default on the nation's debt.
Funding for the federal government is set to run out on Thursday at midnight. Senate Democrats will move a stopgap spending measure forward to position for a vote on the House-passed short-term funding bill. That would keep federal agencies open until Dec. 3, while suspending the debt limit until Dec. 2022.
Suspending the debt limit for another year is a great idea, but Senate Republicans are certain to tank that proposal. The likely scenario is that Senate Dems will remove the debt-limit provision and pass the bill with bipartisan support. Then, the House passes the bill, Biden signs it, and a government shutdown is averted for another two months.
But that leaves the debt-limit problem unresolved. We will reach that in early-mid October.
Mitch McConnell and Senate Republicans won't support an increase in the debt limit. They say that Democrats should lift the cap on government borrowing on their own, as a part of their reconciliation package. But that creates a political advantage for the Republicans. And besides, it could take weeks, enough time to bring the country close to defaulting on its obligations. And it isn't certain that Schumer has the votes to pass it without Republican help.
Only one thing's certain: No one knows what's really going to happen.
On infrastructure, Pelosi announced that debate on the Senate-passed bipartisan infrastructure bill would start on Monday. A House vote on it is slated for Thursday. House Democrats are also trying to make progress on the big reconciliation package.
Pelosi's challenge is to keep progressives from walking away from the big bill and tanking the infrastructure bill. Democratic leadership also must appease Senate centrists about the size of the big infrastructure bill, which they say is too large.
House Democrats will meet late on Monday, (shortly after Wrongo posts this). Pelosi wants the members who've drawn lines in the sand about the human infrastructure bill (and who haven't shown up for caucus meetings lately) to be there. From Politico:
"I urge the fullest participation of Members and hope that as many of us can be there in person as possible…"
These are strange days for Democrats. As a Sunday WaPo article said, "Political Suicide is not a Strategy". In addition to the obsessive focus on securing the necessary votes in the House and Senate, the focus on the human infrastructure's price tag is the essence of bad political messaging. Few Democrats stand up to say that the $3.5 trillion will be spent over 10 years, amounting to only 1.2% of GDP over that period.
Worse, focusing on the dollar amount takes attention away from the value in the bill for children, families, education, health care, housing, and climate. From Rep. Jim Himes (D-CT):
"When Democrats allow a debate to be only about a number, it's like talking about a Christmas party and only discussing the hangover."
The WaPo quotes Sen. Chris Van Hollen (D-MD) as saying that the discussion is getting things exactly backward:
 "We should work from what policies we want to enact, rather than an arbitrary number."
No one can forecast how this will all work out. It would be dandy if Republicans supported the debt ceiling increase.
It would also be dandy if they accepted the results of the 2020 election, got vaccinated and stopped passing voter suppression laws. A rational and patriotic Party would do those things. But those are a bridge too far for today's Republican Party.
So, Democrats are on their own. We'll soon see if they can stand together as a team to avoid disaster and deliver on Biden's promises.