The Daily Escape: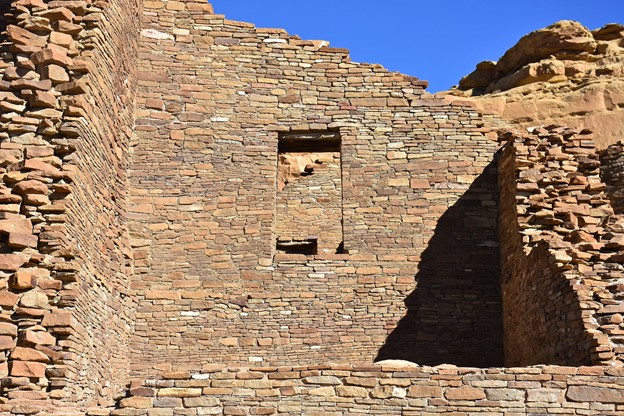 Pueblo Bonito, Chaco Canyon, NM – November 2021 photo by James C. Wilson. It's difficult to hire stone masons this good today.
 "If Americans are feeling glum, they sure are engaging in some retail therapy."— WSJ's "Heard on the Street" columnist Justin Lahart
We're in a period of unclear signals. Every poll says that Americans believe inflation is high and the economy is bad. But unemployment is low, GDP growth is high, and people are buying things like crazy:
"The Commerce Department…reported that sales at stores, restaurants and online rose 1.7% in October from a month earlier, better than the 1.5% economists expected. Additionally, estimates of August and September retail sales were revised upwards. Sales were broadly higher across most categories, with gains at department stores, electronics and appliance stores and online retailers in particular…"
This led economists to revise their fourth-quarter GDP estimates higher. JPMorgan Chase now forecasts GDP will grow at a 5% annual rate in the fourth quarter, versus its previous 4% estimate. The news wasn't all terrific, as restaurant and bar sales were flat in October versus a month earlier. That might be an indication of cooler weather keeping diners at home as outdoor seating arrangements became less comfortable.
Overall, this dynamic growth in retail sales stands in contrast to the University of Michigan's consumer sentiment survey that fell in early November to its lowest level in a decade.
How to explain what's going on? People have some savings. Some people have higher wages, and both seem to be having a greater influence on how much people are willing to spend than price increases are having on how they feel about Biden's job performance.
Claudia Sahm argues that some of the savings are due to government checks, and it was worth it:
"2021 began with economists arguing about $1,400 stimulus checks. Americans got them, but they got higher inflation too. Even so, the checks were very good policy."
She compares the government's reaction in the Covid crisis to their reaction during the Great Recession. This time, Congress went big:
"In 2008, Congress enacted one round of stimulus checks, totaling about $110 billion. During the first year of Covid, it sent out three rounds at close to $1 trillion dollars. A family of four got $11,400, which is about 20% of median family income."
Here's a chart showing the difference between the two policy approaches. Sahm plotted the value of the payments against the trend of personal income during both recessions: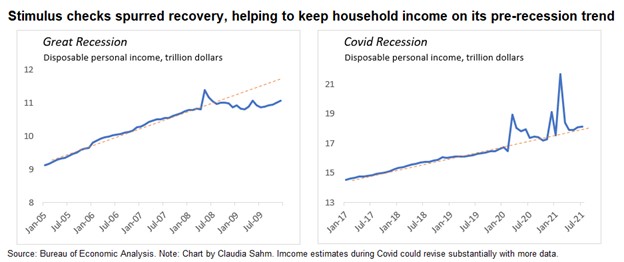 The three rounds of stimulus checks provided relief to the families whose lives Covid disrupted and it helped bolster the economic recovery by creating jobs. The Covid relief paid the bills. Stimulus helped bring back paychecks.
Most people spend most of the money they make. With smaller take-home money during the crisis, many Americans made a dramatic cut in their spending. And big cutbacks in spending in an economy driven by consumers, led to big layoffs. So, the policy decision to put money in people's bank accounts was key to keeping the Covid recession as short-lived as possible.
Clearly, the fast recovery came with a cost. Inflation is higher today than it has been in 31 years. But don't let the inflation doom-sayers fool you: consumer spending, even after taking inflation into account, has been increasing even as millions are out of work.
New Deal Democrat shows us that total activity through the big Southern California ports is breaking records, and yet as we know, they still can't keep up with the increased import demand: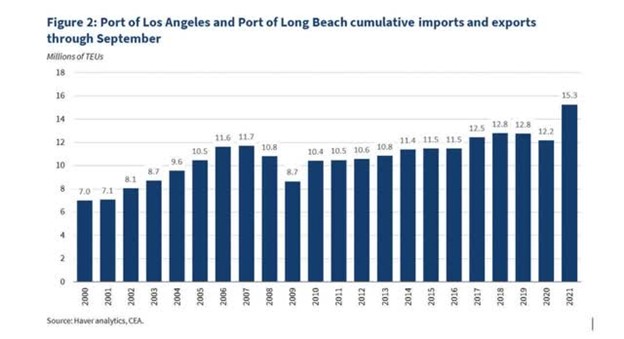 Despite increased container handling capacity, this explains a great part of the current supply chain bottleneck since the global supply chain is incapable of handling a sudden jump in consumer demand. It partially explains why goods shortages and price pressures have mounted. That, in turn, is pushing up prices. The NYT quoted Aneta Markowska, chief financial economist for Jefferies, an investment bank:
"It's the demand in the first place that's causing prices to move higher…There is a supply shortage, but it's not because of bottlenecks. It's because we've had this big shock to aggregate demand and supply can't respond quickly enough."
There are still plenty of logistics bottlenecks. Yes, we're buying much more stuff, and paying more for it. But households were sitting on a collective $2.5 trillion in savings built up during the pandemic. And millions of jobs have come back, so spend they will.
The Covid recession was a sharp and steep one, the deepest since the Great Depression. But the speed of recovery has been very fast, due in large part to the policy decision to put checks in people's pockets.
This time, government worked for us.
Let's have a Thursday tune. Everyone has heard 1981's "Under Pressure" a masterpiece by Queen and David Bowie. It was covered by Fall Out Boy as part of ABC's Queen Family Singalong on Nov 4. Lead vocalist Patrick Stump tries to sound like both Freddie Mercury and Bowie. Read the words and you'll understand why Wrongo offers it today: