The Daily Escape: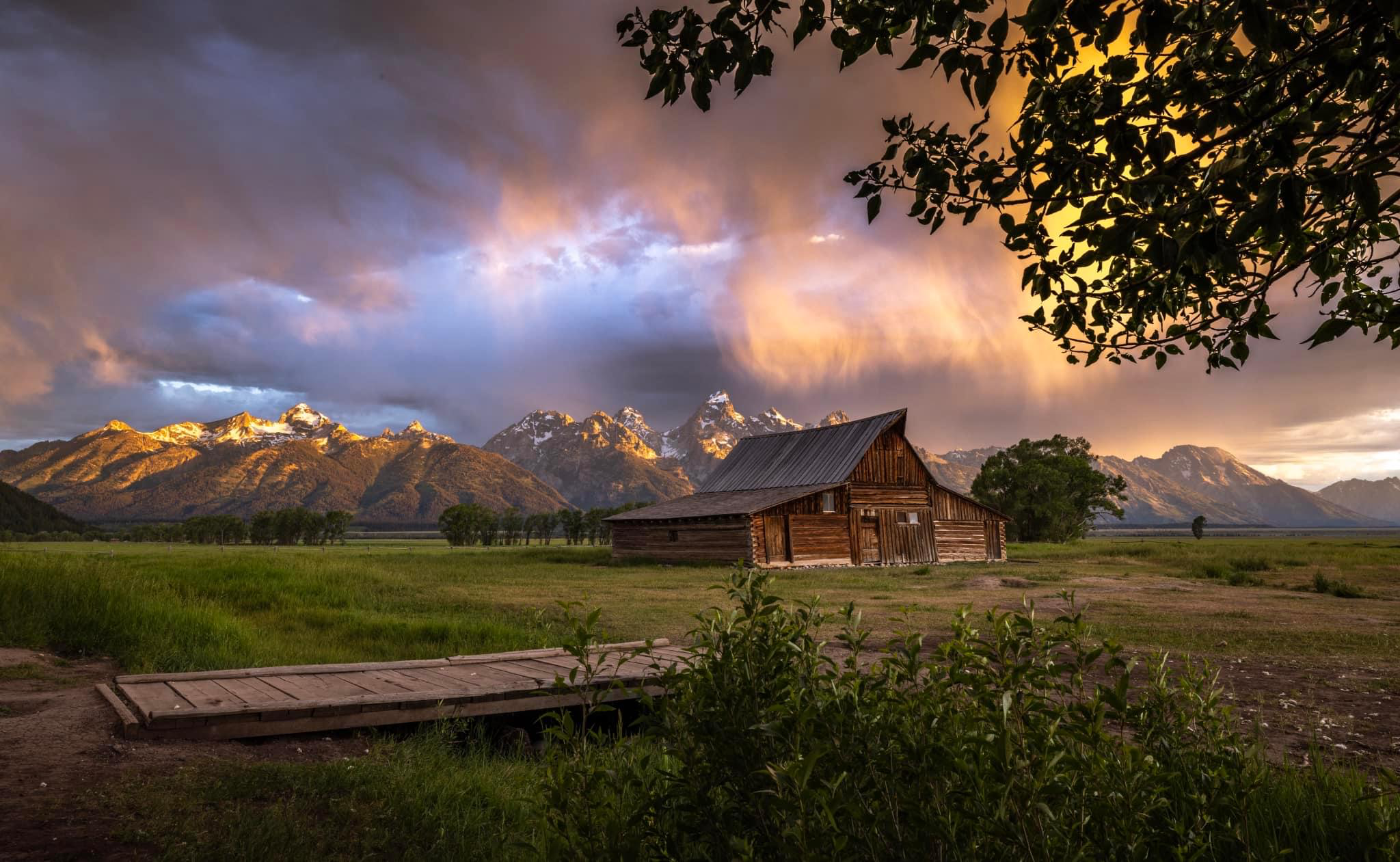 Moulton's Barn with Tetons and clouds in background, Jackson WY – July 2022 photo by Peter Mangolds
Lots of bees buzzing around AG Merrick Garland because they're concerned that he won't indict Trump before Trump announces a re-run for president. From Marcy Wheeler at Emptywheel:
"Yesterday, Rachel Maddow reported the exciting news that Merrick Garland released the same memo that Attorneys General always do during election years….the memo requires Garland to do what everyone has long assumed: that Garland would have to approve any investigation into Trump"
The pundits concluded immediately that by releasing the memo, Garland had nixed any further indictments before the election, including of Trump and his coup henchmen.  But that's not true, Wheeler says: (brackets by Wrongo)
"….that's not true is because after Garland released this memo, DOJ arrested…[Republican] candidate for Governor of Michigan, Ryan Kelley [for Jan. 6 activities]….in addition to charging him with entering restricted grounds (that is, entering inside the barricades set up around the Capitol), DOJ also charged him with vandalizing the scaffolding set up in advance of the Inauguration. The charging documents also cited some of his other efforts to undermine democracy in the lead-up and aftermath of the 2020 election."
All of this concern about Garland occurred after a Rolling Stone report that Trump sees an early announcement of his candidacy for 2024 as a shield against possible investigation/prosecution. That prompted Harvard's Laurence Tribe to tweet words of caution to his former pupil, Merrick Garland, warning against letting Trump play him in any decision about investigating Trump: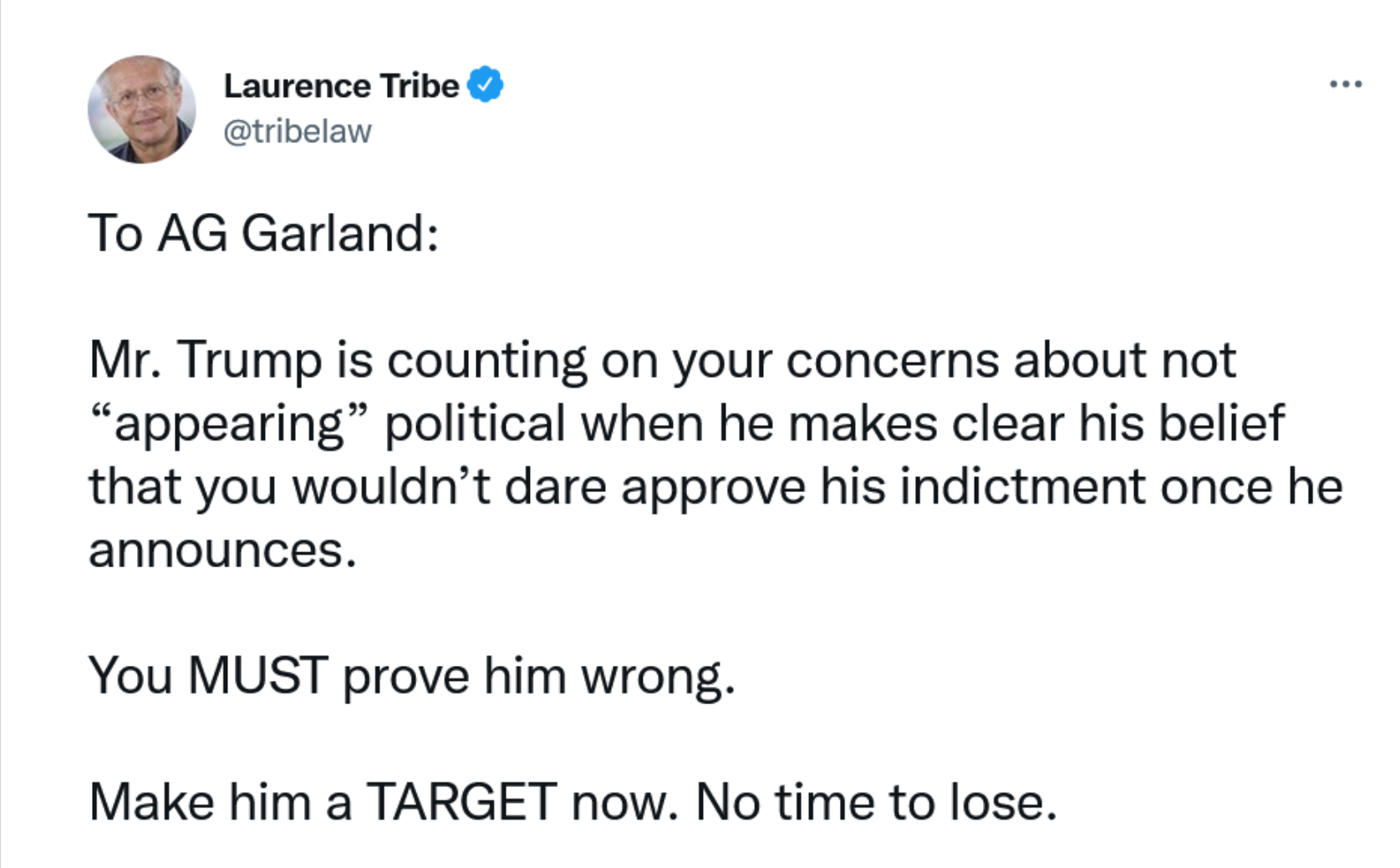 Whether the DOJ has already opened an investigation into Trump's activities or not, Marcy Wheeler says: (emphasis by Wrongo)
"….I'm also confident that if the investigation isn't open now or soon, Trump's campaign roll-out would do nothing to thwart opening an investigation. It would require the same Garland approval that would be obtained in any case. Trump wouldn't even be affected by the DOJ policy on pre-election actions, because he's not on the ballot this year."
But criminal prosecution by Georgia's Fulton County District Attorney Fani Willis is a more proximate threat to Trump. The recordings of Trump pressuring Georgia Secretary of State Brad Raffensperger to "find" 11,000 votes seems clear-cut enough to justify a criminal indictment.
Willis has already warned several high-profile Georgia Republicans they could face charges over Trump's fake electors scheme in her state. She subpoenaed Rudy Giuliani and Sen. Lindsey Graham (R-SC), who is fighting a Georgia subpoena to answer questions about his calls to Georgia officials about 2020 election results.
Trump's pondering of an early announcement may have more serious objectives than avoiding prosecution. He's seeing polls that show him trailing badly in his home state of Florida. Allahpundit gathers Florida polling data:
"For the second time in five days, a pollster from Florida with whom I'm unfamiliar sees DeSantis leading the former guy comfortably in their mutual home state. Last week Blueprint Polling had the race 51/39 there. Today Victory Insights has it 61/39 if "leaners" are included and 51/33 if they aren't."
Maybe Trump is trying to clear the field of primary rivals. But Dems think an early (before the mid-terms) announcement by Trump would be a gift. The GOP wants to keep voters focused on Biden, rather than transforming the contest into a referendum on Trump.
Many pundits underestimate what Garland is doing. They're after a quick legal fix. He's moving deliberately, gathering evidence. There's an abundance of low hanging fruit (the fake electors, Eastman, Giuliani, Powell) and many others. The strategy of the DOJ following behind the J6 hearings will create a groundswell of public support.
We now know the story about the build up to the attempted coup, and we're seeing who was involved at all levels. When Garland indicts, the majority of the voting public will say "it's about time."
Calm down Dems.