The Daily Escape: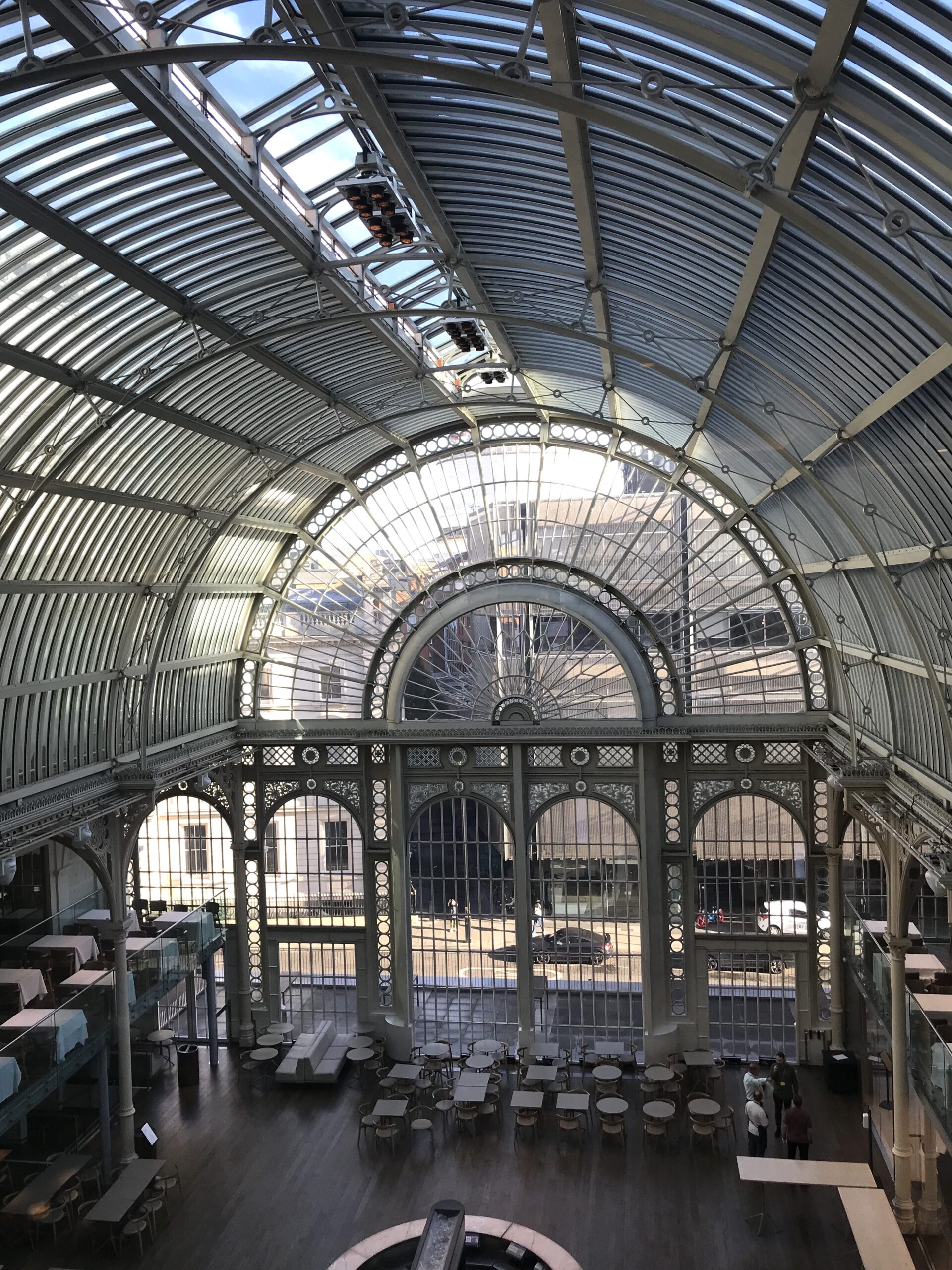 The Old Floral Hall, Covent Garden, Royal Opera House, London UK – October 2022 iPhone photo by Wrongo
We're nearing the end of our week in London. Yesterday, we visited the Royal Opera House (ROH) in Covent Garden. We got to watch ballet rehearsals by the Royal Ballet Company which shares the ROH, and briefly listened in on a rehearsal by Lisette Oropesa who plays the title role in "Alcina" by Handel. Alcina turns her male lovers into plants, an idea that inspired much mirth from Ms. Right.
Wrongo saw Nureyev perform at the ROH in 1976, when he was working for the big American bank. That was ages before the remodel of the ROH which added a huge addition in 1997-1999. In the 1970s, the Old Floral Hall in the photo above was at street level. Now it has been refurbished, halved in size, and raised to the second floor inside the ROH addition. It is used as an event space and cocktail bar.
We heard over here about the good US economic news. And it wasn't just about GDP growth. There was also good news on inflation. The Personal Consumption Expenditure (PCE) price index, which the Fed watches closely, increased by 4.2%, down significantly from 7.3% last quarter. And the CPI for the last three months rose by 0.5%, equating to an annual rate of 2%. If it were to keep up for the next nine months, that's at the Fed's inflation target. Pity that the media aren't talking about this, but mostly about how the economy is still slowing.
One thing that caught Wrongo's eye from abroad was Harvard's Kennedy School of Government's release of its 44th youth poll: (emphasis by Wrongo)
"A national poll released today by the Institute of Politics at Harvard Kennedy School indicates that 40% of 18-to-29-year-olds state that they will "definitely" vote in the November 8 midterm elections, on track to match or potentially exceed the record-breaking 2018 youth turnout in a midterm election. Young voters prefer Democratic control of Congress 57% to 31% (up five points for Democrats since spring), but 12% remain undecided."
John Della Volpe, Kennedy School director, believes we will see a Gen Z wave in November:
"Youth today vote at levels that far exceed millennials, Gen X, and baby boomers when they were under 30."
In the 2020 presidential election, voters 18-29 voted in even greater numbers than in 2018: closer to 50%. Yet, if turnout by younger voters is in the 40% range, that's not something to celebrate. It means that younger voters are leaving a lot of political power on the table.
According to the US Census, people over 65 outvoted them by over 15 points in 2018. Political power is right there waiting for people to grab it. That only will happen if more people turn to vote.
Wrongo got an email from his Democratic Congressperson Jahana Hayes, saying that she was trailing by one point in the highly respected Emerson College poll which says:
"The economy is the most important issue for 46% of Connecticut 5th District voters, followed by abortion access (16%), and threats to democracy (14%)."
Hayes is a first-term Representative who was comfortably elected in 2020. While the results are within the ± 4.3% margin of error in the poll, this isn't a seat the Dems thought was in play. This is more proof that the Dems are flailing with their messaging on inflation and the economy, despite the fact that inflation is falling and the economy is still growing.
But we also have to remember that if the GOP takes the House, they'll have absolutely no incentive to even try to help make economic conditions any better.
In fact, they are actually incented to try to make it worse. Why? Because the Democrats will still control the White House and may also control the Senate for the next couple of years. It's a safe bet that Republicans will do whatever they can to increase the chaos on the economic front, so that they can continue to blame Democrats when Trump runs again in 2024.
But we really have no idea which Party will control the House and Senate, and we may not know for sure until a week or two after November 8.
With Wrongo and Ms. Right in London, you're on your own for how to relax on this Saturday. To help with that, watch and listen to Sinfonity TV Guitar's incredible performance of Bach's "Toccata & Fugue", recorded live in Segovia, Spain. To watch 15 rock guitar musicians playing it in unison is astounding. Take your collective hats off to the musicians who play it:
Who says rock and classical music don't mix?