The Daily Escape: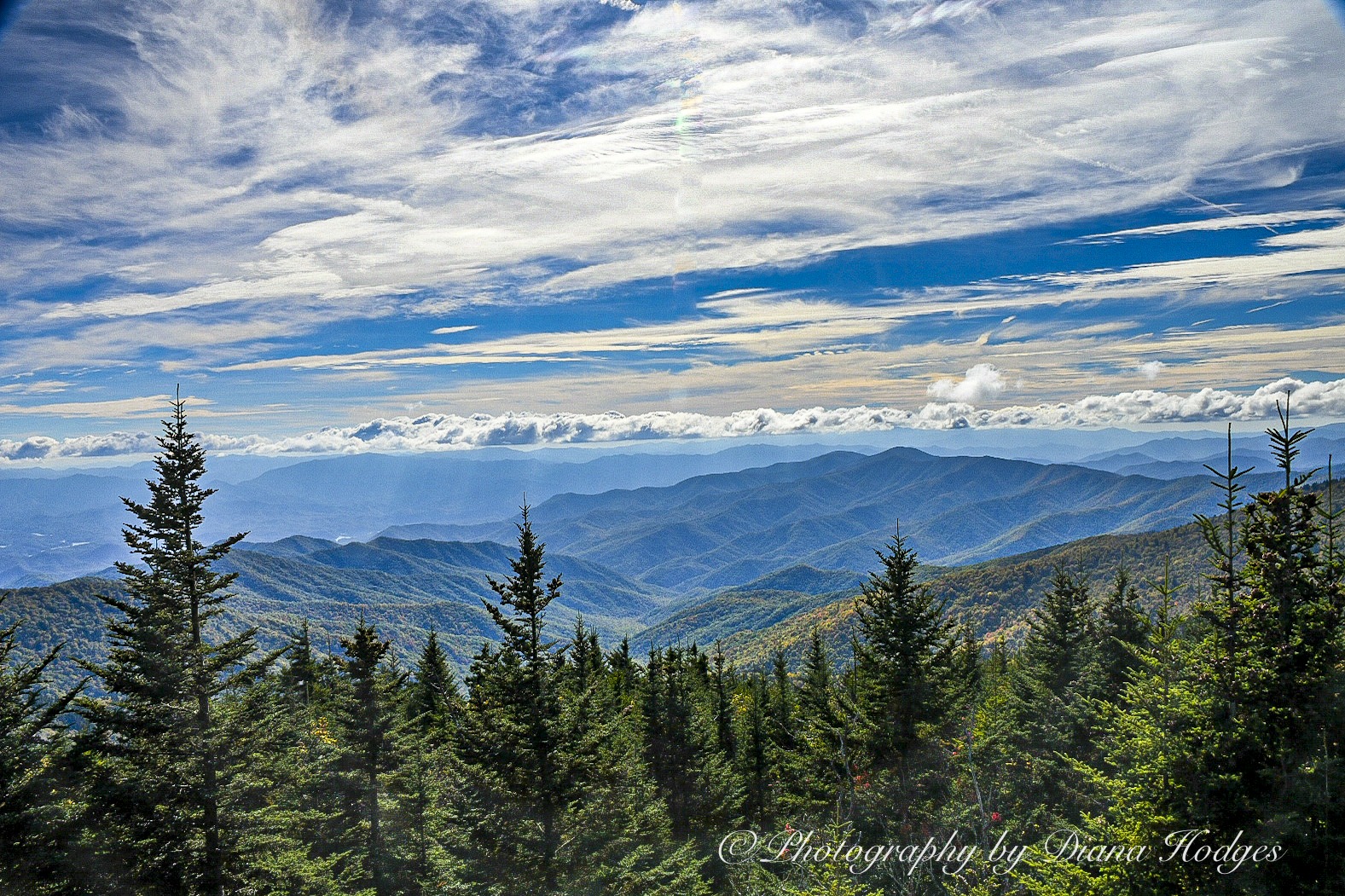 View from Clingmans Dome, TN – December 2022 photo by Lynn Carte Hodges
From John Dean:
"The Democrats' 51-seat Senate majority lasted about three days. Kyrsten Sinema is leaving the Democratic party."
She is now registered as an Independent. Her announcement comes just after Sen. Warnock won reelection in Georgia, securing the 51st Senate seat for the Democrats. It's difficult to figure out what Sinema's intent is. The most charitable view may be that no longer being the 50th vote freed her to follow her conscience.
This raises two political questions. First, does this change the balance of power in the Senate? With the current makeup of the Senate, Wrongo doubts her decision changes anything. Like in the past, Sinema will vote the way she wants to vote. She has said she will caucus with the Democrats, but she rarely attended Democratic caucus meetings before, so there won't be a change there.
Sinema has been a reliable vote for confirming Biden's judicial appointments, for women's issues and for LGBTQ+ issues. She was a lukewarm supporter of Biden's infrastructure plan and is fervently against changing the Senate filibuster rules or increasing taxes. She voted against a $15/hour national minimum wage.
Sinema's move is a reminder that every single Democratic Senator can control the Senate, and along with it, control every committee assignment and whatever remains of the Democratic agenda.
Sinema did say she expects to retain her current committee assignments, which makes it sound like she's had discussions with Senate Majority Leader Chuck Schumer before making her announcement. So, situation normal, more Dems in disarray.
Second, will this throw the 2024 Arizona Senate race to the Republicans? Voter registration in AZ is split nearly evenly into thirds among Dems, Republicans and "Other", with the GOP in first place and the Dems in third.
Its no secret that Arizona Democrats aren't fond of Sinema. Below is a year-old poll from the progressive think tank Data For Progress showing how big the climb would be for Sinema to win a Democratic Senate primary in 2024: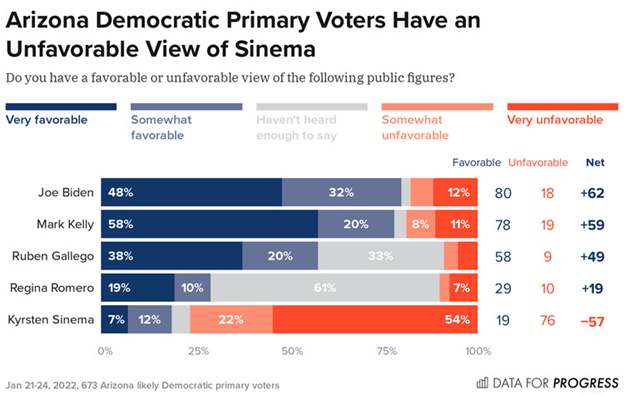 Sinema's options in 2024 are:
Not to run for reelection.
To run as a Democrat and lose in the primary.
To run as an Independent and try to cobble together a centrist coalition.
She would fail if she tried to run as a Republican. She would probably face Kari Lake, the bat-shit crazy election denier who nearly won the AZ governor's race. Sinema would be cast as a RINO with no chance to win a Republican primary as a former Green Party, former Democrat, and former Independent, who has finally seen the Conservative light.
However, it's most likely that Sinema left the Democratic Party to maintain her political viability.
If so, the best strategy for Sinema is to run as an Independent who caucuses with the Democrats. Arizona's Democrats would then either have to accept her as the less horrible choice in a two person contest, or reject her for Gallego, a talented politician who would have trouble winning in a three-way race if Sinema stayed in as an Independent.
That would leave Democrats in a difficult position. They could either support an Independent who mostly agrees with them and votes with the Democratic majority or run their own candidate, thereby possibly splitting the anti-MAGA majority and handing the seat to a Republican.
Remember that both Bernie Sanders of Vermont and Angus King of Maine run on the Democrats' line for Senate. So could Sinema. While she almost certainly doesn't have what it takes to make Democrats love her, she almost certainly DOES have the power to make sure a more progressive Democrat doesn't replace her.
The question is: What card will she play in 2024? She's already cut an ad declaring her independent status. The Democrats face a brutal election cycle in 2024 with 23 seats up (including Maine and Vermont, while Republicans have just 11 at stake. The Dems can't afford to lose AZ.
But let's forget Sinema and political war games and turn our attention to reindeer games. It's time for our Saturday Soother.
Here at the Mansion of Wrong, after a very warm fall, we're starting a cold snap with the promise of our first real snow accumulation on Sunday. That happens to be when we're going to hear a performance of Handel's "Messiah" by the Waterbury Symphony.
So kick back and watch "I know that my Redeemer liveth", from Handel's Messiah, with a solo by Amanda Powell, backed by Apollo's Fire. This was performed live in 2018, in the First Baptist Church, Cleveland, Ohio, conducted by Jeannette Sorrell who also plays harpsichord: