The Daily Escape: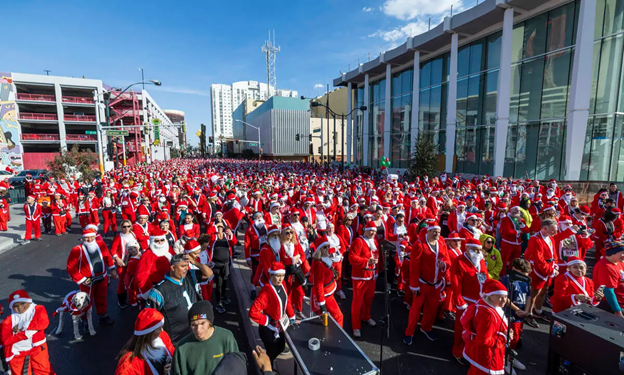 18th Annual Las Vegas Santa Run – Saturday, Dec. 3, 2022.  Source: L.E. Baskow/Las Vegas Review-Journal @Left_Eye_Image
Lost in the back and forth of the year-end Congressional sausage-making was the unwelcome news that the deal to protect dreamers and to reform our immigrant asylum system has died.
From Greg Sargent in the WaPo:
"For a fleeting moment this month, a deal to protect 2 million "dreamers"…appeared within reach. Two senators with a history of bipartisan compromises were earnestly haggling over details…. The talks were endorsed by influential right-leaning opinion-makers, and even encouraged by the conservative Border Patrol union."
The two Senators are Sens. Thom Tillis (R-NC) and Kyrsten Sinema (I-AZ). Back to the WaPo:
"What happened? Tillis and Sinema were negotiating over bill text, much of which had been written, as late as Wednesday night. But Senate Minority Leader Mitch McConnell (R-KY) informed Sinema and Tillis that he wouldn't allow it to be attached to the end-of-year spending omnibus bill, effectively killing it…"
Passing it was always a long shot. It looks as if the Republicans want immigration as a political issue more than they want a solution.
If you follow what's going on at the southern border, you know that using Title 42, to allow police and border officers to expedite the expulsion of illegal immigrants is ending. A federal judge ordered the Biden administration to stop using it by Dec. 21, stating that it was "arbitrary and capricious."
Immigrants are now crossing the border in large numbers, expecting that it will soon be impossible for US Border Patrol to simply send them back without reliance on Title 42. More from Sargent:
"The framework would have created new processing centers that would detain incoming asylum seekers — with increased legal and health services — until screenings could determine whether they have a "credible fear" of persecution if they were returned home. Those who passed would get a final hearing much faster than under the status quo, due to major investments in legal processing. Those who failed would be expelled promptly."
The proposed Tillis/Sinema bill was designed to disincentivize exactly what the Republicans keep yelling about: Migrants who arrive seeking asylum, who then disappear into the interior and fail to show up for hearings. More from Sargent:
"What's deeply frustrating about this moment is that the fundamental principles underlying reform were real and workable. Many Republicans recognize the absurdity of banishing the dreamers….And on asylum, these reforms represented a good-faith effort to come up with a solution that both sides could accept."
The bill would have discouraged the exact sort of abuses that the Republicans constantly call the "border crisis" while retaining  the US commitment to provide a fair hearing to all who seek refuge here.
Now, the border infrastructure that intercepts and processes migrants will be strained past the breaking point once Title 42 is lifted. But solving the problem doesn't provide a political payoff to Republicans, who want to keep the "border crisis" hot as a 2024 campaign issue.
The Sinema/Tillis plan was a worthwhile effort. But there weren't even 10 Republicans willing to break the filibuster. This is why, according to Gallup, more Americans say government is our biggest problem. And they're saying so for the seventh time in the past 10 years. "Government" is a broad category of dissatisfaction that includes the President, Congress, Party politics and of course, gridlock.
There will be no end to gridlock unless and until bi-partisan efforts are rewarded. So, not in Wrongo's lifetime.
But now's the time to let go of the hot steaming mess that is our politics. Grab a few moments of calm and distance before we turn to a weekend of sourcing more Christmas presents and wearing our ugliest seasonal sweaters to family parties. It's time for our Saturday Soother.
Here on the Fields of Wrong, we still have patchy snow on the ground, although the much-hyped winter storm that made it to the Northeast after wreaking havoc elsewhere seemingly has missed us entirely.
Let's kick back and brew up a hot steaming mug of Ethiopia Uchoro Nansebo Washed ($27/12oz.) coffee from Floyd, VA's (pop. 432), Red Rooster Coffee. The roaster says it is surprisingly savory and creamy with notes of apple cider, lemon-lime, and stewed peaches.
Now grab a comfy chair by a window and listen to Michael Bublé perform "Christmas (Baby Please Come Home)" with Hannah Waddingham (Rebecca Welton on Ted Lasso). Her singing is a revelation. It's hard to believe she could make Bublé look and sound like a guy in the chorus. It's from his 10th Anniversary "Christmas in the City" show: