The Daily Escape:
Mt. Hood viewed from Timberline Lodge – December 2022 photo by Mitch Schreiber Photography
We have all watched house prices go through the roof since the start of the pandemic. Of Wrongo and Ms. Right's six kids, two do not currently own a home, and despite having good jobs, and wanting to buy, they're priced out of their local markets. Houses near Wrongo's daughter on Cape Cod, MA have nearly doubled in price since the start of the pandemic. The same is true for Wrongo's son in Bergen County, NJ.
But house sales in US have been slowing down in the past few months as interest rates climb. Wolf Richter at Wolf Street says there are now too many new houses for sale:
"Inventory of new houses for sale…has ballooned to 470,000 houses, up by 21% from the already high levels a year ago, and the highest since March 2008….Which destroys the theory that home prices are high because the industry isn't building enough houses…"
Wow, nearly a half-million unsold new houses! Much of this inventory of unsold new houses were built in locations that are far from the big suburbs and the cities. After the pandemic started, US businesses redefined the office to include working from home. That further moved to "live anywhere" remote work for some firms.
Now, firms are bringing people back to their physical offices. That makes selling houses at great distances from the office a tough proposition for new home builders. It means buying a lower price rural home based on a big remote salary is no longer in the cards for many workers.
According to Bloomberg, Lennar a major home builder, has been approaching the big corporate rental landlords with an inventory listing about 5,000 houses that it wants to offload:
"Lennar is circulating lists of properties to potential acquirers, according to people familiar with the matter….Many of the properties are located in the Southwest and Southeast…with the builder giving landlords the chance to acquire entire subdivisions in some cases."
It's an industry-wide problem. Home builders have pitched at least 40,000 new houses to rental operators in recent months. Bloomberg says that many of these houses had originally been sold to individual buyers who later canceled their purchase contract.
According to a survey by John Burns Real Estate Consulting, the purchase contract cancellation rate spiked to 26% in October, up from a rate of 8% a year ago, and up from 11% in October 2019. The cancellation rates were highest in the Southwest at 45%, up from 9% a year ago. In Texas, the cancellation rate spiked to 39%, up from 12% a year ago. That's understandable since mortgage rates have been rising so quickly.
This tells us that a part of the "housing shortage" is both local and price-driven. We know that house prices are driven by building costs, which have spiked in the past two years. Prices are also driven by the quality of the schools in the area, or whether the location is near a tourist destination. Retirees can move anywhere, but they generally want to be close to doctors and medical centers and will pay a premium for location rather than pay a lower price to live in the middle of nowhere.
Entire subdivisions sold as a rental community is better from the viewpoint of an individual home buyer instead of a percentage of that development's homes being sold into a rental pool. No one should buy into a development that is partially sold and partially rented. The big landlords will rarely improve them beyond the least amount possible. So the overall value of all the homes in that community will be diminished by the presence of a rental pool.
We saw that in California in the 2007-2009 real estate bubble, where a few houses in otherwise nice neighborhoods would have overgrown lawns and trash lying in the yard, a clear sign of vacancy. That didn't help the property values of the individual homeowner neighbors.
How far will housing prices fall? Nobody knows. Here is a chart showing average housing prices since 2019: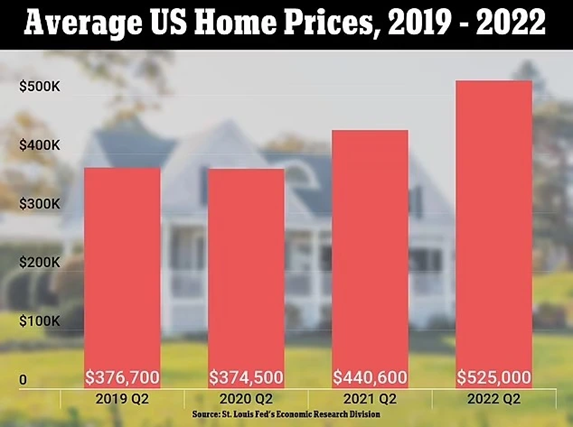 Comparing 2019 to 2022, average house prices have risen by 39%. Your area's average may be even higher, particularly if you live in or near a large city.
It's clear that the US housing market needs a price correction. Wrongo would like to say that people shouldn't be offering anything higher on the house they want than it would have sold for in 2019. But, we may not get back to that price level anytime soon.
A price correction alone won't solve America's housing crisis, but a 20% correction sure would be a nice start.