The Daily Escape: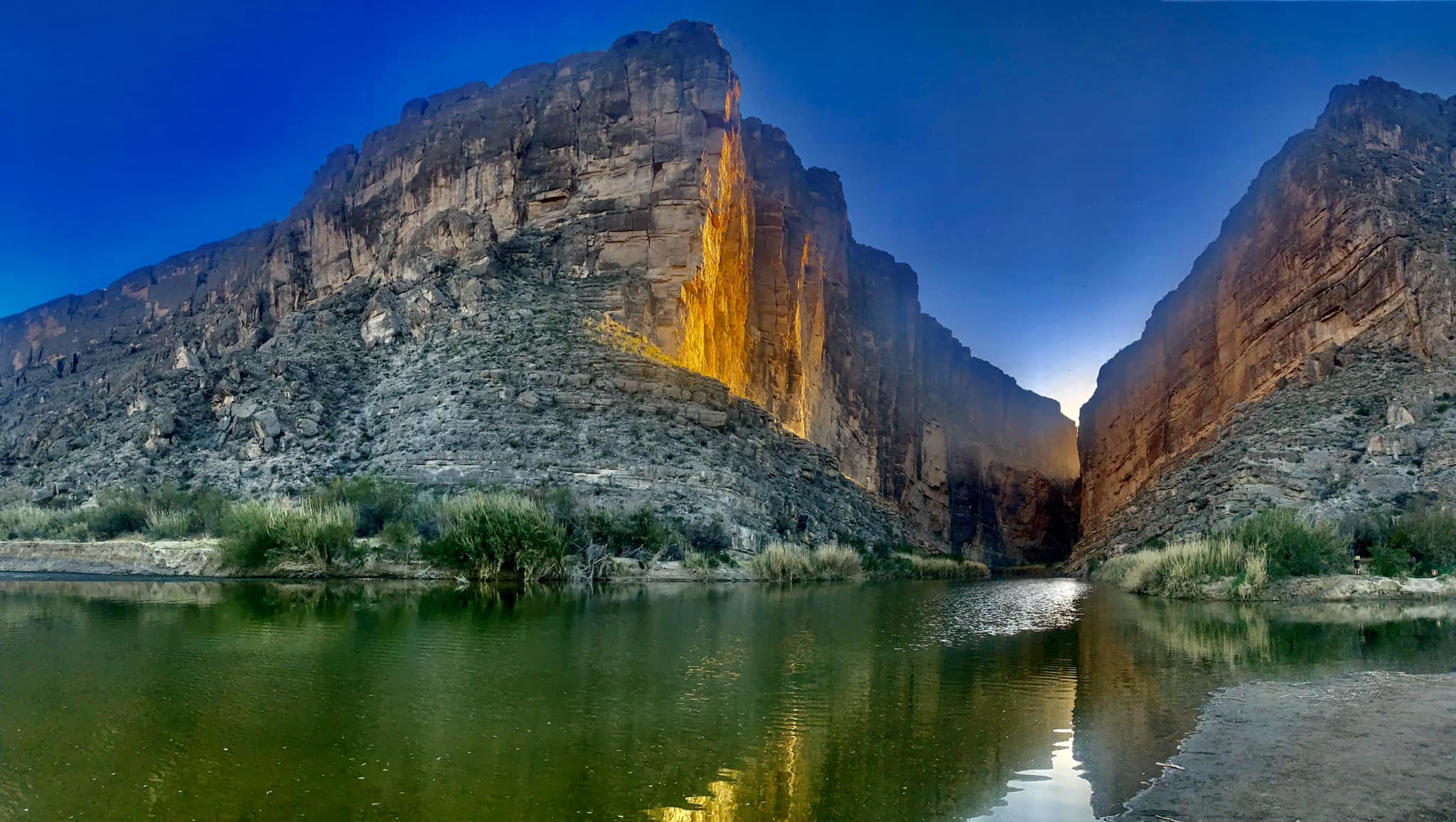 Sunset, Santa Elena Canyon, Big Bend NP, TX – March 2023 photo by Rick A. Ludwig. Cliff on left is in Mexico, the one on the right is in US. The Rio Grande is in the middle.
Signs that we're starting to think about the 2024 election are everywhere. Wrongo wants to connect a few dots regarding Biden's recent efforts to move the Democratic Party more to the middle on crime and immigration while staying left on financing the country's social and military needs.
Biden proposed a budget to reduce the deficit, protect Medicare and Social Security, and raise taxes on wealthy individuals and corporations. From the NYT:
"In a speech in Philadelphia on Thursday, Mr. Biden said that his budget was designed to 'lift the burden on hard working Americans' and drew sharp contrasts with the proposals that Republicans have offered, which the president argued would threaten the nation's social safety net programs and benefit the rich."
This contrasts with Biden's right-leaning position on the recent DC crime bill. Since DC is controlled by the Congress, it's legislation can be vetoed by the US Senate. Also from the NYT:
"The Senate…voted overwhelmingly to block a new District of Columbia criminal code that reduces mandatory minimum sentences for some violent offenses, with Democrats bowing to Republican pressure to take a hard line on crime in a move that underscored the rising political potency of the issue ahead of the 2024 elections."
By an 81-to-14 vote, with 31 Democrats voting with the Republicans, the Senate passed the Republican-written measure to undo the District's law. It now goes to Biden, who after initially opposing it abruptly changed course and said he would sign it.
So, Biden's tacking left on spending but to the center-right on crime. He's making a series of calculated moves to position his Party to compete successfully in 2024. Still, it's disappointing that Biden and 31 Democrats joined with the Right to deny DC residents the right to govern their own city.
But this shouldn't be surprising. Last year, Biden and the Democrats turned their backs on labor during their contract battle with the railroads.
Here's Nick Catoggio in the Dispatch: (Brackets by Wrongo)
"[Biden has]…begun to tiptoe toward the center lately on another major Democratic liability, immigration…..Centrist analysts…have warned Biden and his Party that their political viability depends on escaping the…"cultural bubble" in which an unsecured border is treated as a civic good."
And last week Biden changed his immigration policy. He's requiring asylum seekers to seek refuge in nations they pass through rather than waiting to do so in the US.
These new policies bring Biden closer to public opinion. Among Democrats, a plurality want to see the number of asylum applicants increased rather than reduced. Among the overall public, it's the opposite. Biden is tilting toward the latter.
Biden wants to be seen as strong on crime. Democrats walk a fine line of being against crime but not wanting to wholly support the police. Doing that would risk looking anti-Black in cities that are so important to their political success. Dems support compassionate justice and not retributive justice, so they get tied up in knots when violent crime increases, which is rising in America. The problem of course is that the descriptor "violent" isn't consistently applied.
Biden's idea is to try to win more votes from people who are not fanatic MAGA types. That means picking off White suburban voters, Asian voters and Hispanic and Black voters, all of whom are concerned about crime.
Tom Sullivan points out that while the moderate-to-conservative White population is in slow decline, their votes remain significant, and that Democrats shouldn't ignore them over the next two years:
"Sadly, Democrats often do. Campaigning in concentrated urban areas that tend to vote your way is simply easier and more cost-effective. What it means for largely rural states like North Carolina is that while it remains possible to elect a Democrat like Roy Cooper as governor, Democrats' urban focus bequeaths him a Republican-dominated legislature…"
Sullivan says the Democrats need to start acting like the big-tent party that they used to be.
And that's what Biden is attempting to do.
Time to say "enough" to war-gaming the 2024 election. It's time for our Saturday Soother. The daffodils have sprung through the snow, a sure sign of spring. We turn back the clocks tomorrow night, another win for those who hate dark days.
So, it's time to take a few minutes to center yourself. Start by sitting in a comfy chair and watch and listen to Lili Boulanger's "D'un matin de Printemps" (On a spring morning). She wrote this piece in 1917 when she was 23. Boulanger battled bronchial pneumonia throughout her short life, dying a year later at age 24. Here, it is played by the Seattle Symphony conducted by Cristian Măcelaru.
Listen and think about her writing this during the darkest days of her life: