The Daily Escape: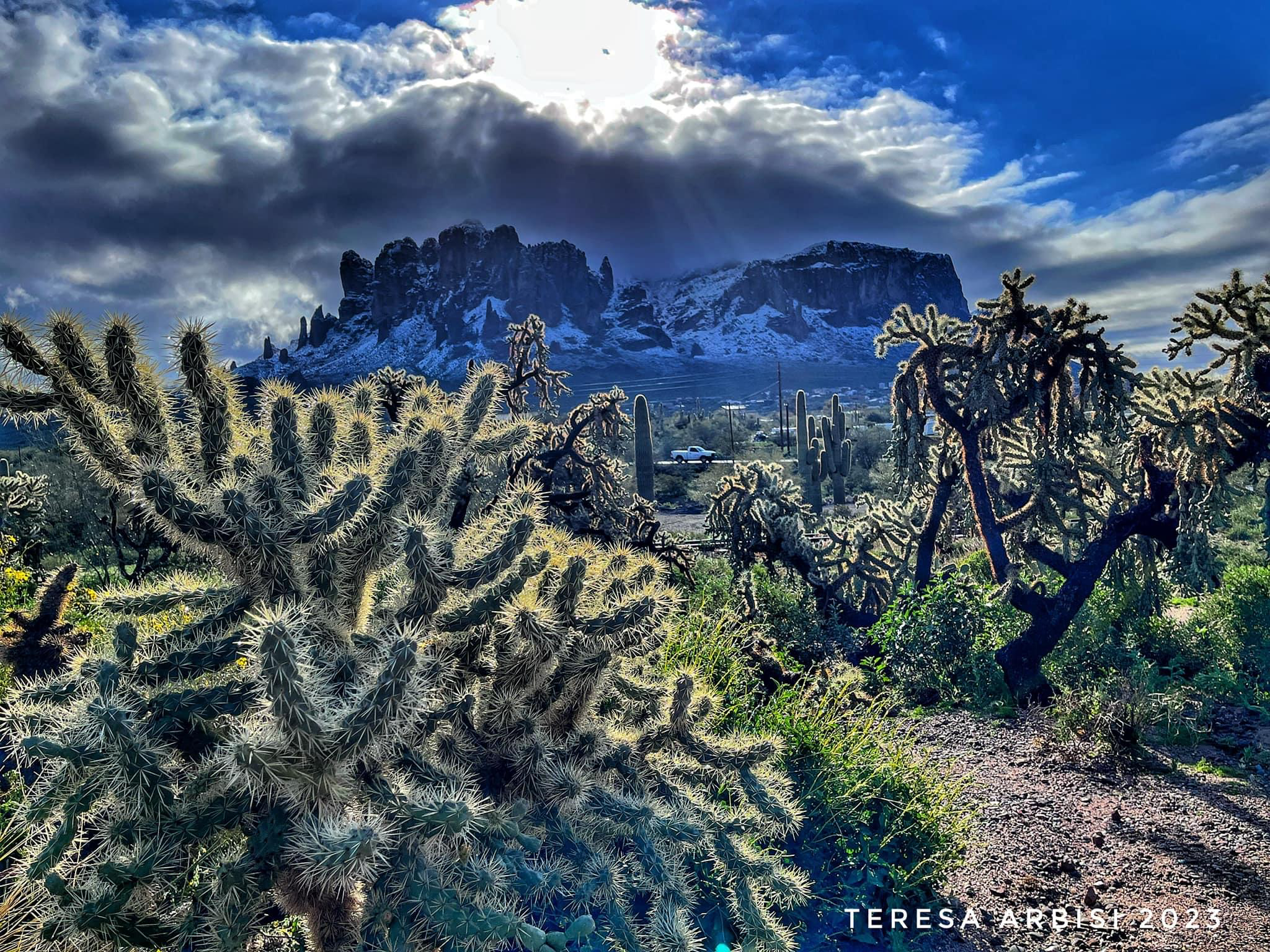 Superstition Mountain area, AZ – March 2, 2023 photo by Teresa Arbisi
What does freedom mean to you? Lexington, a columnist who writes about America in the Economist, says that American politicians on the right and left are groping for a new definition of what it means:
"Democrats and Republicans are competing over which party is the true defender of freedom in American life, but the claims of both have become muddy. What the debate really illuminates is how far the parties have drifted from decades of consensus about liberty in American economic and social life, without yet articulating where they are headed, if they know."
Lexington says that as evidence of the Republicans' commitment to freedom, they are for gun rights. The Democrats usually point to abortion rights or voting rights. But the crux of today's battles are about how history should be taught, what pronouns people should use, and whether governments should coax investment managers to include corporate behaviors in their analysis of investments.
We see that there's a new willingness on the part of Republicans to inject the state into what freedom means.
Lexington says that Harvard's Michael Sandel, in his 1996 book "Democracy's Discontent", traced in the wake of the New Deal how Americans made peace with centralized governmental power by embracing a concept of liberty that maximized the individual citizens' freedom to pursue their own ends, with an economy that encouraged consumption. The implicit agreement was that:
"The government would deliver economic growth and Americans would debate how to distribute it, but politicians would stay out of questions about individuals' values or notions of the good life. In one sign of this shift the Supreme Court in 1943 blocked local governments from compelling schoolchildren to salute the flag."
This idea of government staying out of the way of individual freedom used to be a core assumption of American politics, but not so much today. Two examples: Florida's governor DeSantis has trouble squaring his agenda that includes enhancing the state's control over local schools and substituting its judgment for that of corporations over how to serve their customers.
DeSantis signed a law tightening restrictions on what materials teachers can use, prevented cruise-ship companies from requiring passengers to be vaccinated and sought new government control over Disney because he disapproved of its exercise of speech.
This week, a Florida state senator introduced a bill that would make bloggers who write about DeSantis, and other members of the Florida executive cabinet or legislature register with the state or face fines.
Whatever you make of these policies, what's happening in Florida is miles away from any definition of freedom.
Second, Lexington points to Sarah Huckabee Sanders, the governor of Arkansas. In her rebuttal to Biden's State of the Union speech, she said she was a defender of free speech, while boasting she had banned the "derogatory term LatinX in our government". Wrongo never uses the term either, but did Huckabee Sanders understand the contradiction between her actions and what freedom of speech means?
The Republicans are saying words about freedom that no longer square with the concept, while groping for definitions that they can't articulate without losing much of America. Take for example, this quote from DeSantis's new book, "The Courage to Be Free":
"At the end of the day, the re-mooring of the constitutional ship of state will provide the needed foundation for the reinvigoration of a society rooted in freedom, justice, and the rule of law."
What exactly does THAT mean?
This is a great time to introduce you to Anat Shenker-Osorio. She's the founder of ASO Communications, and an expert on political messaging. Shenker-Osorio says we need to be thinking about freedom as freedoms, plural. And to see it as a concept that the Left needs to reclaim from the Right, who use it as a tribal signifier.
She says the Left focuses too much on what they are against. Thus, what the Left stands for gets lost in the noise. She thinks that freedom must be a contested value between the Parties.
If you think about it, the Right have fought against every major effort to extend freedom to more people. Isn't it funny how deeply anti-communist Florida along with the deeply anti-communist Republican Party keep doing things to constrain freedom? Aren't these the hallmarks of state socialist regimes?
On to the weekend and our Saturday Soother. It's our time to forget about ideas that make our heads hurt; like what freedom means. Let's try to center ourselves after another week of terrible news. Here on the Fields of Wrong, the first robins have arrived. They're searching among the patches of snow for those early bugs that will soon be everywhere. We're also getting our latest late winter snowfall, so good luck finding bugs for the next day or so.
Let's start off by grabbing a chair by a south-facing window. Now watch and listen to Yo Yo Ma perform "Song of the Birds". It's a traditional Catalan tune and was a favorite of Pablo Casals, but the composer is unknown. Ma plays this piece often.
Casals often played it to protest war and oppression, particularly after he fled Franco's Spain. He played it in 1961 at the White House for John F. Kennedy. Here Ma performs it live at KCRW in Los Angeles: