The Daily Escape: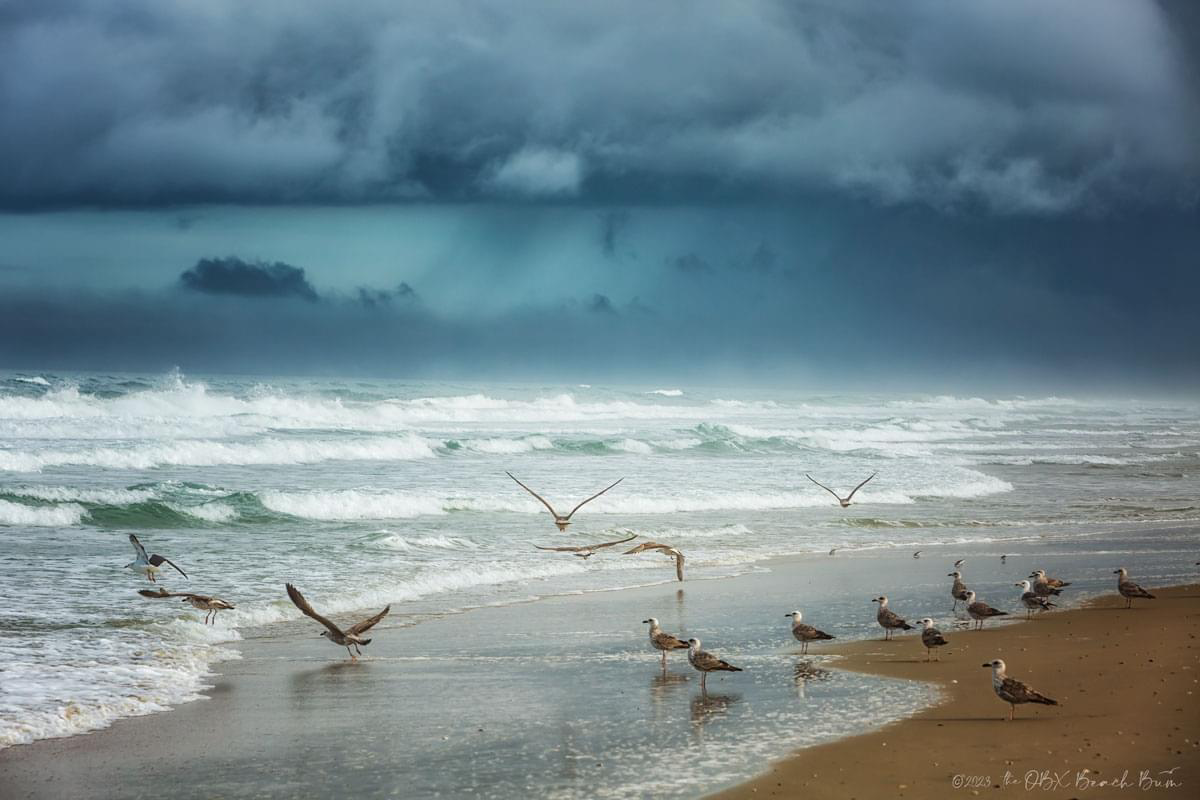 Storm, Outer Banks, NC – May 2023 photo by OBXbeachbum
You may remember that 18 days after the Jan 6th attack, a 22-year-old poet named Amanda Gorman stood on the steps of the Capitol. She addressed the nation's fresh wounds and its uncertain future: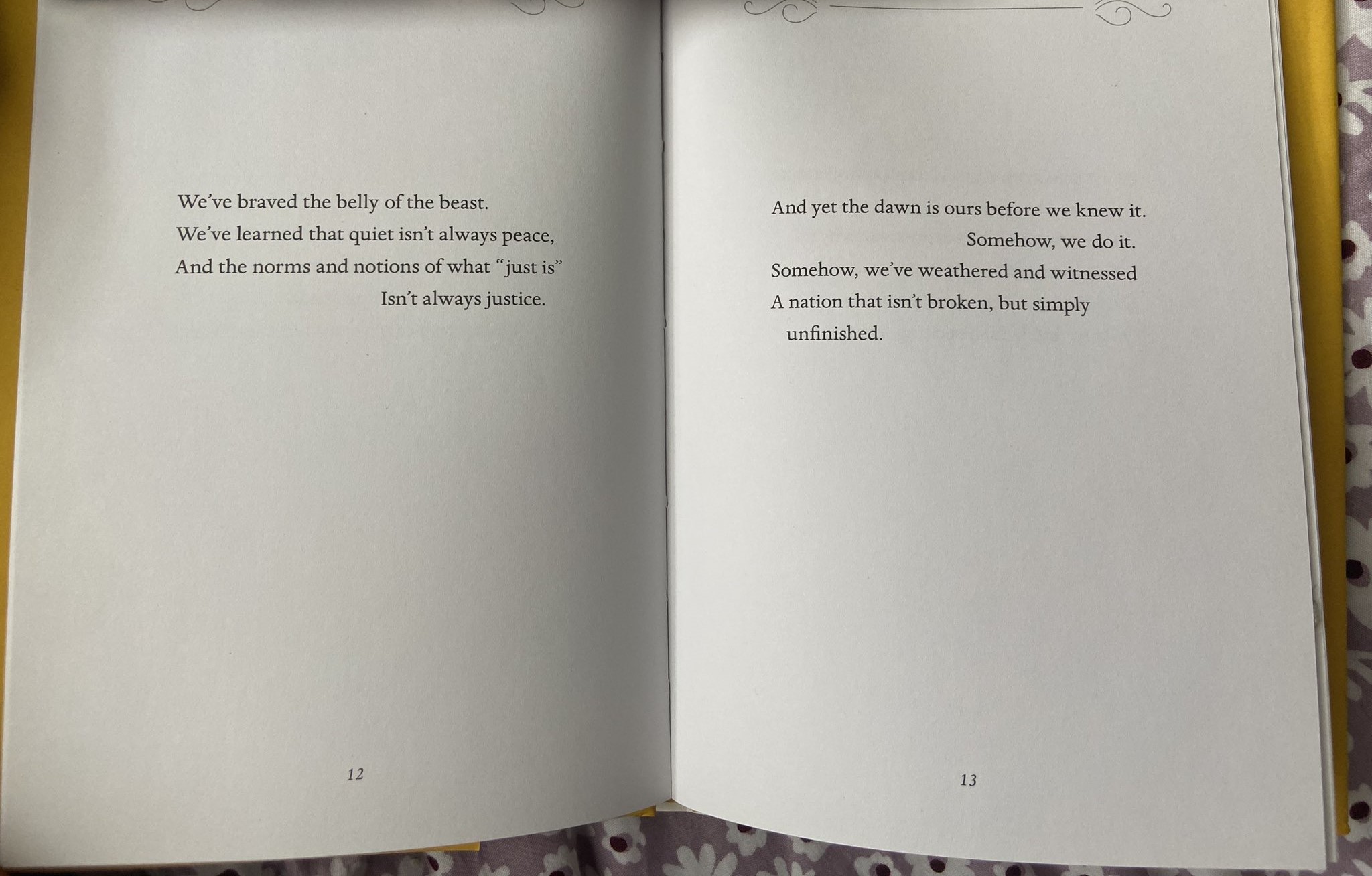 "A nation that isn't broken, but simply unfinished." What a beautiful sentiment.
But those exact words offended a Miami Lakes, Florida serial book banner named Daily Salinas. Salinas alleged that "The Hills We Climb " included references of critical race theory, indirect hate messages, gender ideology and indoctrination, according to school district records obtained by the Florida Freedom to Read Project. The Daily Beast reports that Salinas is an avid supporter of Ron DeSantis. She worked as a volunteer on his "Education Agenda Tour" in August 2022.
You can read Gorman's full poem here. A video of Amanda Gorman reciting her poem at the 2020 Inauguration is here. Gorman reacted, saying in a Facebook post:
"Unnecessary #bookbans like these are on the rise, and we must fight back…"
A review by the WaPo of complaints in 153 school districts across the country for the 2021-2022 school year found that a:
"…majority of the 1,000-plus book challenges analyzed by The Post were filed by just 11 people."
The WaPo says that each of these people brought 10 or more challenges against books in their school district; one man filed 92 challenges:
"Together, these serial filers constituted 6% of all book challengers — but were responsible for 60% of all filings….In some cases…these serial filers relied on a network of volunteers gathered together under the aegis of conservative parents' groups such as Moms for Liberty."
Not surprisingly, Daily Salinas is one of them. Miami Against Fascism alleges in a tweet thread that Salinas is associated with Moms for Liberty Miami-Dade county as well as with the Proud Boys and County Citizens Defending Freedom USA (CCDF), and a Christian nationalist group. From the LA Times:
"When asked if she was aware of professional reviews of the National Youth Poet Laureate's poem, Salinas wrote, "I don't need it." And when asked to list the author, she wrote Oprah Winfrey. (Winfrey wrote the forward for the book version of the poem published in March 2021.)"
Here's the form that Salinas filled out: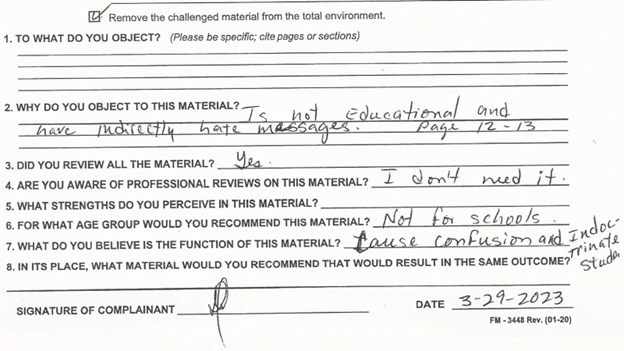 Look again at pgs. 12-13 from Gorman's poem above. If you can detect a hate message, let Wrongo know. And saying that poetry will indoctrinate students? We should be so lucky. Gorman reacted in a tweet:
"I'm gutted…They ban my book from young readers, confuse me with Oprah, fail to specify what parts of my poetry they object to, refuse to read any reviews, and offer no alternatives,"
This is the Florida of Ron DeSantis. And this is the America he wants to create. DeSantis's campaign merchandise touts that he will "Make America Florida." Here are some stats that show how well DeSantis is governing Florida: Florida is 34th in fatal overdoses, 26th in teen birth rates, and 31st in infant mortality.  FL ranks dead last in providing long-term care for older adults. Florida ranks 48th in teacher pay, 45th in per-pupil spending. Despite having a fairly high cost-of-living index (23rd), Florida ranks dead last in providing unemployment benefits, giving recipients just $236 a week for just 12 weeks.
Most Americans would rather their states remain free from the fascist landscape that DeSantis has given Florida.
BTW: the Bible includes: Rape, incest, torture, slavery, bestiality. But apparently, it isn't subject to the same standards that Daily Salinas uses, despite on the surface, being one nasty book.
We can't let today go by without thinking about Tina Turner. She was one of the most important recording artists in American history. It's pretty hard to describe how incredible and important she was for so many decades. In my twenties, Ms. Right and I got to see Ike and Tina Turner (and the Ikettes) live at Fillmore East in January 1970.
Later in her life (and ours) it was just Tina. One thing was consistent: Tina Turner blew the lid off of any joint where she performed. You can't say that about many acts, but Tina could do just that. Sadly, the soundtrack to Wrongo's life is growing fainter with time. Tina Turner's passing adds to the growing list of performers from the past 70 years that Wrongo admired.
Take a few minutes to watch and listen to Tina and Mick Jagger perform "State Of Shock / It's Only Rock 'n' Roll" in front of 100,000 people at Live Aid in 1985 at the JFK Stadium in Philadelphia:
Let's hope Ike is burning in Hell.