The Daily Escape: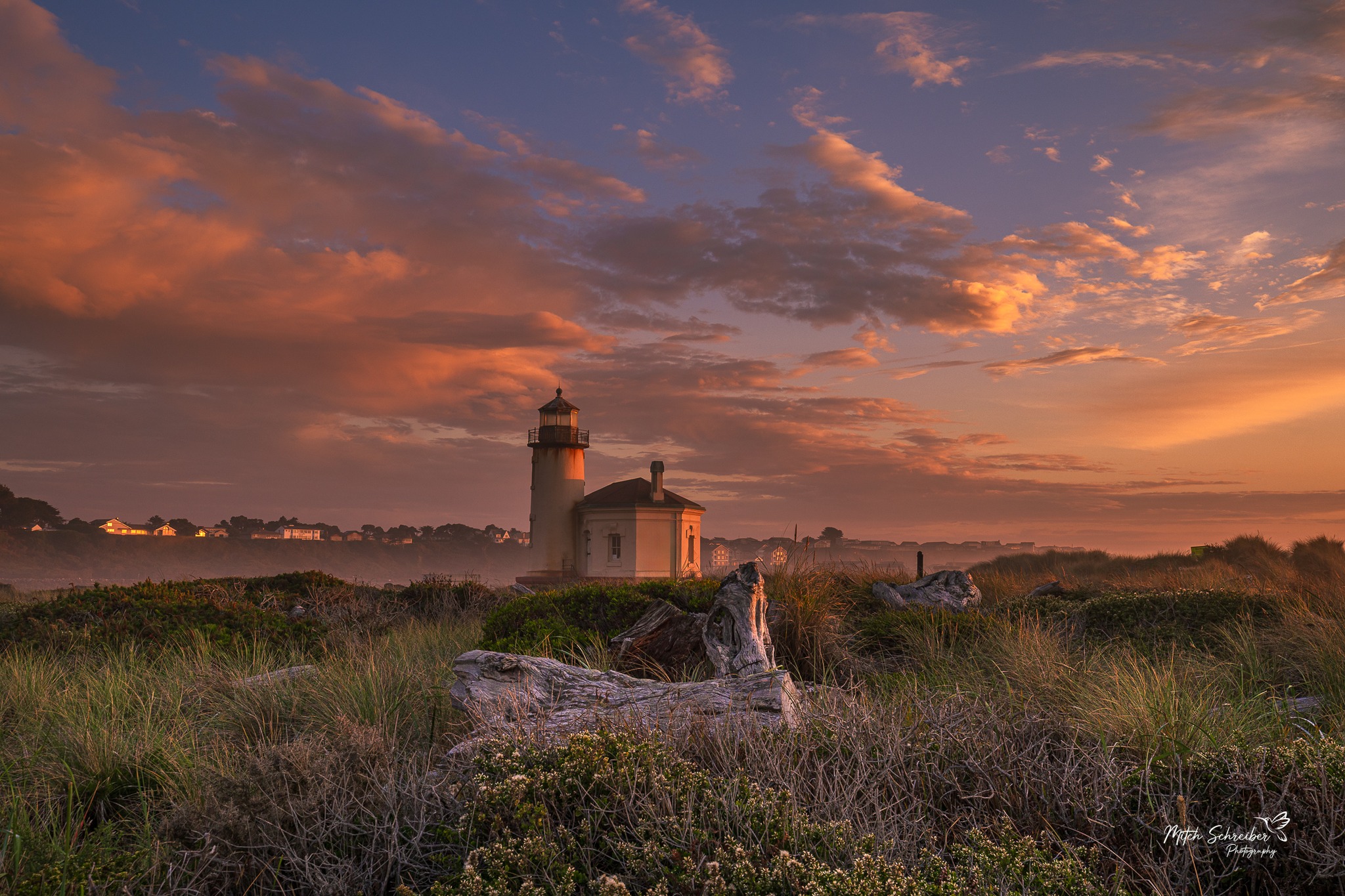 Sunset, Coquille River Lighthouse, Bandon, OR – September 2023 photo by Mitch Schrieber Photography
At lunch this week with three people all who are around 80 years old, one whispered that "Biden is too old". The rest of us agreed. In a perfect world, Biden would be considering winding up his political life and shipping his boxes to Rehoboth Beach in Delaware.
But we don't live in a perfect world. Biden will run for president again, and the polls show it's likely to be a tight race against Trump. Many in the press see Biden as too frail to carry out even basic duties, leaving his aides to secretly run the country in his stead.
But as Semafor points out, in the first book that now documents the early years of his presidency, the picture is the reverse:
"The Last Politician," the Biden-in-power book that Franklin Foer published last week….presents an aging president who's nonetheless fully engaged in the job, stumbling more when he loses his temper…than when he loses his train of thought."
Foer's book portrays Biden as a leader who sounds shaky in public but is the dominant force in his White House. Foer tells Semafor that Biden: (Brackets by Wrongo)
"…buries himself in details…[and] takes technocratic charge of issues".
More from Semafor:
"The Last Politician acknowledges that Biden 'would occasionally admit that he felt tired,' and that his 'advanced age was a hindrance' when he blanked on a name…..It's weird; people are always saying, 'well, it'd be great if we saw more Biden,' Foer said. 'He gives public speeches almost every single day. He sticks to his message. He doesn't say anything insane. He does have kind of a low-key style in these speeches, but I don't think that's abnormal for a president. It's just abnormal in the aftermath of Trump."
And Georgetown's Don Monyahan wonders why Biden doesn't even get credit in the press for his recent diplomatic success: (emphasis by Wrongo)
"Biden's age has become such a trope in coverage that even when he undertakes a whirlwind diplomatic tour and a 40 minute press conference, these are the headlines. Actual demonstration of his fitness is used to raise questions about his fitness. All of this is a choice."
From Margret Sullivan:
"As the 2024 presidential election looms ever closer — with its hugely important stakes for democracy — the mainstream press, far too often, doesn't seem to get the significance of the moment. Or what their responsibility is.

Journalists' continual fixation on President Biden's age plays right into the hands of the Fox News crowd and Donald Trump's campaign."
She quotes a recent headline in the NYT:
"In three days of diplomacy in Asia, President Biden rallied world leaders to help finance poor nations, fortified the coalition backing Ukraine and struck a deal with Vietnam to counter Chinese aggression."
The "Biden's too old" situation is now spiraling into a meta-narrative, in which some like the WaPo's David Ignatius say it's time for Biden to step aside. Others like Josh Barro are calling for Biden to stay but only if he dumps Harris.
Vox's Ian Millhiser makes the correct linkage of Biden's unfavorable news coverage in 2023 to 2016:

Biden's age is something that appears to have some traction among actual swing voters. But the subtext is not so much that he's going to die in office as "and then we get Harris"?. The underlying racism and misogyny gets ignored because the only other option is the doddering criminal with his 91 counts.
More from Millhiser:
"As a general rule, I think the political press is at its worst when it covers a story that 1) involves a matter that is of genuine concern to reasonable people; and 2) isn't a big deal when compared to other issues of superseding importance."
What the press is doing today is actually much worse than the 2016 "But her emails" nonsense. Back then, it was still possible for the press to pretend that Trump might not actually be what he became, that there was a semi-normal person lurking underneath his shtick.
That was an historically bad take by the media. All of this is wildly irrelevant in the here and now, where the choice is between the suboptimally old Biden and fascism.
Why the preoccupation with Biden's age when Joe is getting things done and showing a degree of wisdom while doing it? Biden's biggest problem is that despite being an effective president, nobody knows it. His biggest challenge is figuring out how to use his accomplishments to offset the age concern.
Finally, Bob Cesca puts it this way:
"MAGAs will nominate a criminal who incited an insurrection as part of a conspiracy to overthrow the 2020 election, and whose incompetence led to 400K American deaths in his final year. But Biden is disqualified because he's old. We're an unserious nation."
For some context, we're staring down a manufactured budget crisis, a sham impeachment circus, and Sen. Tuberville's unprecedented obstruction of military promotions. These are facets of the same unified Republican strategy to destabilize America.
Hammering on Biden's age plays into their plan to make 2024 a year of chaos.
Biden has slowed down, that's objectively true. But he is worlds better than Trump. And if those are the choices for president in 2024, be thankful that the old guy is on the right side of history.