The Daily Escape: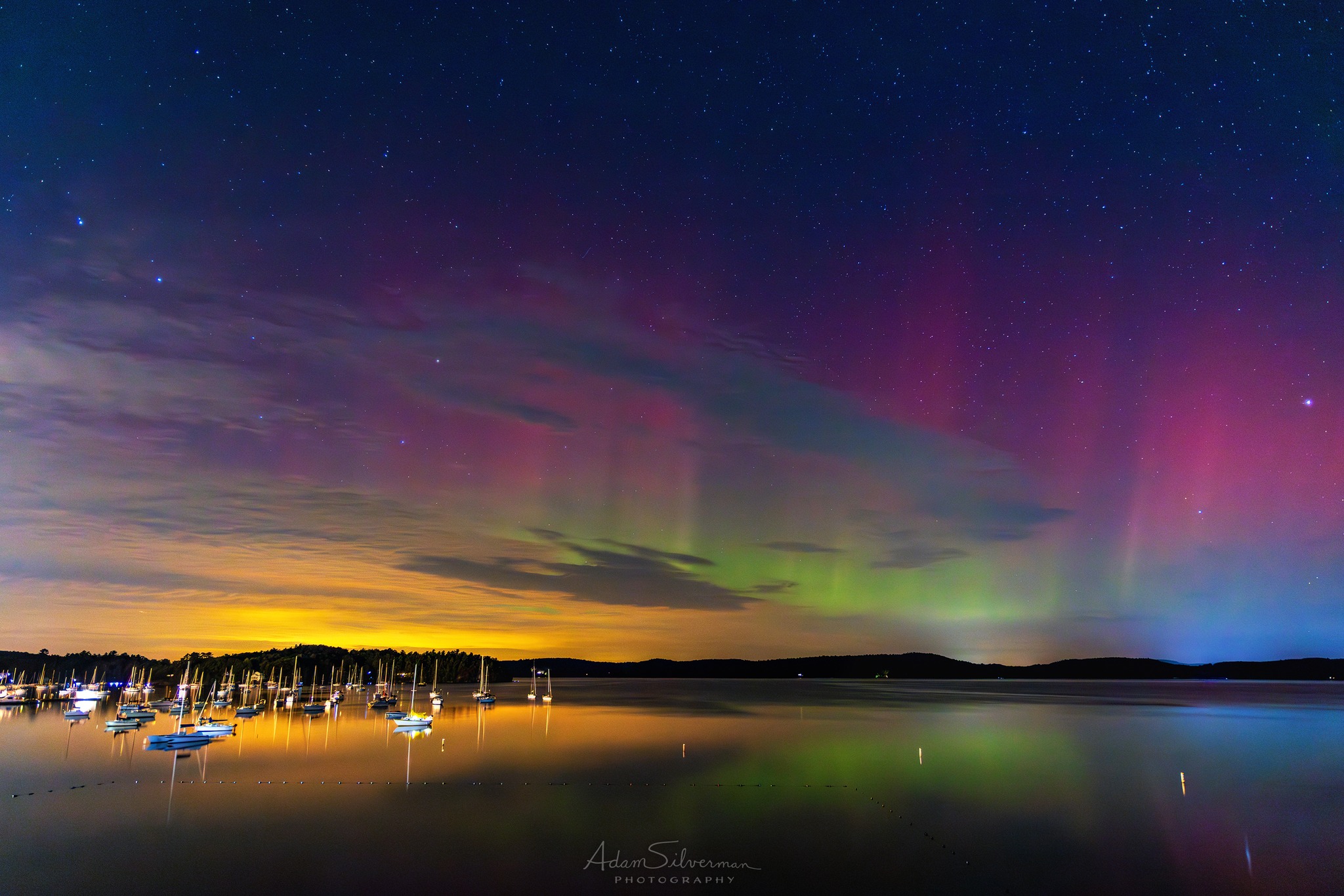 Northern Lights, Malletts Bay, Lake Champlain, Colchester, VT – September 2023 photo by Adam Silverman Photography
By now, everyone's heard that Mitt Romney (R-UT) isn't going to run for a second term in the Senate. From the WaPo:
"Romney, 76, said his decision not to run again was heavily influenced by his belief that a second term, which would take him into his 80s, probably would be less productive and less satisfying than the current term has been."
He used the opportunity to say that Biden and Trump were too old to be the presidential candidates of their Parties, and they, like him, should stand aside and let the next generation of politicians take center stage.
But the big news was generated from a few quotes Romney made to McKay Coppins, who's book about Romney is coming out in October. Coppins has a teaser article in The Atlantic in which Romney lets loose his ire against Trump (who Romney carefully cultivated in 2016 and 2017, when he was angling to be Secretary of State):
"So many Republican Senators privately expressed their support for Romney's public criticism of Trump that the Utahan began keeping count, telling staffers he'd had more than a dozen nearly identical exchanges. He recalled one senior lawmaker complaining to him: "[Trump] has none of the qualities you would want in a president, and all of the qualities you wouldn't."
Romney told Coppins:
"Almost without exception, they shared my view of the president."
This has earned Romney accolades from the media and from a few Democrats. Karen Tumulty in the WaPo credits Romney with "paving the way for national health-care reform…" This ignores the fact that Romney ran for president in 2012 promising to repeal Obamacare.
Yet, after reading The Atlantic article, the media used terms like "noble," "principled," and "courageous." But there is nothing courageous about saying the right thing only when you're on your way out the door.
Wrongo has had issues with Romney since his run for the presidency in 2012. In May of 2012, Wrongo wrote:
"Over the past few days, Mitt Myth Romney has taken credit for GM being alive and Osama Bin Laden being dead."
On the auto bailout Wrongo had previously reported what Romney actually said about the auto industry bailout: (emphasis by Wrongo)
"On February 12, 2012, Romney said:  "Three years ago, in the midst of an economic crisis, a newly elected President Barack Obama stepped in with a bailout for the auto industry. The indisputable good news is that Chrysler and General Motors are still in business. The equally indisputable bad news is that all the defects in President Obama's management of the American economy are evident in what he did."

/snip/

"The president tells us that without his intervention things in Detroit would be worse. I believe that without his intervention things there would be better."
Romney lied or changed his positions throughout his 2012 campaign against Obama. America is better off because he only received 206 votes in the Electoral College to Obama's 332. He always was a plutocrat who's political philosophy is basically trickle-down economics, low taxes and traditional religious cultural values.
There is room for those views in our politics, but Romney, who was the only Republican who twice voted to impeach Trump, could have done more to rally his fellow Senators to confront Mr. 91 counts. But, he's gone from being the Republican nominee for president to being forced to leave politics just a decade later.
You may say "Thank God for Brave Men like Mitt Romney", men with strong spines willing to stand up for what they believe and then march forward right out of the room!
Enough for this week, it's time to let go of whatever is happening to Hunter Biden and his impeachable dad, and center ourselves for the government shutdown that's coming at the end of the month. It's time for our Saturday Soother!
Here in northwestern Connecticut, we're seeing nights in the high 40° as summer draws to a close. Despite the threats from Hurricane Lee, let's spend our Saturday Soother outside, sitting on the deck. To help you let go of the many insults of your week, listen to "Winter" ("Invierno") from Astor Piazzolla's "Four Seasons of Buenos Aires" ("Las Cuatro Estaciones Porteñas"). Piazzolla was an Argentine composer who is credited with developing the nuevo tango.
Wrongo and Ms. Right were fortunate to attend a concert last week which featured Vivaldi's Four Seasons followed by Piazzolla's Four Seasons of Buenos Aires. Piazzolla's classical work often features tango like rhythms. Here is his "Winter" played by Royal Concertgebouw Orchestra in Amsterdam, NL in 2014. The soloist is the conductor Liviu Prunaru: