The Daily Escape: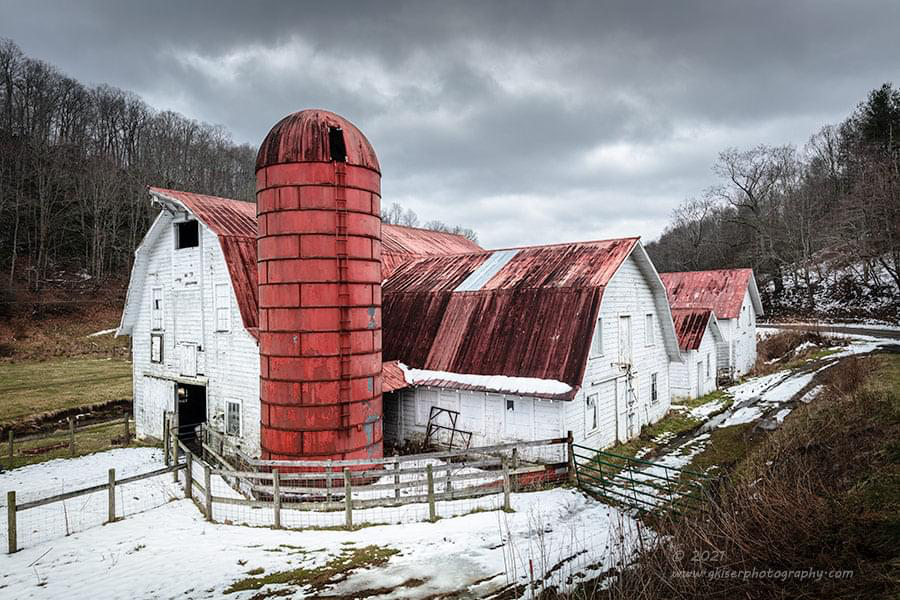 Red silo, Lansing, NC – 2021 photo by Greg Kiser
From Foreign Policy (FP):
"Russia is massing an unusual number of troops on the border with Ukraine, posing an early test for the Biden administration as it looks to repair relations with NATO allies and distinguish itself from former US President Donald Trump's controversial approach to relations with Moscow."
This comes at a time when the administration is still conducting policy reviews on a new strategy toward Russia. So, is the Ukrainian-Russian "cold war" about to get hot?
Ukraine's army commander Gen. Ruslan Khomchak says Russia has deployed 28 battalion tactical groups near Ukraine's eastern border and in Crimea, which would amount to 20,000-25,000 troops. Russian officials have not confirmed that, nor given any precise figures.
This Russian buildup in Ukraine's Donetsk and Luhansk regions is new, but Russian "volunteers" have been helping the rebels since 2014. Here's a map of the region: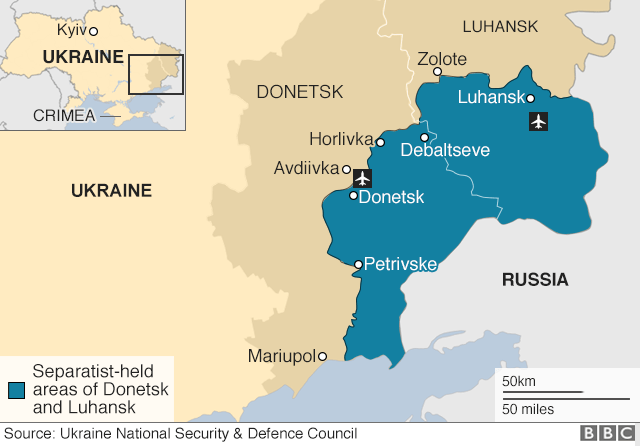 Russia shares a long common border with the area claimed by the Separatists. At the same time, Ukraine has a very long border to defend. This explains why it has been a low-intensity conflict for the past seven years.
Naturally, this potential escalation alarms NATO and the US. It's reported that a flurry of phone calls have been sparked between senior members of the Biden administration and both their Ukrainian and Russian counterparts.
FP quotes Jim Townsend, a former US deputy assistant secretary of defense:
"They're probing, they're trying to see what we're going to do, what NATO would do, what the Ukrainians would do….Is this a jumpy administration, or is this an administration that's going to act with resolve?"
Ok, but the BBC reports that US forces in Europe were placed on higher alert, citing "escalations of Russian aggression" in the area, while Russia plays hardball:
"Russia has warned NATO against sending any troops to help Ukraine, amid reports of a large Russian military build-up on its borders. Kremlin spokesman Dmitry Peskov said Russia would take "additional measures" if NATO were to make such a move."
Sounds like game on for Biden. The Right-leaning Washington Times quotes Donald Jensen, of the US Institute of Peace:
"The Kremlin is testing Biden in a couple of places right now. That's what the Kremlin does. It tests new presidents…"
Biden has also tested Putin. In addition to placing human rights abuse sanctions against Russia in March over the jailing of opposition leader Alexei Navalny, the administration has vowed to bolster US support for Ukraine.
It ramped up diplomatic efforts in Western Europe to halt construction of Russia's Nord Stream 2 gas pipeline.
And while Biden moved quickly to extend the expiring New START nuclear deal with Moscow, he said in an interview he viewed Putin as a "killer."
Russia has also conducted increased military activity in the Arctic. CNN reported that new imagery has revealed a major Russian build-up in a region that is now nearly ice-free due to changing climate patterns. They seem to be bidding to secure their northern coast, while attempting to dominate what will become a key shipping route from Asia to Europe.
Putin may not know what to expect from Biden but consider what happened under the previous guy. Trump backed off everywhere Russia got involved. In Syria, the US did not engage with Russian forces. In Europe, he disengaged from NATO. With Iran, he disengaged, while Russia made inroads. And then there's China.
And Obama stood by when Putin took Crimea from Ukraine, a decision that Wrongo agreed with at the time. That no longer looks correct seven years later.
Are we likely to see preening and strutting by Biden and Putin? Absolutely. Who holds the upper hand in what at this point is a game of poker? Hard to say.
The pressure will be on Biden to respond strongly if Russia makes a concrete move into or beyond the disputed regions held by the "separatists". Ukraine has asked to join NATO, but there is little interest in the US or Europe to agree to invite them in. The Kremlin bitterly opposes Ukraine joining NATO. That hasn't stopped Ukraine president Zelensky from saying;
"We are committed to reforming our army and defense sector, but reforms alone will not stop Russia…NATO is the only way to end the war in [the] Donbas…"
Russia's end game may be like what just happened in Azerbaijan: Russian peacekeepers on the ground controlling the territory. Ukraine could become another localized escalation leading to the deployment of Russian "peacekeepers". That may be Putin's short-run goal.
Putin is pushing Biden to think about things other than infrastructure and using reconciliation in the Senate.
How Biden and Europe play the hand will set the stage for much of the next decade in Europe.