The Daily Escape: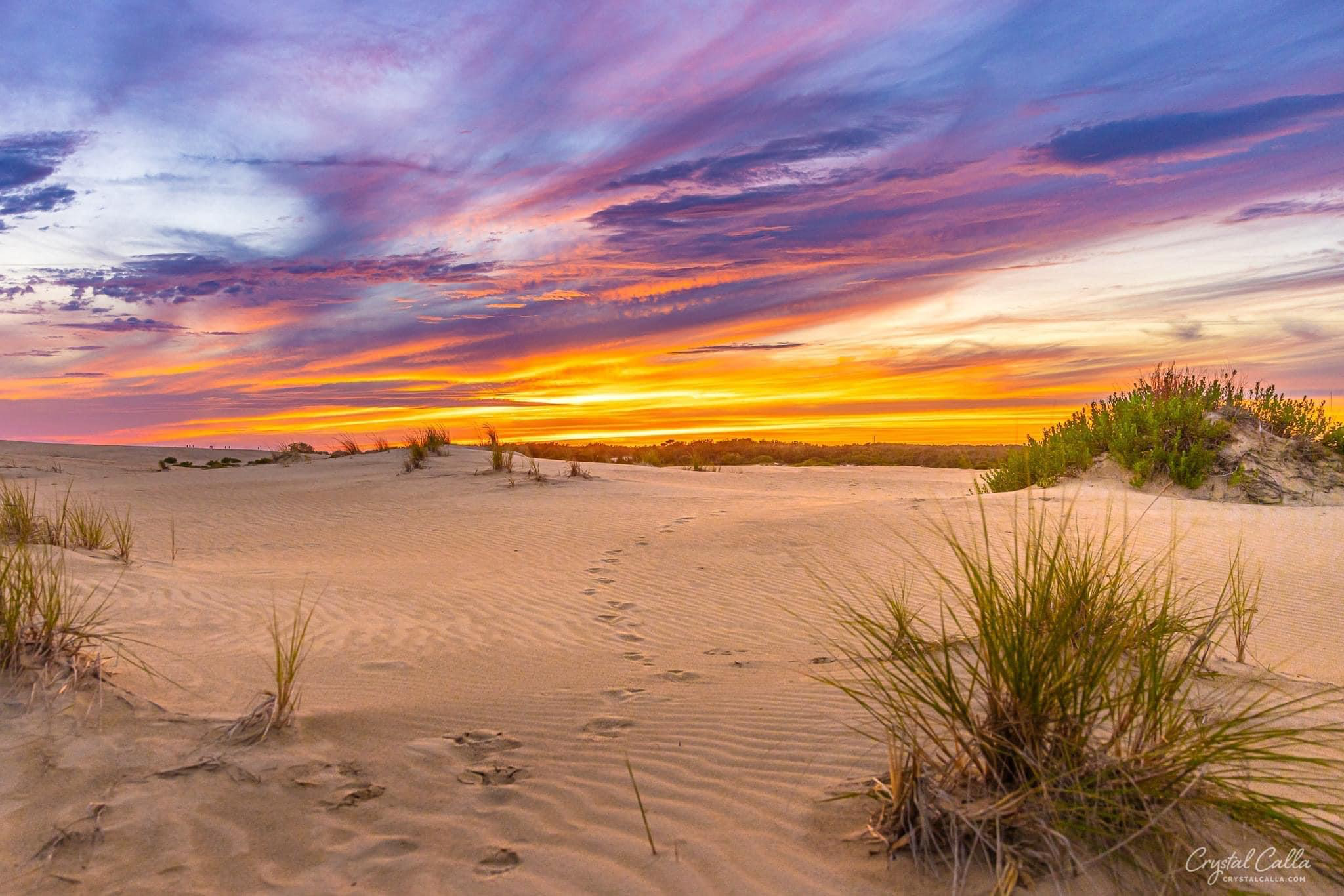 A new day at Jockey's Ridge SP, Nags Head, NC – August 2022, photo by Crystal Calla Photography.
There's trouble in the Republican Party. They've believed the pundits who said that the GOP had a lock on the November mid-terms, but with terrible Senate candidates, along with the Dobbs decision and Biden's legislative comeback, things are getting very tight. From the WaPo: (brackets by Wrongo)
"Republican Senate hopefuls are getting crushed on airwaves across the country while their national campaign fund is pulling ads and running low on cash….In a highly unusual move, the National Republican Senatorial Committee [NRSC] this week canceled bookings worth about $10 million, including in the critical states of Pennsylvania, Wisconsin and Arizona."
Sounds serious. The NRSC has had a record fundraising year, bringing in $173 million so far this election cycle. But they've burned through much of it. The NRSC's cash on hand was just $28.4 million at the end of June.
Republican spending has been augmented by Mitch McConnell's super PAC, which announced a $28 million rescue effort in Ohio, where Republican candidate JD Vance has raised only $1 million in the second quarter and has spent less than $400,000 on ads.
McConnell's super PAC also moved up by three weeks its spending in Pennsylvania, adding another $9.5 million, for a total of $34 million. The Democratic Senate candidate John Fetterman, is building a lead over the Republican candidate, Mehmet Oz.
Many of this year's Republican Senate candidates haven't run for office before and have had to deal with nasty and expensive primaries that crushed their favorability ratings. A string of recent polls show Republican candidates in many battleground states trailing, or in toss-up races with well-funded Democratic opponents. From Charlie Pierce: (parenthesis by Wrongo)
"There's a pretty good chunk of evidence that the Republican Party is currently very nervous about its chances in this year's elections for the US Senate. When a party's C47 flies over your state and dumps a massive payload of cash-like ordnance…(you know you're in trouble)."
The Republicans suddenly have to start using money they'd earmarked for propping up people like Vance, as life support for the campaign of North Carolina's Senate candidate Ted Budd, who's in a dead-heat election with Cheri Beasley. Budd's public statements on a violent insurrection are likely to cause any thinking Republican voter to stay home.
Republicans have climbed back into a familiar box. In 2010, the Republicans blew a chance to take the Senate because they couldn't resist nominating terrible candidates. For example, Sharron Angle in Nevada suggested that a teenage victim of rape shouldn't get an abortion but make a "lemon situation into lemonade." Christine O'Donnell in Delaware finally had to say she wasn't a witch.
Besides Vance, Republicans this year couldn't stop themselves from nominating Herschel Walker in Georgia. They also are defending the indefensible incumbent Ron Johnson in Wisconsin, who in a Marquette University Law School poll, is seven points behind the Democrat Mandela Barnes.
While the odds of Democrats holding the Senate are improving, it is still more than possible that some or all of these Republican candidates could be sitting in the Senate next January. It's certainly possible that big money Republicans will ride to the rescue of their terrible candidates.
And that's the point. For the GOP, the worse the candidate, the more the Party's true believers embrace them. That's how they prove they're true believers. Eventually, (hopefully already?) this will reach the point of diminishing returns.
Are we there yet? Can we get there before our democracy crashes and burns is the real question.
Time to wake up America! It's our job to deliver more than 50 seats in the Senate to the Democrats! There are 35 US Senate seats up for election in 2022, of which 14 are held by Democrats and 21 by Republicans. Democrats need to hold serve, and win two-four more!
We have an opening with the GOP choosing shitty candidates and spending their ad money frivolously. But it means Democrats must turn out in large numbers in all of these elections, from Warnock in Georgia to Fetterman in PA, to Barnes in Wisconsin. And don't forget Mark Kelly in AZ, and Catherine Cortez Masto in NV.
To help you wake up, watch, and listen to "Lily Was Here" performed by saxophonist Candy Dulfer and the Eurythmics' Dave Stewart. Written by Stewart, it was the title track to a 1989 Dutch film called "De Kassière, (The Cashier)." Here it is performed live by Stewart and Dulfer in 1989:
Dulfer was born in the Netherlands. She's the daughter of saxophonist Hans Dulfer and started to play the soprano saxophone at age six. She's very very good.