The Daily Escape: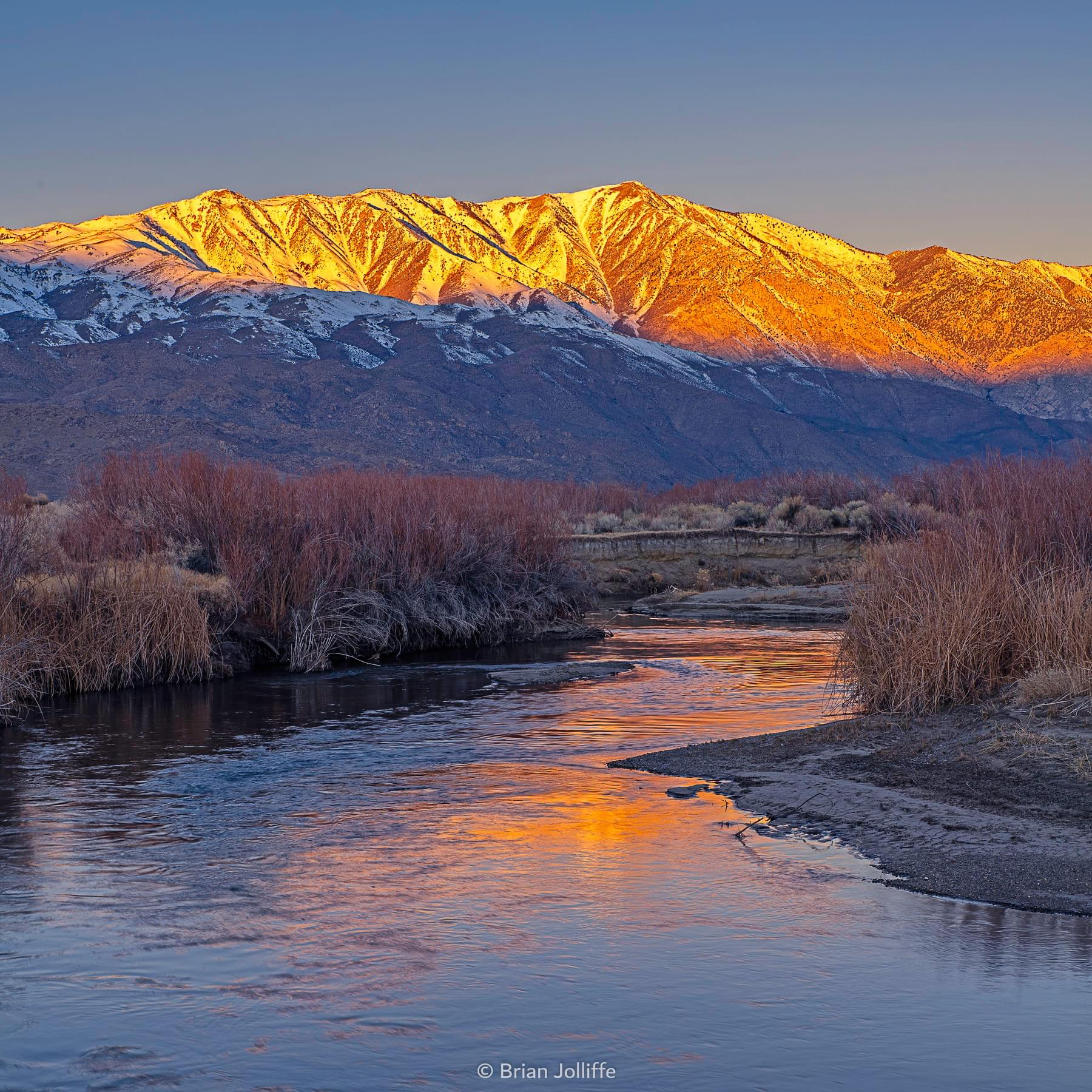 Owens River, east of Big Pine, CA – 2022 photo by Brian Joliffe
Tomorrow brings the Super Bowl, an American cultural icon that transcends football. Even people who don't watch football watch the Super Bowl. Advertising executives know that it is the one time each year when most Americans are tuned into one show at the same time, across most forms of media.
It's watched by roughly 100 million viewers. Given the fragmentation of our media, it's a huge number of eyeballs to find in one place. That's why Super Bowl commercials cost so much. NBC, broadcaster of this year's game, sold out all of its Super Bowl ad space for $7 million per 30 second spot.
And though it may only last for a short time, this is the first time in 22 years that the Super Bowl will be played when the country is not officially at war.
On Sunday, the Super Bowl halftime show will be a celebration of hip hop, featuring Los Angeles rap heroes Dr. Dre, Snoop Dogg, and Kendrick Lamar. That places hip hop firmly at the center of the Super Bowl for the first time. The show will also star Eminem and Mary J. Blige.
Depending on who you ask, that's either one of the greatest classic hip-hop lineups ever assembled, or way too much lineup for a show that only lasts for about 13 minutes, less than 3 minutes per artist.
This isn't the first time the Super Bowl has included rap music. But it's had a rocky path to headliner status. Headlining this year's event comes at a time when the NFL is again confronting issues regarding its tin ear about race.
Since 2016, when the quarterback Colin Kaepernick began kneeling during the national anthem to protest police killings of Black people, the league has faced questions about its commitment to diversity and social justice. Brian Flores, a Black NFL head coach who was fired last month, sued the league, claiming he and others had been discriminated against during various teams' hiring processes.
This year, Dr. Dre and Snoop Dogg are taking the NFL in a different direction, and that may be the idea. The NYT quotes Will.i.am of the Black Eyed Peas, who headlined the show in 2011:
"At one point, Dre was in a group that was banned by popular culture,"
Will.i.am is referring to Dr. Dre's gangster rap group NWA, widely considered in the late 1980s to be one of the greatest and most influential groups in the history of hip hop music. Their music had explicit lyrics, and many viewed NWA as misogynistic. They also glorified drugs and crime.
Their work was banned from many mainstream American radio stations. In spite of this, the group has sold over 10 million albums in the US. Wrongo's favorite NWA cut is "Fuck Tha Police" from their 1988 album "Straight Outta Compton". You should take a listen, but don't hate on Wrongo if you despise it.
That the NFL has now turned to these formerly controversial figures, makes it seem as if we've moved far from White America's pearl-clutching days of Janet Jackson's 2004 wardrobe malfunction. Or from M.I.A.'s middle finger in 2012, or Beyoncé's nod to the Black Panthers in 2016.
Or maybe we haven't moved on. But right now, the league needs to embrace Black music and culture to help shore up its badly damaged community bona fides.
And there's the open secret: The NFL, a fabulously wealthy sports league whose least valuable team is worth more than $2 billion, doesn't pay its Super Bowl performers. They consider their halftime show to be music's ultimate for-exposure gig. But how much is that exposure worth when multiple performers are competing for just 13 minutes of attention?
On to our Saturday Soother. Weather is positively spring-like in Connecticut, so Wrongo will venture outside for some way-too-early spring cleanup. After that we have a family party followed by making turkey chili and queso con chorizo for Sunday's extravaganza.
It's time for you to forget about Trump's missing call logs from Jan. 6, and grab a seat by a window. Now, plug in your Bluetooth headphones and listen to John Williams, who turned 90 this week. Here's his "Cowboys Overture" from the 1972 film, "The Cowboys" starring John Wayne.
It's played live in 2020 by the Film Symphony Orchestra, Spain's first orchestra specializing in cinematic music:
While you listen, to this mythical view of the west, do you hear echoes of Aaron Copeland?