The Daily Escape: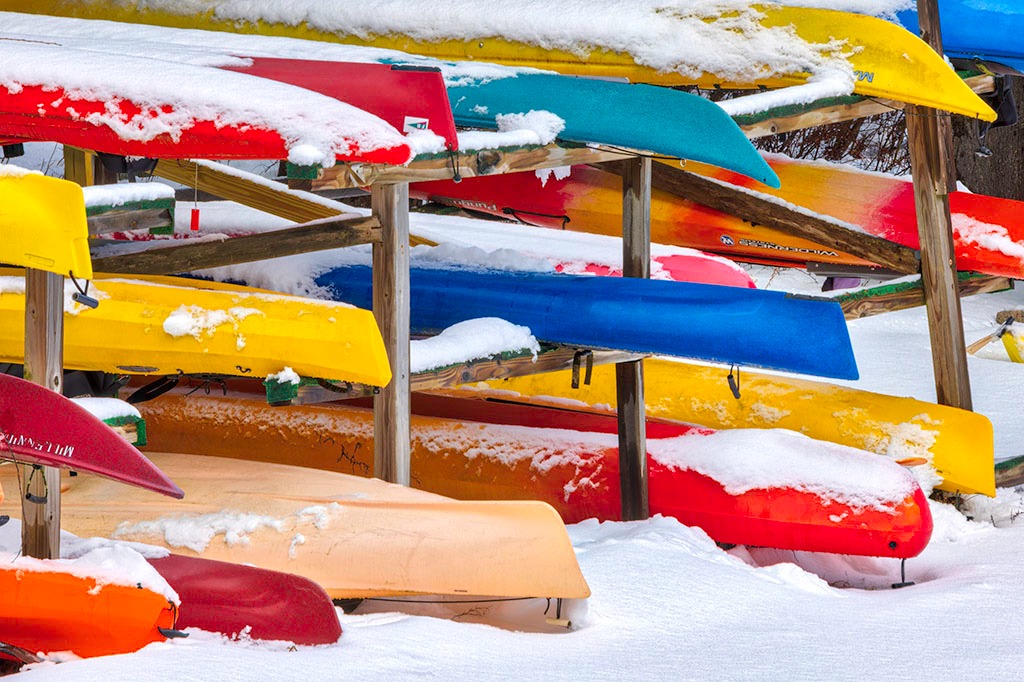 Snow covered kayaks, Lake Sunapee, NH – January 2023 photo by Juergen Roth Photography
Yesterday was two years since the January 6 attack on the US Capitol. And now, some of the same people are holding the House of Representatives hostage like they tried to do in 2021. From the WaPo:
"All but two of the 20 Republican House members who voted against Kevin McCarthy for speaker in Tuesday's third ballot round are election deniers who embraced former president Donald Trump's false claims that the 2020 election was rigged…..14 are returning members who voted against certification of the electoral college count on Jan. 6, 2021."
Then there's North Carolina GOP Rep. Ralph Norman who urged Trump to declare "Marshall Law," (sic) just days before the 2021 inauguration. Look at what Norman is saying now: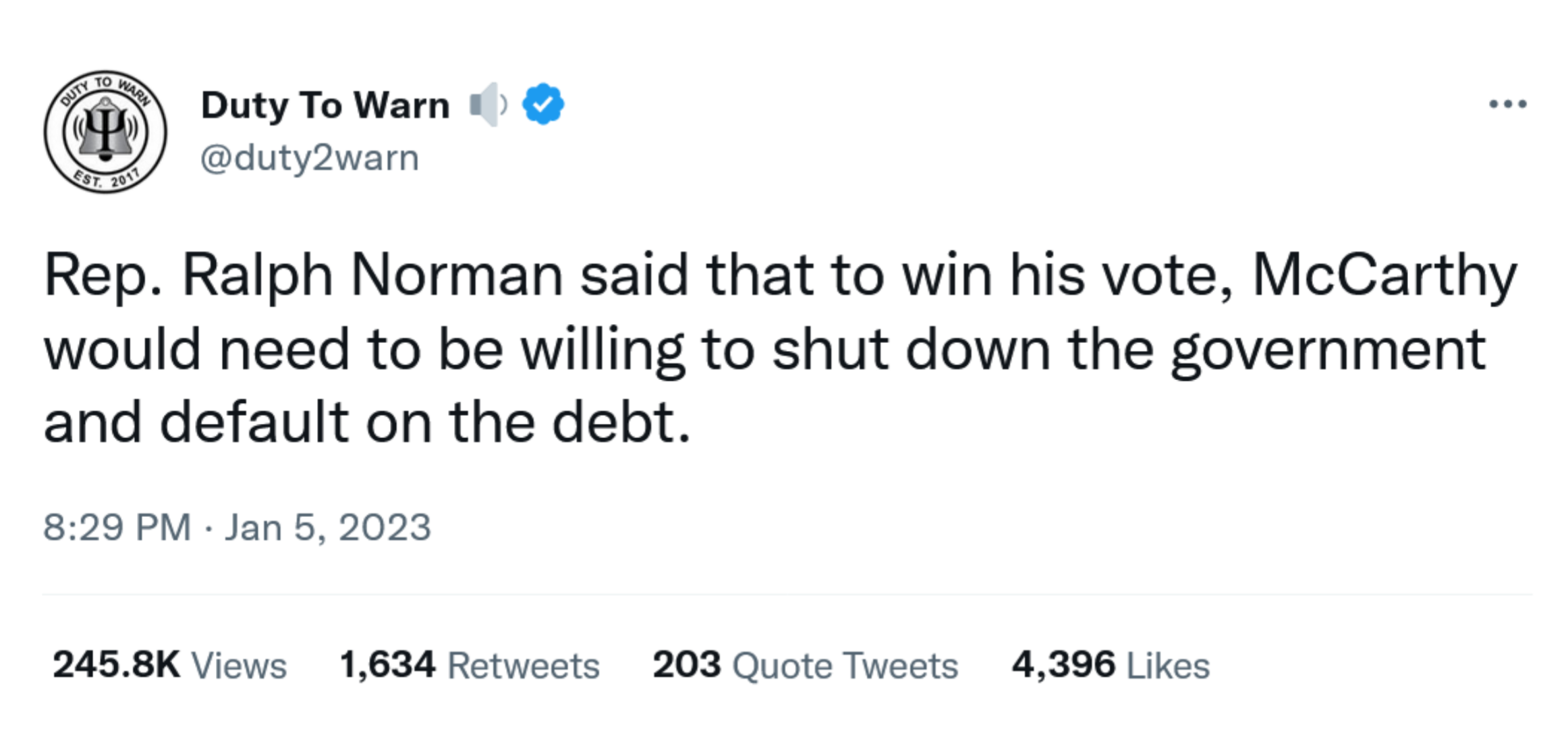 This should be your primary concern in the power play between the far right Republicans (McCarthy) and the farther right bat-shit Republicans, including Rep. Norman. As Paul Krugman says in the NYT:
"…even with a speaker in place, how likely is it that the people we've been watching the past few days will agree to raise the debt ceiling, even if failing to do so creates a huge financial crisis?"
Friday saw the first major breakthrough in the deadlocked voting when on the 12th ballot, a group of previous Republican holdouts flipped their votes to support McCarthy, but it wasn't enough for him to clinch the gavel. Then on the 13th ballot, McCarthy picked up another vote bringing his total to 214.
"House GOP Leader Kevin McCarthy is on the brink of clinching the speakership after a group of 15 previous Republican holdouts flipped their votes to support the California lawmaker on Friday, marking the first major breakthrough in negotiations this week."
McCarthy fell only three votes short of the threshold needed since there were lawmaker absences.  That's 14 new votes for McCarthy, with a maximum of 218 needed to gain the speakership. This is the current state of play, with more ballots to come late on Friday night.
You should note that McCarthy got Ralph Norman's vote on Friday, after Norman said on Thursday that he would only switch if McCarthy was willing to shut the government down. So, is that what's in store for us? As JVL says:
"The sad truth is that McCarthy may be about to become the weakest speaker in history. This fight over the speaker's gavel is exactly what every important vote in the House over the next two years is going to look like: The speaker's fight is the debt ceiling fight is the budget fight is the Ukraine aid fight."
Think about the Republican Speakers of the House since Newt Gingrich 30 years ago. Gingrich's Contract for America has morphed into MAGA fratricide in a decade. It's been a bit like watching the British royals fracture because Megan and Harry wouldn't toe the line inside the family.
Recall that the Republicans do not have a lot of experience with House speakers. Before Newt, Joe Martin of MA served two terms (1947-1949; 1953-1955). And since Newt there have been two:
John Boehner (2013-2015)
Paul Ryan (2015-2019)
Boehner was a mediocrity, but he was a professional legislator. Ryan was speaker during much of Trump's first term. He's noted for rewriting the tax code, which helped contribute to our ballooning deficits. McCarthy is inferior to either of these previous GOP speakers, who in their own ways were clear failures.
The Republican Party harbors some very dangerous extremists in their ranks, and McCarthy's pandering to them is a dangerous game, not only for Democrats, but for all Americans. They don't want policy; they only want airtime.
From Michelle Goldberg:
"…The movement these characters are part of…isn't simply ideological. It's also a set of defiant, paranoid, anti-system attitudes, and a version of politics that prioritizes showboating over legislating. That's why McCarthy has found himself unable to negotiate with the holdouts."
It's looking like McCarthy will manage to eke out the speakership. More from Goldberg:
"It is not possible, however, that he'll emerge, in any real sense, as a leader. His best-case scenario is that he'd be a fragile figurehead, a hostage…constantly in danger of defenestration."
We all should know that these self-aggrandizing jokers won't hesitate for a moment to crash the economy and/or shut down the government just so they can crow about it on Steve Bannon's podcast.
If they will do this to their own Party, imagine what they will do to the rest of us.
It's time to take our first break of the New Year from the "All Kevin, all the time" barrage and get to our Saturday Soother. It's cold and rainy in Connecticut, and so it's indoor activities this weekend, like maybe taking down some ornaments. Or maybe napping.
To help you get calmer about what a GOP majority in the House might do, grab a chair by a big window and watch and listen to "Capricho Arabe" written in 1888 by Spanish guitarist Francisco Tárrega. He was staying in Valencia, where Muslim, Castilian, and Christian cultures mixed, and you can hear all of those influences in this piece.
Here, British guitarist Alexandra Whittingham plays it in 2017 at the Church of St Pierre in Martignac, France: