The Daily Escape:
Blue Ridge mountains, NC – June 2023 photo by Michele Schwartz
It's getting to be long enough into our economic recovery that we've started to ignore the monthly jobs report by the Bureau of Labor Statistics (BLS). Luckily, Simon Rosenberg doesn't let us forget: (brackets by Wrongo)
"The…BLS jobs report is out and it's another good one – 339,000 net new jobs, [plus] 432,000…upward revisions from previous months. With this new data my monthly jobs tracker clocks in at:

-33.8m jobs – 16 years of Clinton, Obama

-13.1m jobs – 28 months of Biden

-1.9m jobs – 16 years of Bush, Bush and Trump

Biden's 13.1m jobs is almost 7 times as many jobs as were created in the 16 years of the last 3 Republican Presidencies, combined."
Since the end of the Cold War, the US has seen 49 million new jobs created. Remarkably, 47 million of those 49 million jobs were created under Democratic Presidents.
On the Democratic Party's watch we've seen strong economic growth. OTOH, during the same time, Republican presidents have overseen three consecutive recessions. It's not a stretch to say that the GOP's economic track record over the past 30 years has been among the worst in US history.
Consider Biden's record of economic growth:
GDP growth under Biden is 3+%, or 3 times what it was under Trump.
Almost 7 times as many Biden jobs as last 3 GOP Presidents combined.
Best post Covid economic recovery among the G7 countries.
Lowest unemployment rate in a peacetime economy since WWII.
Lowest poverty/uninsured rates ever.
Real corporate earnings up in 2022.
Despite what the GOP is saying to the press about their being deficit hawks, the federal deficit went up every year under Trump, and has come down every year under Biden. Rosenberg adds this helpful chart of GDP growth by president:
So why is it that Americans aren't convinced that the economy has improved since the pandemic? In a new poll from the AP-NORC, asking if the nation's economic conditions are in good shape, the percentage who agree is down from 30% last month to 24%. Only a third of Americans in the new survey approve of how Biden's handling the economy, while two-thirds disapprove.
In the survey, Democrats were more likely than Republicans to view economic conditions favorably, but just 41% of them say the economy's good and only 7% of Republicans agree. And both numbers are down from the previous month for both Parties.
Now this may be at least partially due to the Republicans scare tactics about the Debt Ceiling. The Hill reports that this AP-NORC poll is in line with other recent surveys that suggest most Americans think the country's economy is in poor shape, Other polls also indicate low confidence in the economic leadership team.
Axios suggests a different way to view the economic issue. They looked at Federal Reserve survey data from 2017-2022, which shows that people think they're personal economy is doing just fine, while they think the national economy is in terrible shape: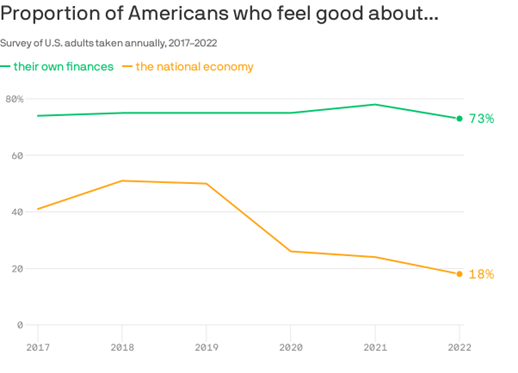 This is most likely because of the media's awfulizing about our economy. Obviously, consumer prices are high, but inflation is coming down. But even if inflation went to zero, today's prices will still be much higher than Americans were accustomed to pre-pandemic, so people will be complaining.
And we can't discount the negative impact of Congressional dysfunction about the Debt Ceiling, or all the news bunnies crying about our unsustainable national debt.
Still, our economy continues to do better than even the economists think. The May employment report marked the 14th straight month that more jobs were created than economists expected. Our GDP continues to grow (it's up more than 5% from its pre-pandemic peak), even after accounting for inflation.
The average US employee now makes $33.44 per hour, 17.5% more than before the pandemic. The stock market is up 10% so far this year, but still, Americans aren't buying it. Axios' Felix Salmon reports that while Americans say that they're broadly happy with their personal finances (above chart), in other polls, a majority consistently think (erroneously) that we're currently in a recession.
Time to wake up America! Things are rolling along reasonably well, even if they're not fantastic. We have the best job market in 50 years, and there's no recession on the horizon. As the Rolling Stones said: "You can't always get what you want…". Maybe it's time to look at the glass as half full.
To help you wake up, watch and listen to Alan Jackson cover Eddie Cochran's 1958 "Summertime Blues" in 1994. The Blue Cheer had the radio hit with it in 1968. Wrongo loves three versions of this song: Blue Cheer, the Who, and this Allen Jackson cover: