The Daily Escape: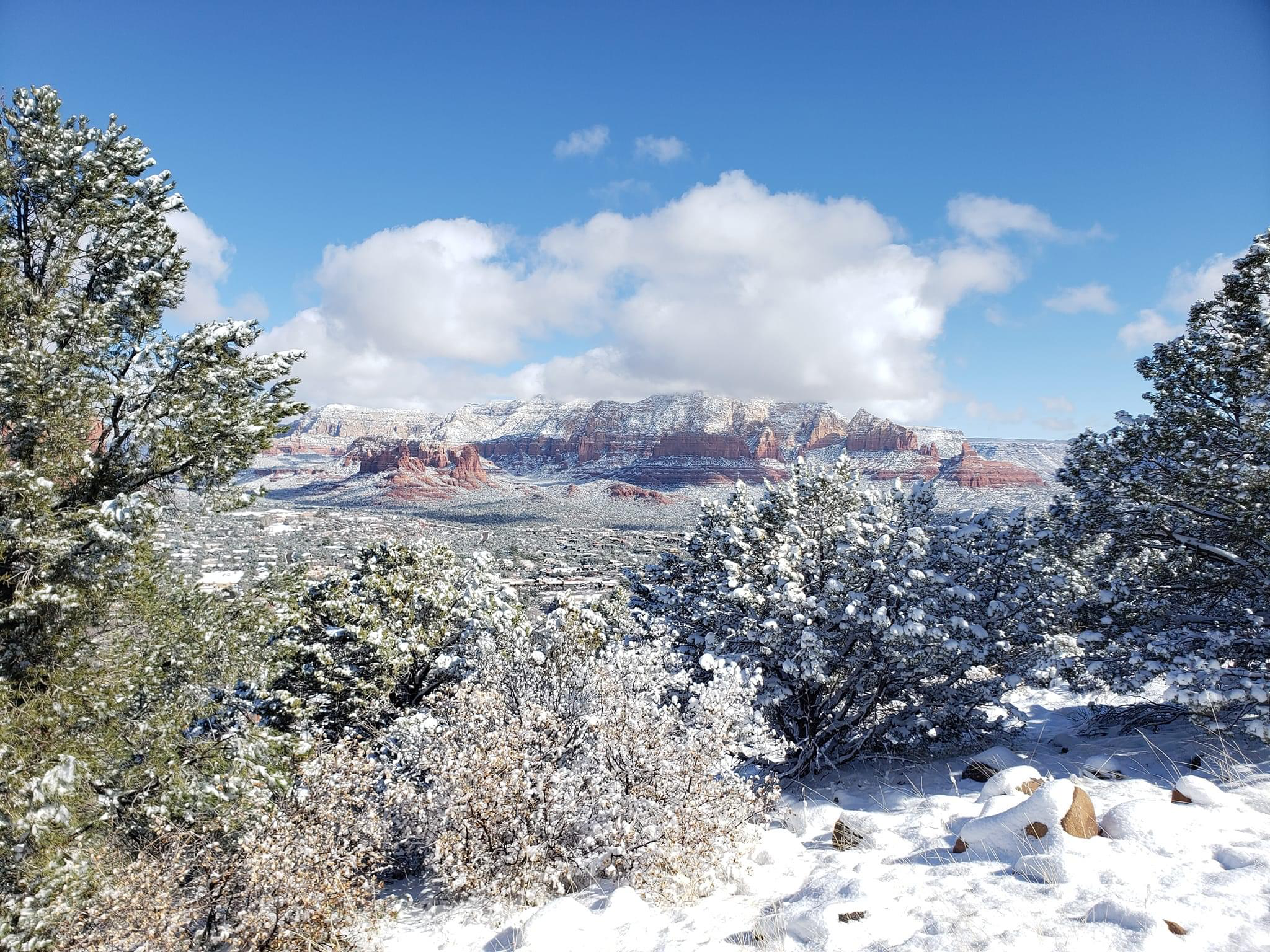 Sedona, AZ dusted in snow- February 2022 photo by Valentina Tree
Late on Friday, the US, Britain and EU said they will sanction Russian President Vladimir Putin and Foreign Minister Sergey Lavrov. This is the third round of Biden's sanctions, and blocks the Russian president from any economic activity within the American financial system. White House press secretary Jen Psaki indicated the US would also implement a travel ban for Putin.
These sanctions effectively place Putin in the same category as North Korea's Kim Jong Un.
As with other Russian sanctions, it isn't clear how effective the Putin asset freeze will be. According to the Pandora Papers investigation, Putin appears to control assets in Europe, but the amounts are trivial compared to estimates of his wealth. The travel ban is significant. It says that the West considers Putin to be an international pariah. Earlier, Biden also announced a second round of sanctions against Russia.
The challenge facing Biden is how to avoid either starting or losing, a World War. He's done a decent job rallying other nations towards a common viewpoint about Putin's War. Putin believed he could at least neutralize certain allies within both NATO and Europe, along with some politicians and the public in a few EU countries.
But thus far, Biden's had success at undercutting Russia's efforts. He has been able to achieve broad unity by making it clear that Russia is an unprovoked aggressor. Yet Kyiv may soon fall to the Russian invaders. Addressing his nation, Ukraine President Volodymyr Zelensky said the Russians are coming after him specifically:
"The enemy has marked me as enemy number one."
He told EU leaders on a Thursday night zoom call that "this might be the last time you see me alive".
We can't ignore what's happening, but the US won't risk all-out war over Russia's invasion of Ukraine. We hope to avoid these choices by imposing sanctions that might turn the Russian people against Putin, by depriving Russia of cash and other resources. The sanctions are impressively multilateral.
However, the new sanctions have some loopholes. Adam Tooze reports that the sanctions specifically exclude energy: (emphasis by Wrongo)
"Energy is the really critical issue in the sanctions saga for both sides. It is what will hurt Russia most. It is also what is most critical for Europe. And, on energy… Biden…made this aside:

'You know, in our sanctions package, we specifically designed to allow energy payments to continue.'"
Really Joe? The sanctions say that as long as your energy-related transactions are channeled through non-sanctioned, non-US financial institutions, for instance a European bank, buying gas from Russia is peachy. So, all of the payments for Russian gas will be paid free of problems for as long as sanctions are in place.
The political pressure for an energy carve-out comes from Germany. Bloomberg reported earlier:
"The German government has pushed for an exemption for the energy sector if there is a move to block Russian banks from clearing US dollar transactions….other major western European nations hold similar views."
It gets worse. The carve-out isn't limited to energy, it also applies to Russia's agricultural commodity exports. So long as those transactions run through non-US, non-sanctioned banks, the US sanctions will not apply.
This shows how dependent our European partners are on Russia for gas and agriculture. It also shows how hollow the sanctions are, and how they will not be the "punishing" sanctions Biden promised.
It's useful to remember that Germany's use of Russian gas has been a completely tenable and a mutually beneficial relationship for 40+ years.
Finally, Biden didn't announce excluding Russia from the SWIFT global financial payments system because Italy, Germany, and Cyprus weren't willing to do it. Part of this has to do with buying Russian gas. It also has to do with how dependent their economies are on exports to Russia. Although, as Biden noted, full blocking of Russian financial institutions should achieve the same, or even greater, effect as a SWIFT ban.
Except for that gas and agriculture thingy, so not the same at all.
The question is whether the EU and NATO are truly willing to bear the costs of inflicting pain on Russia in order to end the Russian invasion of Ukraine. As of today, it seems that they are not.
Time to take a break from geopolitics and whether Lindsay Graham will support Biden's new Supreme Court nominee, Judge Ketanji Brown Jackson. It's time for our Saturday Soother, where we turn away from the news and focus on trying to calm the f down.
Today is a typical winter day in Connecticut. It's chilly and there's snow on the ground, but far less than predicted.
Since Putin is acting like the Honey Badger, let's start by upping your honey badger game by brewing a mug of Honey Badger Espresso from Intelligentsia Coffee. They're a Chicago-based chain with locations in Chicago, Los Angeles, Austin, Boston, and NYC. Leave the intelligentsia and take the honey badger.
Now grab a seat by a window and listen to Handel's "Ombra mai fu", known as Handel's Largo of Love, it's the opening aria in the 1738 opera Xerxes. Here it is performed in 2017 by  Czechoslovakia's Janacek Chamber Orchestra with soloist soprano Patricia Janečková:
Beautiful voice!