The Daily Escape: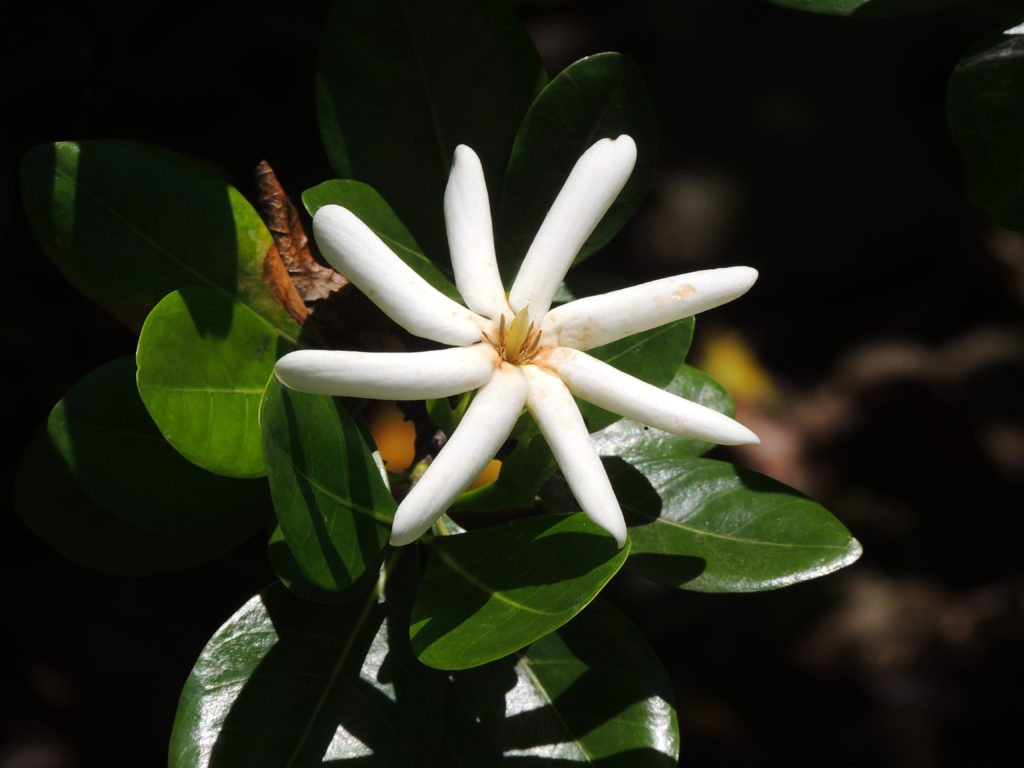 Tahitian Gardenia, Maui – 2013 photo by Wrongo
On June 13th, The New York Times had an article on the Social Security (SS) shortfall: (emphasis by Wrongo)
"Unless a political solution is reached, Social Security's so-called trust funds are expected to be depleted within about 15 years. Then, something that has been unimaginable for decades would be required under current law: Benefit checks for retirees would be cut by about 20 percent across the board."
With life expectancy increasing, by 2035, Social Security estimates, the number of Americans 65 or older will increase to more than 79 million, from about 49 million today. This is the high point of eligibility, as the number of Baby Boomers will start to decline by then.
Americans are counting on Congress to fix this problem. As usual, there are two answers, one offered by each Party. The GOP thinks that we can't afford SS and Medicare. In fact, they've been trying to cut our SS checks since the Reagan presidency. The right-wing Heritage Foundation offered a new policy paper in May. As in the past, they favor cuts to benefits and siphoning money from payroll taxes into individual investment accounts. This is a recycling of George W. Bush's 2005 idea, that the Democrats blocked at the time. The Heritage Foundation overlooks that at one time, pensions were widespread, and SS was a supplementary source of income for many retirees, not their primary source as it is for most today.
The Democrats have suggested an increase in Social Security benefits, along with higher taxes for the wealthy. Taken together, these measures would eliminate the SS program's financial shortfall.
Millions of words have been written about how to deal with the shortfall. Here is one idea from Dale Coberly posted at the Angry Bear:
"All we have to do is pay an extra dollar per week per person per year.  After next year It will be more like a dollar and ten cents.  And if we wait another year it will be about a dollar and twenty cents for the first few years, then a great deal less than a dollar per week on average. This would keep Social Security solvent essentially forever.  The Deputy Chief Actuary at Social Security agrees that this is true."
Most of the political discussion is about "we can't afford it". They mean the US government. But, when we think that if the individual wage earner CAN afford it, there's no reason why the government can't pay for it. This isn't socialism, and the US government doesn't have to come up with $ Trillions all at once.
Social Security was not designed to be welfare. It isn't an "entitlement", as though it's an unearned benefit. People contribute a hefty portion of their annual income for their entire working lives to the SS fund, and they have the right to their SS payments in retirement. The original intent was for workers to save enough money to pay benefits when they were too old to work. Today, even the "rich" are not paying in more than they will get back with reasonable interest.
The Times article doesn't mention that the easiest, and most obvious solution is raising or eliminating the SS cap. Most people forget that only the first $132,900 are taxed. Anyone earning more than that is paying into Social Security at the same rate as the rest of us.
Here's a message to Jeff Sommers, who wrote the NYT article: You are fanning the flames of a false emergency when there is a sound solution to be implemented.
Several studies have shown that simply removing the cap, which affects less than 10% of US taxpayers, would solve the SS program's solvency issues indefinitely. No benefit cuts needed. No political horse trading needed between the Republicans and Democrats, except that the GOP base will scream bloody murder if they are forced to pay in more than they will get back.
But, why should we give a pass to the rich, when the rest of us depend disproportionately on social security income to meet basic needs?
Now all we need is the political courage to get it done, which is in absurdly short supply these days.