This from Paul Horner:
I think Donald Trump is in the White House because of me.
Who is Paul Horner? He is the leader of a fake news empire, including his ABCnews.com.co site that The WaPo wrote about today:
Paul Horner, the 38-year-old impresario of a Facebook fake-news empire, has made his living off viral news hoaxes for several years. He has twice convinced the Internet that he's British graffiti artist Banksy; he also published the very viral, very fake news of a Yelp vs. "South Park" lawsuit last year.
But he really hit his stride in the 2016 presidential election. From WaPo:
In March, Donald Trump's son Eric and his then-campaign manager, Corey Lewandowski, tweeted links to one of Horner's faux-articles. His stories have also appeared as news on Google: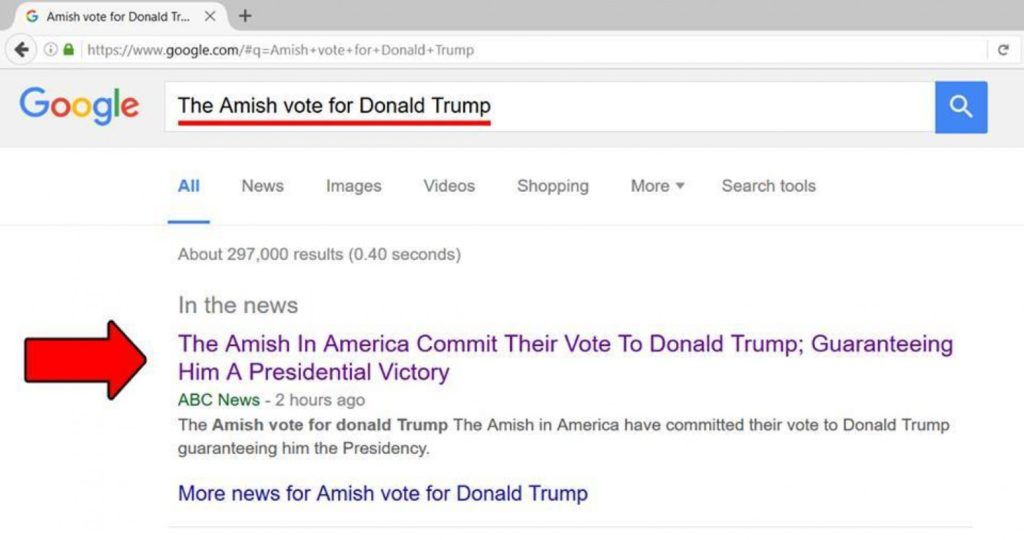 He also pushed a story that Trump protesters were paid by Democrats. Even Trump on the campaign trail, said it was true. Here is the story behind the story by Horner:
My sites were picked up by Trump supporters all the time. I think Trump is in the White House because of me. His followers don't fact-check anything — they'll post everything, believe anything. His campaign manager posted my story about a protester getting paid $3,500 as fact. Like, I made that up. I posted a fake ad on Craigslist.
Horner is correct. Here is (then) Trump Campaign Manager Lewandowski tweeting it:
WaPo asks Horner, why do his stories go so viral?
Honestly, people are definitely dumber. They just keep passing stuff around. Nobody fact-checks anything anymore — I mean, that's how Trump got elected. He just said whatever he wanted, and people believed everything, and when the things he said turned out not to be true, people didn't care because they'd already accepted it. It's real scary. I've never seen anything like it
Real news is so boring. Fake news is so compelling.
Despite Horner's "dumber people" comments, satire should not need to be fact- checked by the reader to determine that it is satire, not false news. When Horner writes a purported news story reporting that a protester was paid thousands to protest at a Trump rally, that story presented itself as news, not satire. It also generates revenue for him while providing ammunition for Trump supporters.
NPR reported yesterday on how Facebook reviews news sites that post on their platform. They said that FB:
Turned to the consulting firm Accenture to put together a dedicated team of subcontractors. Sources say the team is now several thousand people, with some of the largest offices in Manila…and Warsaw.
Ok, outsourcing isn't necessarily good or evil, but NPR also reported that:
Current and former employees of Facebook say that they've observed these subcontractors in action; that they are told to go fast — very fast; that they're evaluated on speed; and that on average, a worker makes a decision about a piece of flagged content once every 10 seconds.
The 10 second rule means that a worker on an eight-hour shift, at the rate of one post per 10 seconds, means that they're clearing 2,880 posts a day per person. How do you evaluate something as fake news in 10 seconds, particularly when you don't even live in the US?
There's another huge barrier: The subcontractors typically don't get to see the full story, because the messages are truncated. Therefore, no one can really evaluate a particular story's context.
This is America in the 21st Century. How can people develop good bullshit detectors, when the platform that 1.7 billion people worldwide subscribe to, can't be serious about checking to see if something posted is true?
We are in an era where facts are increasingly irrelevant.
The solution is to fund independent social media organizations that really fact check BS statements. And then, reach out to counter the faux that easily-manipulated individuals want to believe. Their fact-checking will have to be part of social media, since that is what people who live mostly on social media understand. Next, treat them with respect, and work hard to relieve their underlying anxieties.
Consider Obama's last press conference: He treated the reporters well, and they were respectful of him. He paid homage to the death of the respected newsperson, Gwen Ifill, including thanking her for holding his feet to the fire.
That's the kind of presidential temperament we need.