Broadway attacked Mike Pence, not with sticks and stones, but with words. Mr. Pence went to see "Hamilton", but was greeted with boos, and then the cast addressed him after the performance from the stage:
We, sir, we are the diverse Americans who are alarmed and anxious that your new administration will not protect us…But we truly hope that this show has inspired you to uphold our American values, and to work on behalf of all of us. All of us.
Maybe it would have been appropriate for Mike Pence and Brandon Dixon, the Aaron Burr character who addressed Pence, to just duel out on Broadway after the play. But The Donald stepped in to protect Pence by dueling with the cast of Hamilton instead. As part of a tweet storm, Trump tweeted his demand for an apology. Get used to it, there will be many, many more demands via twitter by your Orange Overlord. This from Trump: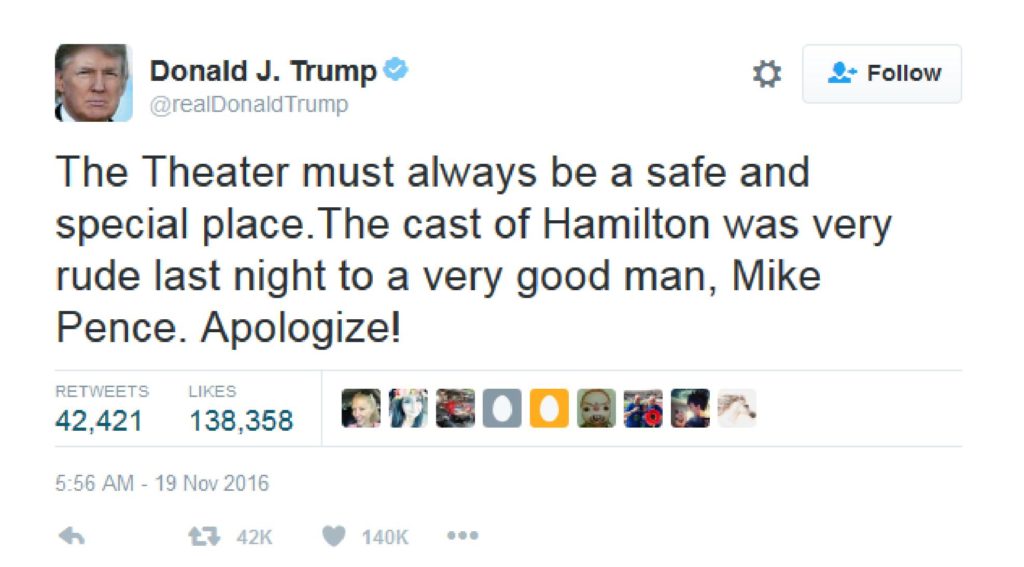 If this got under Trump's skin, maybe Hillary was right. Pence was professional in the low-key way in which he responded to the confrontation at the theater. Trump of course, was not. He could have seized the opportunity to assuage the fears of Americans who are afraid of what may be coming after January 20th.
He could have made it clear that his election night promise to be "A President for all Americans" actually meant something
Trump must know that the theater is a place to be challenged. NO one goes to the theater thinking it is a safe zone where their precious little Fe Fe's will be safe. It is the nature of theater and the arts in general to challenge us, to force us outside of our comfort zone, to make us consider alternate ways of viewing the world. From Bob Lefsetz:
This is what artists do. They speak truth to power. They make people uncomfortable. And when there's a reaction, they know they've done their job.
The negative social media response to Trump's tweet went viral. More from Lefsetz:
…we've got a President-elect who uses social media to get his message across…Isn't it funny that a contrary opinion is now being spread through the same platforms? My inbox and Twitter were ablaze last night after the "Hamilton" kerfuffle. Word spreads fast these days, and the last ones on it are the mainstream media, who go to bed at 11 when we live in a 24/7 world.
There were lots of comments supporting DJT's tweet, that what the Hamilton cast said was "inappropriate" or was said in the wrong venue. So the Hamilton team has no right to speak up? Hogwash. So where do we go from here?
Have we ever seen this kind of spontaneous pushback right after a presidential election (other than Lincoln's, which precipitated the Civil War)? There is demonstrable national unrest, people are pissed. And Trump now demands that people just lie down and take it?
Trump isn't getting an apology.
Trump said that he wants to be president of all Americans. But post-election, he is acting as he did while campaigning. He expects to preside over all, attempting to quell dissent by forcing people who disagree with him to toe the line. If you want to be part of Making America Great Again, you will treat him and his administration with decorum and proper respect. Like this: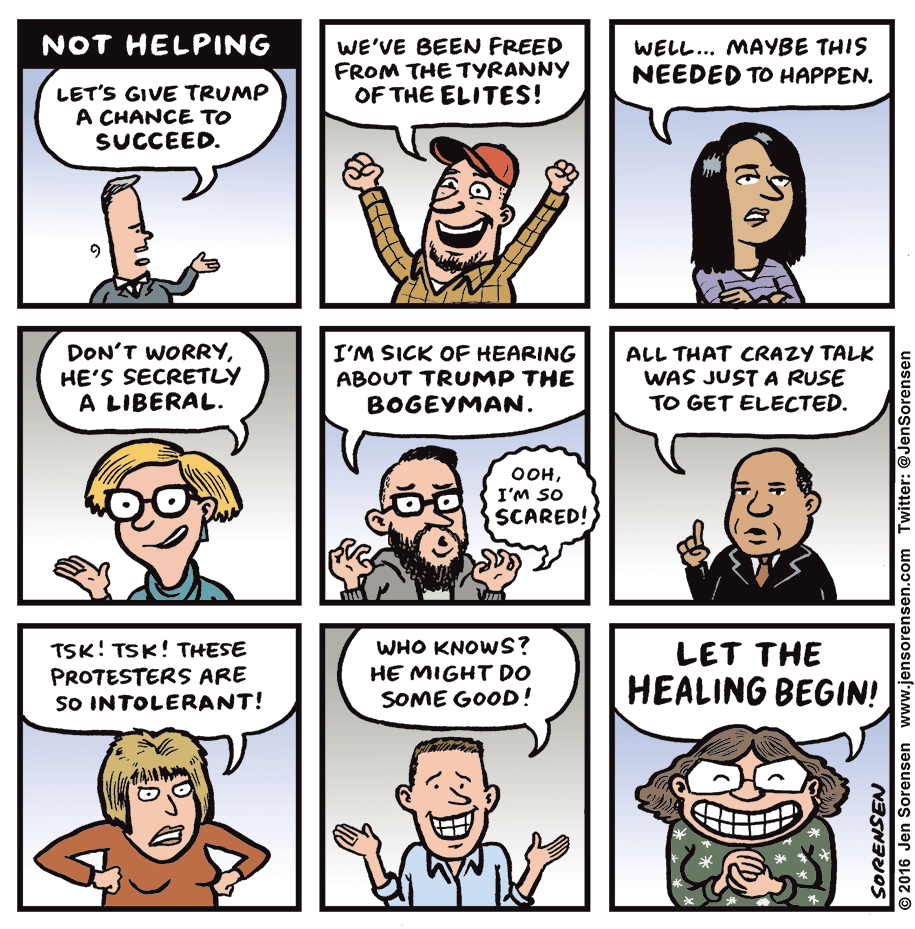 Yea, No. Time to be inspired to speak truth to power. Time to perfect your message of dissent. Time to develop a message that wins in 2018 and beyond. Let the Hamilton cast inspire your actions. Inspire others so that it is clear where the Orange Overlord is taking us. The time for revolution is here.
It's time to wake up if you think that giving Trump a chance to heal America is a good idea. Healing requires a two-way street of thought and communication. But all that we are likely to get from the Orange Overlord are tweets that say get back in line, or here come the cops.
To help with your morning wake up, here is the late Mose Allison, who died last week, with his song, "Your mind's on vacation but your mouth is working overtime". It was said that Allison was a social critic before Dylan and a musical satirist before Randy Newman. His music has influenced many artists, including Jimi Hendrix, the Rolling Stones, Tom Waits, the Yardbirds, John Mayall, JJ Cale, and the Who.
Here is "Your mind's on vacation but your mouth is working overtime".
Sample Lyrics:
You're sitting there yakkin' right in my face
I guess I'm gonna have to put you in your place
Y'know if silence was golden
You couldn't raise a dime
Because your mind is on vacation and your mouth is
Working overtime
You're quoting figures, you're dropping names
You're telling stories about the dames
You're always laughin' when things ain't funny
You try to sound like you're big money
If talk was criminal, you'd lead a life of crime
Because your mind is on vacation and your mouth is
Working overtime
Does this remind you of a certain orange someone?
For those who read the Wrongologist in email, you can view the video here.