The Daily Escape: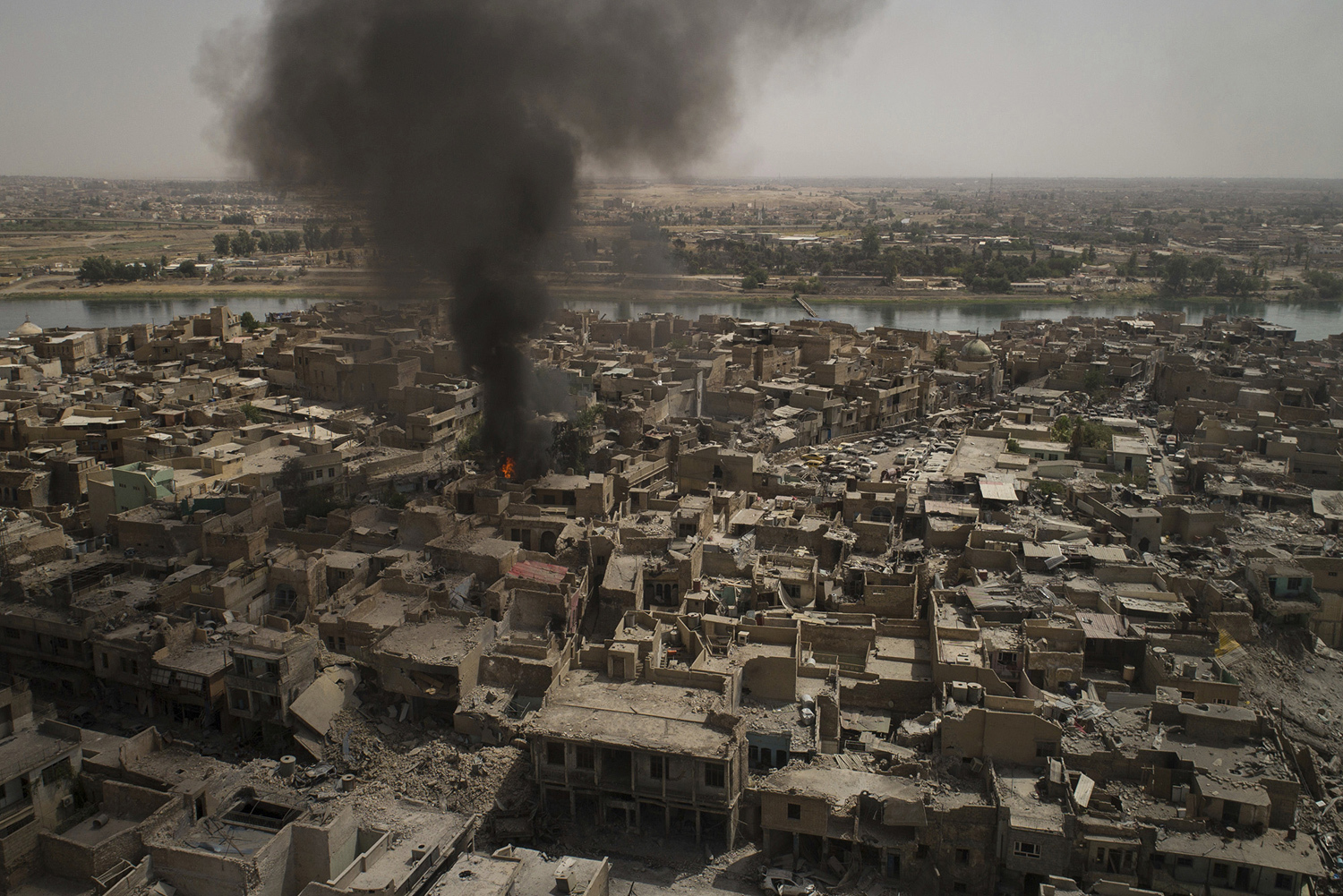 Mosul – Old City, July 3, 2017 – photo by Felipe Dana
Mosul is now back in Iraqi control. The strategy for Mosul was "clear, hold, and build". America used a similar tactic in Vietnam; "clear and hold", without lasting success.
The "clear, hold and build" approach involves clearing contested territory through military operations and then holding that territory, isolating and defending it from insurgent influence. The build phase involves economic, developmental or governance-related activity intended to increase the legitimacy of the counterinsurgents and the government they represent. It has not been successful in Afghanistan, where clear and hold have been difficult or impossible, to achieve.
So far in Iraq, clear, hold and build has more or less worked in Ramadi and Tikrit, but the corrosive Sunni-Shia rivalry may have negative impacts going forward. The defeat of ISIS will offer Baghdad a fresh state-building opportunity to correct the mistakes made following the ouster of the Saddam Hussein in 2003. And there is some reason for optimism, as the Cairo Review states:
Post-Saddam Iraq has managed to write a new constitution, and has witnessed four national electoral cycles, four peaceful transfers of power, and three constitutional governments in which Sunnis, Shiites, and Kurds have been consistently represented. Iraq today can claim a flourishing civil society, a thriving media, and expanded civil and political liberties. By the standards of the Middle East, these are no small achievements.
So, what's next? Widespread corruption persists, as does the continuing struggle for power among Iraq's Sunni, Shiite, and Kurdish communities. This has been a feature of Iraqi politics since Iraq's independence from Ottoman rule in 1920. The post-Saddam era has allowed Sunnis, Shiites, and Kurds to pursue their own interests. In part, the Shia effort to strip Sunnis of power after Saddam brought about the ISIS ascendancy. The Kurds have used the ISIS insurgency to consolidate all territory in northern Iraq that is Kurdish-speaking, including oil-rich Kirkuk. The Iraqi Kurds are planning a referendum on independence in September, and Turkey, Iraq and Iran have all announced their opposition.
The majority Shiites are divided. Elites run the government, and hold economic power. But, the vast majority of Shiites have not done well since the start of the Iraq war. The prominence and successes of Shiite militias gives Shiites great influence in their struggle for power in post-ISIS Iraq. Some of the militia leaders have become so popular they may win positions in the 2018 national elections.
Shiites and Kurds must recognize that it is in their interest to see that Sunnis are stable and thriving. Sunnis, humbled by the disaster they helped bring to the country by the ISIS insurgency, should now be eager to secure their place in a new political reality.
Post-ISIS, will the country break into a federation of three distinct areas? The Kurds are hoping for that outcome. US policy has been to encourage a united Iraq. Iran favors that as well, but the situation on the ground is volatile. Let's give Cairo Monitor the last word:
Perhaps the best hope is that Prime Minister Al-Abadi and his eventual successor will push for incremental measures toward securing Sunni communities and settling Shiite disputes with the Kurds.
Time for the Iraqi groups contesting for power to wake up and support something bigger than themselves. Violence over the past 14 years has taken the lives of some 268,000 Iraqis, including nearly 200,000 civilians, with perhaps, many more to come.
To help them wake up, here is Big Country with their 1983 tune "In a Big Country". The song is anthemic, a rallying cry to get up off the floor and grab for the things you want. Here is a live video from 1983 recorded in London at the Hammersmith Odeon:
Those who read the Wrongologist in email can view the video here.
Takeaway Lyric:
Cry out for everything you ever might have wanted
I thought that pain and truth were things that really mattered
But you can't stay here with every single hope you had shattered, see ya
I'm not expecting to grow flowers in a desert
But I can live and breathe
And see the sun in wintertime
In a big country dreams stay with you
Like a lover's voice fires the mountainside
Stay alive