(There will be no cartoons posted this week)
The Daily Escape: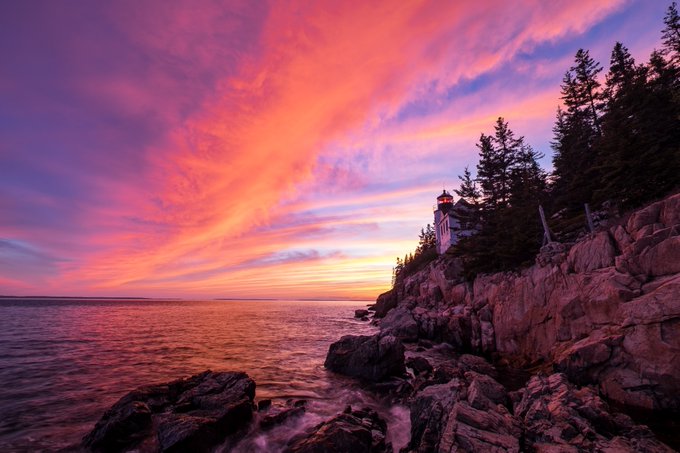 Bass Harbor Head Light, Acadia NP, ME – 2019 photo by York Chen
Some are saying that the Democrats have abandoned the House as an instrument of power, and that it might be lost forever. The idea is that Democrats have surrendered the power of oversight, because they haven't been able to use it effectively, and they can't enforce their subpoena power.
This was the calculus of the Trump administration. If you stonewalled the House Democratic majority, their only option was to declare contempt. Once contempt is declared, it is up to the Department of Justice to enforce the order, an impossible expectation so long as it's Trump's DOJ.
After a contempt order has been issued, Congress can pass the order on to the DOJ or, to the DC US Attorney's Office for prosecution as a civil or criminal matter. In theory, a charge of contempt could result in a fine or jail time, though in reality, that's unlikely to happen.
After that, it's up to the courts. That process takes a long time, and the outcome is far from certain. If a judge rules against Congress and in favor of the Trump administration, it could set new legal precedent that could make it easier for future presidential administrations to withhold information from future congressional committees.
The House did exercise its impeachment power, but it's clear that regarding oversight, Trump has no intention of cooperating, nor will his administration. So the Democrats are facing a Constitutional question: The House is either an independent instrument of power and authority, or it is not.
We'd like to think that the next president and those that follow will not abuse their powers. Or if/when they do abuse power, they will be confronted by a Congress controlled by the other party, and both contempt and impeachment will be taken seriously by the president.
If a Democratic president and a Democratic Congress were elected, they could agree on a series of changes to limit presidential overreach and misconduct. Here are a few options:
Statutory penalties for contempt of Congress followed by swift review by the Court of Appeals for the DC Circuit
Tightening time limits for responding to Freedom of Information Act requests and enacting penalties for abuse
Restatement and enforcement of whistleblower protections, including penalties for outing and retaliating against whistleblowers
Even these moves may not be enough to rein in a president who has operational control of the DOJ. It will take the Supreme Court to settle the issue of the power of Congressional oversight vs. the power of the president's executive privilege.
Trump's presidency has revealed great vulnerabilities in our politics. Americans must want democracy badly enough if democracy is to survive. Despite our adulation of the framers, the Constitution works because Americans have made it work, not because of the brilliance of its design.
We're facing a critical presidential election. There must be serious soul-searching by all of us regarding who should have political power.
The question for November is why have so many Americans lost faith in democracy, and what must we do to restore that faith?
No coffee recommendation today, we're already waay too amped up from Trump's pardons of bad actors along with his threat to pardon convicted liar Roger Stone. Or, maybe his arguing in Colorado Springs that Obama should be impeached put you over the edge. Maybe you were interested in seeing Mike Bloomberg take the debate stage, only to find out that Bloomberg brought a wallet to a knife fight.
Bloomberg was probably wishing he had bought a podium in a better neighborhood!
It's time to get some distance from the circus in DC and forget about the shouting and posturing. It's time to take a break with a Saturday Soother. This week settle back and listen to Leonard Cohen's "Hallelujah" performed by the 5th grade chorus from PS22 in Staten Island, NYC. Wrongo promises you will be happy that you watched:
Think about how a public school music teacher reinvents his chorus every year with a new 5th grade class. This is one reason why we need to fund arts in public schools.
Those who read the Wrongologist in email can view the video here.