The Daily Escape: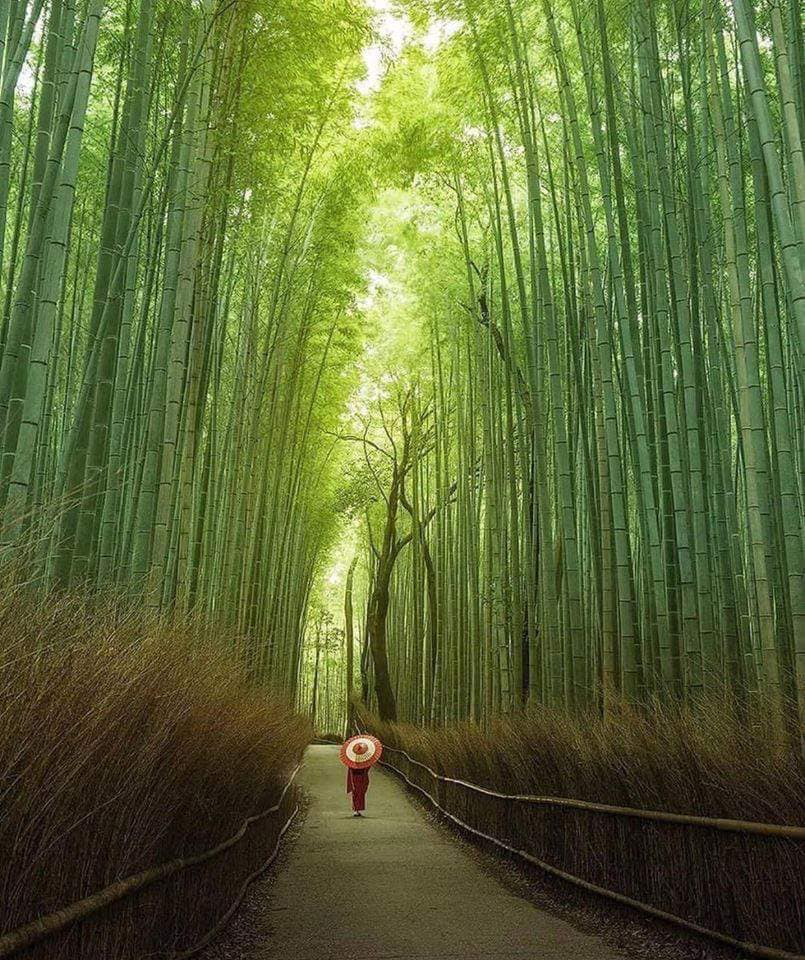 Arashiyama Bamboo Forest, Kyoto, Japan — hat tip to blog reader Ottho H. for finding this photo.
The first flakes of snow fell on the fields of Wrong on Friday. Temps were around 24° at daybreak, with winds of 20+ mph, so it felt like winter. We've emptied the fountain that birds have used since the spring as a source for drinking water. Other than cleaning leaves out of our gutters, which won't happen until most of the Oak leaves are down, we're buttoned up for winter.
What's not buttoned up is the 2020 Democratic presidential nomination. Michael Bloomberg has finally jumped in. The story is that originally he believed Biden would win, so he stayed out. But, most of us believed despite the polls, that Biden had no chance. First, because he is certain to blow himself up as he has in the past. Second, the smell around his son Hunter's role in Ukraine makes it difficult for Dad Joe to stake out a winning moral position opposed to Trump and his kids.
Back to Bloomberg, as the NYT's David Leonhardt says:
"I'll be surprised if Michael Bloomberg wins the Democratic nomination. We are living in a political era characterized by economic dissatisfaction and populism, and a 77-year-old Wall Street billionaire doesn't look like an obvious nominee for a left-of-center party during such a time."
It's difficult to know how this shakes out. First, is Bloomberg serious this time? He's been down the road this far at least twice before. Second, if he's in, who gets hurt?
Does Bloomberg hurt the moderates Biden and Buttigieg, while simultaneously helping Sanders and Warren? Is that his plan? Or is Bloomberg underestimating Biden? He can't hope to dent Biden's strength with non-whites, so what's his path to the nomination? Lots of questions.
Finally, in a follow-up to yesterday's column about Elizabeth Warren's Medicare for All plan (M4A), here's a Cook Political/Kaiser Family Foundation opinion poll about M4A in the key Midwestern battleground states: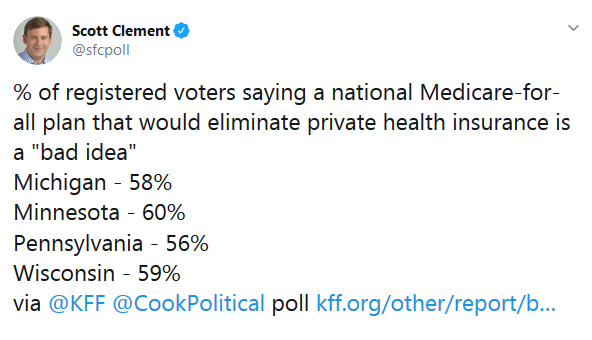 It doesn't seem that Warren's plan can be a winner in the Midwest.
We've had enough of politics and political problems for this week. It's time to build a fire and have a Saturday Soother. Let's start by brewing a mug of Bengal Spice Tea from Celestial Seasonings. Wrongo prefers his with a side of single malt. Now, sit by the fire and contemplate where all of your winter jackets and gloves are hiding.
Next, watch the embedded video by the Apartment Sessions, a Brooklyn NY-based multimedia artist collective that produces monthly videos with a rotating ensemble of NYC/New England-based professional musicians. This performance was recorded for Halloween on a moving "J" train in the NYC subway. They perform Stevie Wonder's "Sir Duke", with Ben Levin on the Telecaster. Wrongo knows that few people click through to watch the video, but today's is a must watch.
It's the most fun any of us are likely to have in the NYC subway:
Stand clear of the closing doors please.
Those who read the Wrongologist in email can view the video here.