The Daily Escape: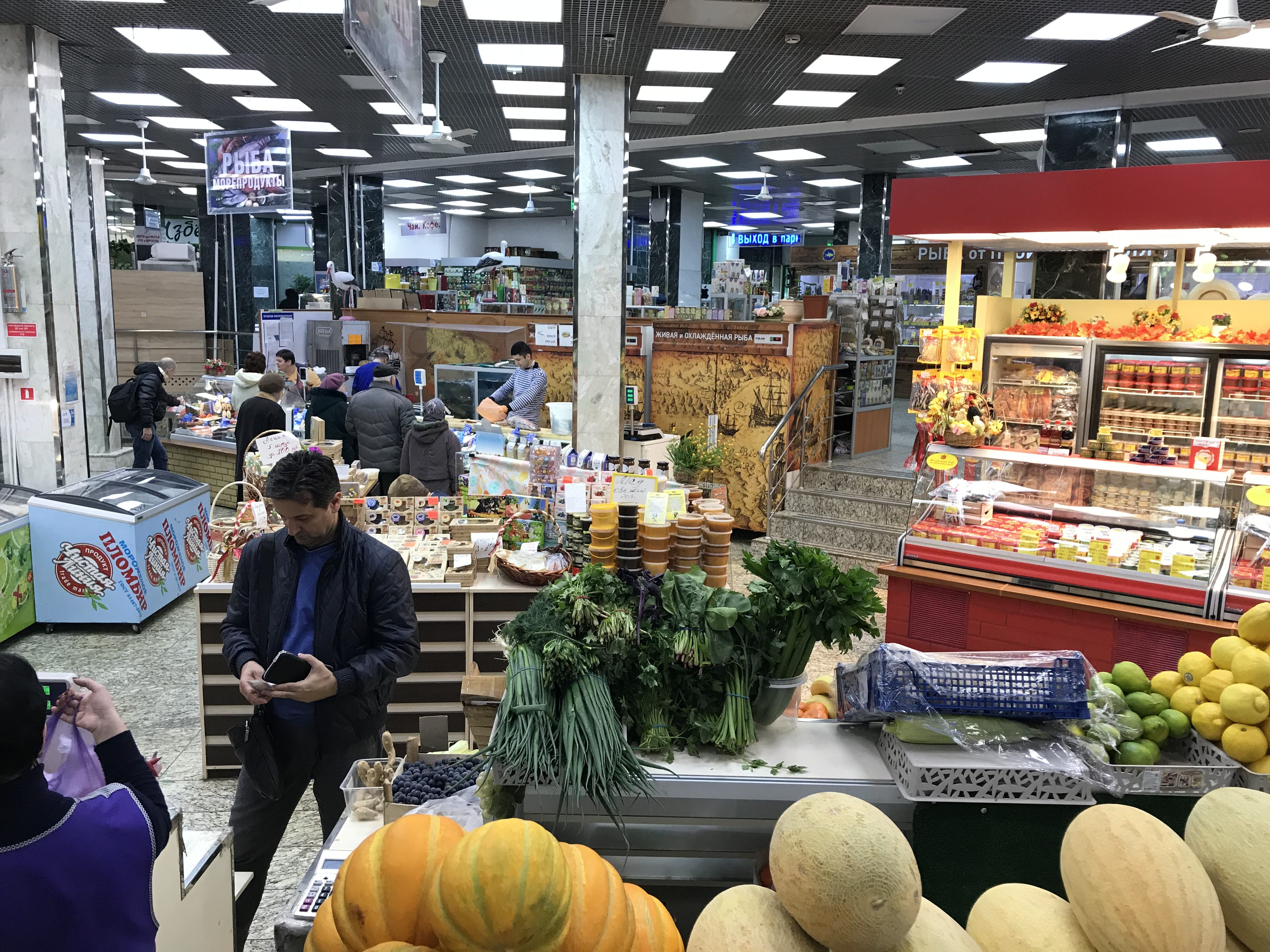 Moscow supermarket – October 2018 photo by Wrongo
The two topics in the headline are not related.
Wrongo and Ms. Right are back in the US, jet-lagged, and at home in the Mansion of Wrong. Our Russia trip was an eye-opener. In St. Petersburg and Moscow at least, Russia seems to be a wealthy country by global standards. People seem to be well-informed about their history, and about the current geopolitical climate in the west. They are consummate consumers.
We saw quite a few churches, but the Russians we spoke with didn't seem to put much emphasis on their faith. Increasing their income and getting ahead in a career sense seemed to be the primary thing that interested them. "Pragmatic" best describes the people we met. They are strivers, and hope that their government won't screw up what the citizens finally have going for them.
Mostly, we were struck by how similar the Russians we met are to the average American. We had lunch with a couple in Uglich, a poor town of about 30k residents that is about 125 miles north of Moscow. The town hasn't benefited from the 18-year economic expansion in the Russian Federation, and has unemployment in the 25% range. It also has a declining population, and crumbling infrastructure.
The couple we met had both lost their jobs in the 1985 Perestroika period under Gorbachev. Thirty-three years later, the husband has a part-time government job, the wife is unemployed. They grow most of their food in their ¼ acre garden. Their refrigerator is covered with pictures of the grandkids, who visit every few weeks.
Their message to us was that people everywhere have the same hopes and dreams, but the politicians always want to demonize the outsiders.
We returned to American just in time to start calling Brett Kavanaugh "Mr. Justice Kavanaugh".
It's not worth dwelling on his confirmation process, or repeating stale arguments. It is time to gather ourselves, to register non-voters, and turn out all the votes we can on November 6.
It also isn't the time to overthink the closing arguments for November, despite polls that show Republicans being energized by the Kavanaugh confirmation. But, it is important to understand GOP messaging for the midterms. From the WaPo's article, 'An angry mob': Republicans work to recast Democratic protests as out-of-control anarchy:
Weeks ahead of the midterm elections, Republicans have cast the Trump resistance movement as "an angry mob," a term used by many of them to describe a faceless amalgamation of forces that they say threaten the country's order and, they hope, energize their voters.
Think back to the Tea Party protestors who disrupted town hall meetings in 2009. From today's GOP viewpoint, they were just good citizens exercising their First Amendment rights. And all those people who chant "Lock her up!" at the encouragement of their dear leader? They really don't mean anything by that, they're also exercising their right to free speech.
But when a few liberals pound on the doors of the Supreme Court, that's mob behavior, and it can't be tolerated. In Trump World, crowds of marching alt-right men with tiki torches = some very fine people.
And crowds of protesting women in Washington = angry mob.
We should remember that the American Revolution wasn't a polite discussion; it involved mobs making a point, too.
Democrats are on the edge of winning the House. Before Kavanaugh, they had a long-shot chance at taking the Senate. Right now, Dems need to be smart. Richard Nixon won because he scared Middle America with pictures of immoral hippies who were demonstrating against the Vietnam War.
Let's assume that those of us who are already energized to vote can work to figure out how to reach those who are only half paying attention, or who plan to stay on the fence all the way until Election Day.
It is clear that accusations of the type made by Dr. Ford don't resonate with GOP voters. Roy Moore's near-pedophilia didn't seem to change any Republican minds in Georgia. Whenever a Republican is under attack by the liberals, it's always the time for the rest of them to circle the wagons.
There is no single, lock-step message that Dems should use to take both Houses in November. The best antidote for those "Energized by Kavanaugh" Republicans is for the rest of us to get, or stay, more energized.
There is zero to be complacent about. The Dems could remain in the minority in both Houses after the mid-terms if they fail to turn out their voters in November.