The Daily Escape: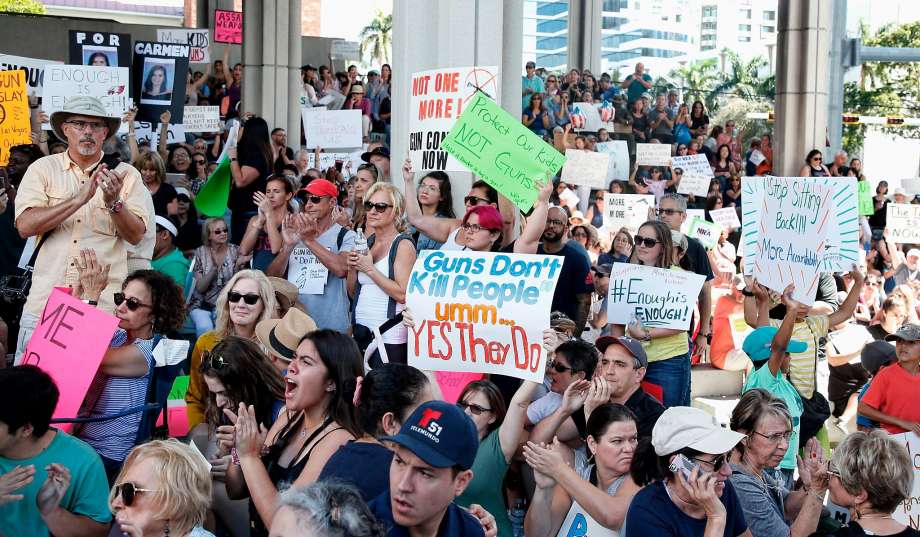 Gun Protest on Sunday in Ft. Lauderdale FL.
Trump linked two events last week, the shooting in Parkland, FL, and the Mueller indictments of 13 Russians for meddling in our election process, failing at both.
First, the Muller investigation. Trump suggested Saturday that the FBI failed to stop the Florida school shooting because it's spending too much time on the Russia investigation: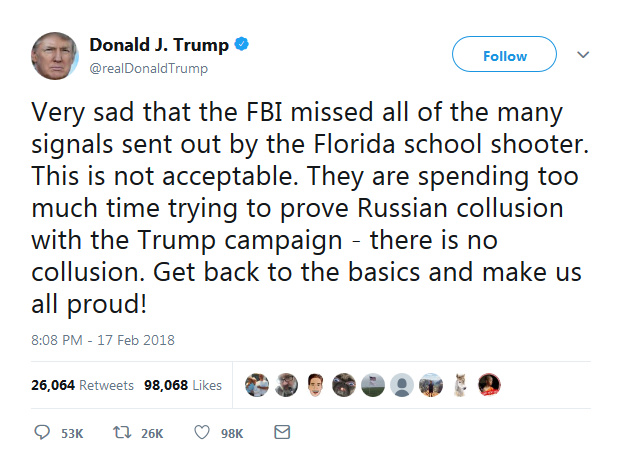 We can agree that the FBI was derelict in investigating the tip about Nikolas Cruz. However, we can't say that the Parkland shooting, or any other for that matter, could have been stopped. The Feds can't foresee the future. This was another Trump ploy to discredit the FBI and the Mueller investigation as its work begins to bite deeply into the issues it was formed to investigate.
Trump tweeted on Sunday that the investigations into Russian meddling are creating chaos and divisions in the US. He said: "They are laughing their asses off in Moscow. Get smart America!"
On Sunday, David Frum said this in the Atlantic: (emphasis by Wrongo)
It's worth thinking about what a patriotic president would have done in Trump's situation. He would be leading the investigation himself. He would be scouring his own campaign—doing everything in his power to reassure the country that whatever the Russians may or may not have done, his government owed Putin nothing… Above all, he would be leading the demand for changes to election laws and practices, including holding Facebook to account for its negligence.
Why are Trump's reactions so off the mark? Why is The Donald so defensive about something that is of ultimate importance, the integrity of our election process? Shouldn't that be of great interest to anyone who has sworn to defend the Constitution?
Second, students from the Marjory Stoneman Douglas High School rallied in southern Florida to protest how the lack of gun regulations affects their lives. One student, Emma Gonzales, told the crowd:
In February of 2017, one year ago, President Trump repealed an Obama-era regulation that would have made it easier to block the sale of firearms to people with certain mental illnesses…Republican Senator Chuck Grassley of Iowa was the sole sponsor on this bill that stops the FBI from performing background checks on people adjudicated to be mentally ill and now he's stating for the record, 'Well, it's a shame the FBI isn't doing background checks on these mentally ill people.' Well, duh. You took that opportunity away last year.
Here's what Grassley actually said after the Florida shootings:
We have not done a very good job of making sure that people that have mental reasons for not being able to handle a gun getting their name into the FBI files and we need to concentrate on that.
Grassley twists himself into a pretzel, trying to blame the FBI for what Grassley himself did. Who has these ethics?
Another Parkland student, Cameron Kasky, told CNN that many Republicans are only concerned with things like weddings cakes at same-sex weddings:
There is a segment of this society that will shrug this off and send their thoughts and prayers but march for hours over a rainbow wedding cake…
High school kids in Florida are standing up to the President and the Congress. Teenagers are unerring in calling out hypocrisy. Their tolerance for it is lower than that of adults, too. This may be the stone that starts the landslide against the Second Amendment absolutists in Washington. Let's hope so.
Time to help those Florida teens wake up Trump and Congress. Wake them up to the need to ban assault weapons. To have background checks for all gun buyers, to have liability insurance for every gun owned. To help them wake up, here is Pearl Jam with "Jeremy" from their 1991 debut album "Ten". The song was inspired by a newspaper article Eddie Vedder read about a high school student who shot himself in front of his English class:
Sample Lyric:
Dead lay in pools of maroon below
Daddy didn't give attention
To the fact that mommy didn't care
King Jeremy the wicked
Ruled his world
Jeremy spoke in class today
Jeremy spoke in class today
Clearly I remember
Pickin' on the boy
Seemed a harmless little fuck
But we unleashed a lion
Those who read the Wrongologist in email can view the video here.



Category:
2016 Election
,
Abandonment of Middle Class
,
Culture Wars
,
Daily Escape
,
Dickitude
,
Domestic Surveillance
,
Guns in America
,
Monday Wake Up Call
,
Playlist
,
Russia Investigation
,
Second Amendment Absolutism
,
The Presidency
,
Trump's War With Truth
,
US/Russia Relationship