The Daily Escape: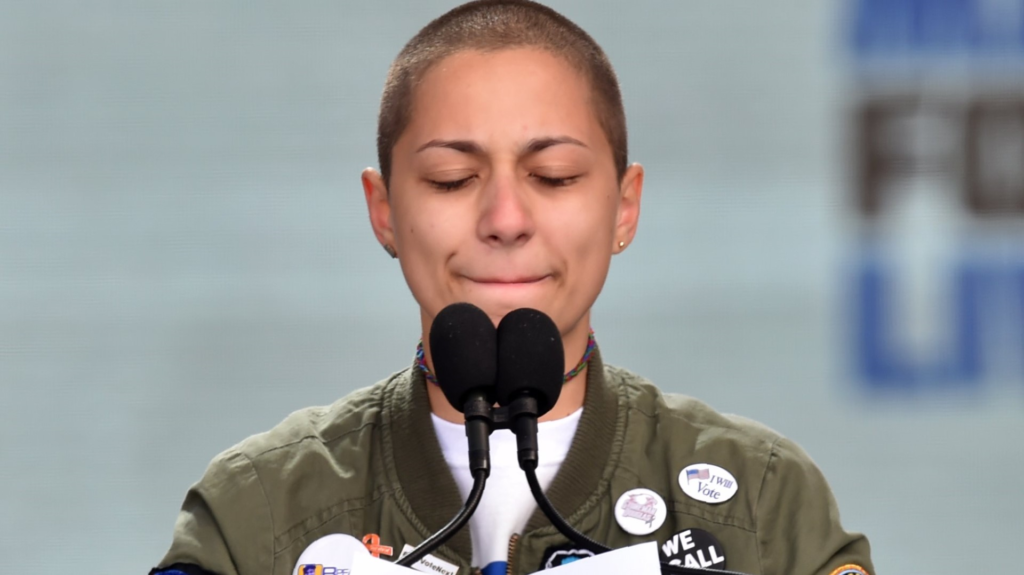 Emma González during her silence at the March for Our Lives
Emma González spoke for just under two minutes on Saturday before tens of thousands of demonstrators at the March for Our Lives rally in Washington, describing the effects of gun violence in emotional detail and reciting the names of classmates who had been killed.

Then she said nothing for four minutes and 26 seconds.
It was uncomfortable for many in the audience. Then a timer went off, and she said:
Since the time that I came out here, it has been six minutes and 20 seconds. The shooter has ceased shooting, and will soon abandon his rifle, blend in with the students as they escape, and walk free for an hour before arrest. Fight for your lives, before its someone else's job,
Wrongo likes this analysis by Melissa Byrnes at Lawyers, Guns & Money: (brackets by Wrongo)
[Her silence] It is the loudest call to action I have heard in a long time. We need to be unsettled. We need to question our assumptions about what is possible. We need pay attention to the silent woman who insists that we hear the multitude of silences of those we've failed. We need to recognize when that woman is commanding us to listen. We need to rethink what leadership looks and sounds like.

Because this is a woman I am ready to follow.
There is reason to hope that these kids will drive change in our politics. They have stepped into a vacuum caused by our divided politics. They shouldn't have had to do this, it was our job, and we have failed.
Now, we can't just become their passive admirers. We have to participate in this movement for political and social change. On the one hand, we are being led by an amazingly courageous person in Washington DC. And on the other, your titular leader, Donald Trump, chose to go golfing in Florida this weekend.
Remember this in November.
For the first time since Trump's election, we are seeing how issues like gun control, #metoo, BLM and the frustration caused by economic inequality are melding together in a leftward political tilt.
It's way past time for Trump and politicians on all sides, who purposefully make no progress on the great issues of the day, to wake up, listen and ACT!
To help them wake up, here is Ed Sheeran with his 2017 song "What Do I Know"? Sheeran says that his dad's advice was to never mention politics, never mention religion and never get involved in other people's battles. From Sheeran:
The song 'What Do I Know' was me looking at the world and being like 'we aren't doing too well are we?' and writing a song about it…
Listen up:
Sample Lyrics:
The revolution's coming, it's a minute away
I saw people marching in the streets today
You know we are made up of love and hate
But both of them are balanced on a razor blade
 I'll paint the picture let me set the scene,
You know the future's in the hands of you and me
So let's all get together, we can all be free
Spread love and understanding positivity
 Everybody's talking about exponential growth
And the stock market crashing and their portfolios
While I'll be sitting here with a song that I wrote
Saying love could change the world in a moment
But what do I know?
Those who read the Wrongologist in email can view the video here.
https://www.theguardian.com/us-news/video/2018/mar/24/emma-gonzalezs-powerful-march-for-our-lives-speech-in-full-video



Category:
2016 Election
,
Anger in Politics
,
Congress
,
Daily Escape
,
Distrust of Government
,
Domestic Policy
,
Guns in America
,
Monday Wake Up Call
,
Playlist
,
Political Power of Women
,
Politics
,
Second Amendment
,
Society
,
Transformational Ideas