The Daily Escape:
Rakotz Bridge, Kromlauer Park, Germany via @archpics
With the press busy mourning the deaths of Kate Spade and Anthony Bourdain, you probably missed a couple of news stories about press freedom.
First, on Thursday night, the DOJ unsealed an indictment of James Wolfe, the long-time Director of Security for the Senate Intelligence Committee. Wolfe, a former Army intelligence analyst, had worked for the committee in a nonpartisan capacity for nearly 30 years. He is accused of one count of false statements to the FBI. The indictment alleges that he lied about his conversation with four journalists, Ali Watkins of the NYT, and three others.
The NYT revealed that Watkins, who had a three-plus year relationship with Wolfe, has had years of her communications subpoenaed. The DOJ obtained her subscriber information, and additional information from her phone.
The subscriber information that can be obtained by the DOJ is invasive. It includes your name, financial and other contact information, and IP and device addresses that allow them to map out all the communications a person uses.
It gives the government all of a journalist's sources.
And the DOJ also sought and received Ali Watkins' her email from when she was an undergraduate at Temple. She graduated in 2014. She broke her first national security story as a senior in college, so perhaps her school emails are relevant to the government's investigation.
But this breach of the reporter/source privilege needs to explained. The government must delineate the boundary of what is, and isn't acceptable in terms of vacuuming up a reporter's source information.
It is important that counterintelligence sources and information be kept secret. James Wolfe's motives are unclear, since he shared information with other reporters that he wasn't having an affair with.
As of now, we don't know if there was actual damage to an investigation.
The second item is the report, originally in April, that the Department of Homeland Security (DHS) intends to list and track  290,000 news outlets, journalists, bloggers, and influencers following select news stories. Their intent is to share those data with federal, state, local and private partners.
Naturally, there was pushback by news organizations, enough for the DHS's Tyler Houlton to say: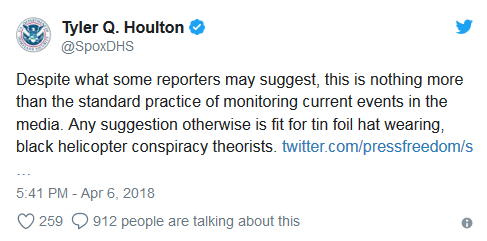 Sure. Only a crank could possibly have an issue with one of the least transparent government agencies, the one with an Orwellian name, tracking and cataloging journalists. This amounts to mass monitoring of the press by the state.
So, two attacks on press freedom by the Trumpets, one by DOJ, and the other by DHS.
Remember, the government now has virtually unlimited processing power, bandwidth, and storage, and with that: Anything that can be monitored will be monitored.
This wasn't feasible in the past, but now it is. We are at the point when privacy, as we have understood it in America, is over. For most of our country's first 200 years, the government accepted that reporters would never reveal their sources, and by and large, no prosecutor and no judge would force them to try. It was a sacred protection guaranteed by the First Amendment.
Well, that's changed. And it isn't just the hard right bunch currently running the country. They are building on the efforts by Obama's DOJ to seize journalists' emails using the Espionage Act, to increase surveillance pressure on journalists and prosecute leakers of classified secrets.
It will take another court case similar to the Pentagon Papers to stem this undermining of press freedom. Good luck with that, given the current and likely future makeup of the Supreme Court.
Trump must respect and obey the First Amendment, in its entirety. The First Amendment is the core of our free society. Most whistle blowers are heroes.
This is how freedom is lost a little at a time, until one day we'll wake up and find out that we're no longer free. Technology has made Big Brother possible, but it is Congress that has made it legal.
Only pushback from freedom loving citizens will prevent it.
Wow! We really need a Saturday soothing. So, get off the couch, and brew up a cup of Kiniyota Espresso by Madison, Wisconsin's JBC Coffee Roasters. It is produced entirely of the heirloom Bourbon variety of Arabica. Then, taste its rich notes of stone fruit and dark chocolate ($17.60/12oz). Now, sit outside, hopefully in a shady spot, and listen to the Viola Concerto in G major by Georg Philipp Telemann. It was probably composed in 1715. It was the first concerto for Viola. Here, it is played by Midwest Young Artists Conservatory:
Someone said that the viola is like the cream in an Oreo cookie; sweet and creamy, while holding the top and the bottom together.
Those who read the Wrongologist in email can view the video here.



Category:
2016 Election
,
Congress
,
Cybersecurity
,
Daily Escape
,
Distrust of Government
,
Domestic Surveillance
,
First Amendment Freedoms
,
Loss of Transparency
,
Playlist
,
Privacy Issues
,
Technology
,
The Presidency
,
Trust of Government
,
US Constitution Under Threat