The Daily Escape: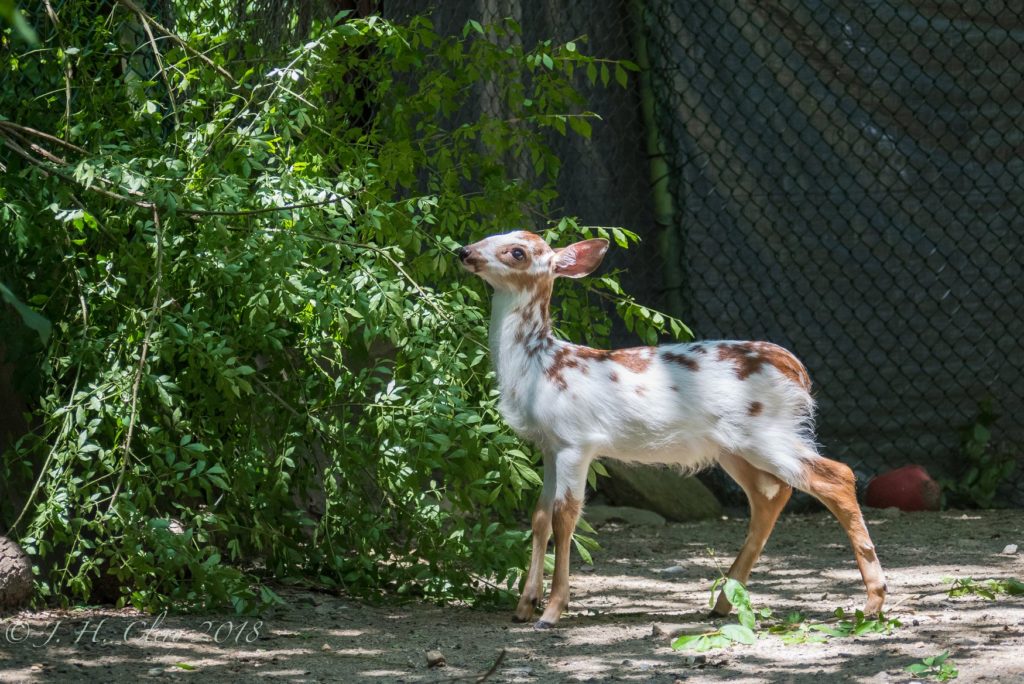 Piebald fawn at rescue center, Sherman CT – June, 2018 photo by JH Cleary
It was a week in which Wrongo rode the Cape Cod bike trails every day, got up at 4:15 am one day to get to Coast Guard Beach at high tide to surf cast for Striped Bass, and catch none. We ate very well, mostly seafood. We watched fireworks on the Cape Cod Bay side, which gave a great view of fireworks displays by at least 10 towns, from Boston around to Provincetown on the Cape.
We experienced all of this with kids and grandkids, it was a relaxing time.
One benefit was that we didn't see a newspaper or a newscast the entire week. But everyone's phones lit up with news about Scott Pruitt's walk off the stage in DC, the soccer kids in Thailand, and who would be Trump's pick for the Supreme Court.
But as we downshift into the weekend, Wrongo wants to talk about a big, bad idea that Democrats can't seem to stop talking about. It is "Abolish ICE", the Immigration and Customs Enforcement agency, that's a part of the Department of Homeland Security. ICE has been a part of our lives since 2003, when it was created in the government's reorganization after Sept. 11, 2001. But calls to abolish ICE take focus away from a winning issue for Democrats: Republicans separating asylum-seeking families at the border.
ICE doesn't do that; it's being done by Customs and Border Protection, who run the Border Patrol. As the WaPo points out, yelling about abolishing ICE is a gift to Republicans in November. Karen Tumulty says even serious Democratic contenders for president in 2020 are saying it:
ICE has become a deportation force, Sen. Kirsten Gillibrand (D-N.Y.) told CNN. Get rid of it. Start over. Reimagine it.
Well, Wrongo thinks she's a serious candidate.
It's clear that ICE and the Border Patrol are staffed mostly with goons who would just as soon trample your Constitutional rights as they would separate a kid from an immigrant. But, we shouldn't be thinking of replacing them, so much as adopting our own "zero tolerance" policy for their bad behavior and constant dickitude.
Since Democrats don't have a clear solution for reforming ICE, they should drop the issue and focus on the child separation question, where the law and public opinion is on their side. Otherwise, calls to eliminate ICE will be spun by Republicans as undermining the security of the nation's borders.
Also, Democrats' calls to abolish ICE distracts from the real villain in the immigration crisis and the separation of immigrant families – Donald Trump. ICE just executes orders received from the Trump administration. ICE can certainly be improved, but the function ICE performs is necessary to the security of this country. Besides, every nation has organizations that manage immigration and customs.
Trump is the person who initiated the program to separate immigrant families. Dems shouldn't water down his culpability with a misplaced focus on ICE.
Ok, time to see if we can get soothed a little while we wait to see who the Trump Supreme Court nominee will be. Let's start by brewing a big cup of Tanzanian Peaberry coffee ($15.75/lb.) from Coffee Bean Direct. They say that its flavor is punctuated by an intoxicating, chocolaty aroma with a rich, winey body that is surprisingly versatile and perfect for any time of day.
Sounds like marketing lingo to Wrongo, but, go for it!
Now, find a quiet air-conditioned spot with a comfortable chair and listen to "Concierto de Aranjuez" written in 1939 by Joaquín Rodrigo. Here we see it from the 1996 movie "Brassed Off", which is set 10  years after a strike in 1984–85 by the National Union of Mineworkers in Britain. At the time of the movie, coal mines (called pits in Britain) are being closed. One of the mines scheduled to close has a brass band. The movie shows the circumstances of the coal miners who are losing their jobs through their band's performances.
The soundtrack for the film was provided by the Grimethorpe Colliery Band:
This might possibly foreshadow what will happen to unions in America with last week's Supreme Court decision saying that government workers who choose not to join unions, do not have to pay for collective bargaining. This makes them free riders and dramatically cuts the money that these unions have to operate with.
Those who read the Wrongologist in email can view the video here.