(Wrongo will be taking the next few days off. He has blog fatigue, and also needs to work on some deferred maintenance here on the fields of Wrong. He'll be back later this week, unless events require him to jump back in sooner.)
The Daily Escape: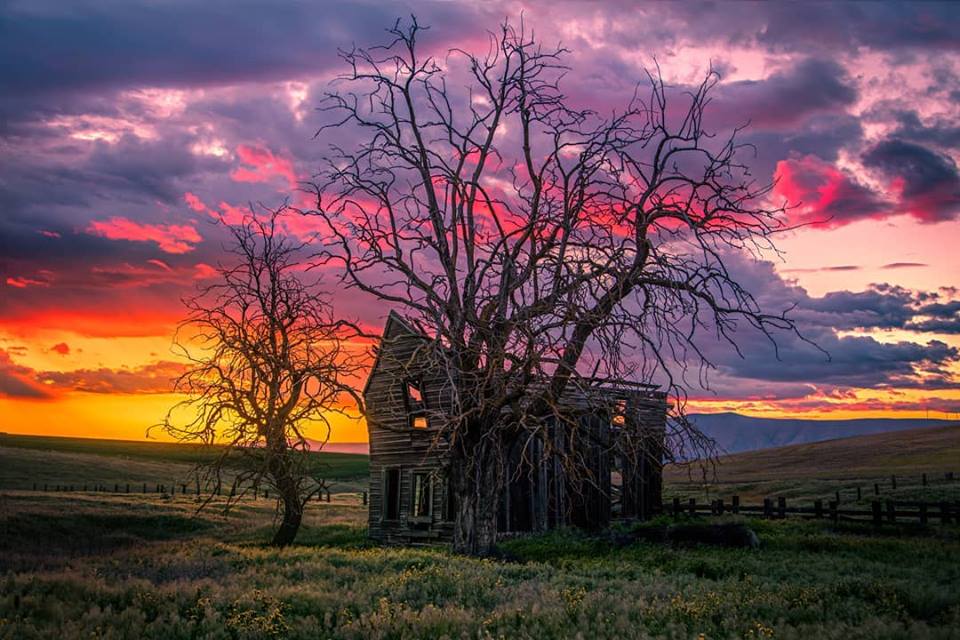 Abandoned house, Wasco, OR – 2018 photo by Shaun Peterson.
We wake up today to Yanis Varoufakis, the former finance minister of Greece's, review of "Crashed: How a Decade of Financial Crisis Changed the World" by Adam Tooze posted in The Guardian. Tooze is an economic historian at Columbia University in NYC.
This isn't a review of Tooze's book, which sounds fascinating. Rather, it's a meditation on one of Varoufakis's ideas in his review of the book. Varoufakis says: (emphasis by Wrongo)
Every so often, humanity manages genuinely to surprise itself. Events to which we had previously assigned zero probability push us into what the ancient Greeks referred to as aporia: intense bafflement urgently demanding a new model of the world we live in. The financial crash of 2008 was such a moment. Suddenly the world ceased to make sense in terms of what, a few weeks before, passed as conventional wisdom – even McDonald's, for goodness sake, could not secure an overdraft from Bank of America!
Tooze focuses on the causes of the Great Recession in 2008, and the implications for our 10-year long economic recovery. He observes that neoliberalism's mantra about markets had to be shelved to save the US economy: (emphasis by Wrongo)
Whereas since the 1970s the incessant mantra of the spokespeople of the financial industry had been free markets and light touch regulation, what they were now demanding was the mobilization of all of the resources of the state to save society's financial infrastructure from a threat of systemic implosion, a threat they likened to a military emergency.
We have no idea where the current aporia will take us, particularly since this "moment" has already lasted 10 years, and the hard-won economic progress may be easily reversed. Varoufakis continues:
Moments of aporia produce collective efforts to respond to our bewilderment. In the late 18th century, the pains of the Industrial Revolution begat free-market economics. The crisis of 1848 brought us the Marxist tradition. The great depression produced both Keynes's General Theory and Friedman's monetarism.
We are clearly at a point of intense bewilderment. What direction is correct for our economy and our society? The concept of aporia may explain why no real solutions have emerged in the past 10 years.
Tooze thinks that the world economy today is at a similar point to where it was in 1914. That is, we're headed to a global war based on the competition of the advanced economies for resources (this time, it's markets, water and energy), while the Middle East is at war, competing to determine which variant of Islam will be transcendent.
Varoufakis thinks we are more likely to be where we were in 1930, just after the crash. Since 2008, like back then, income inequality has continued to grow, and we have a potential fascist movement in the wings. Varoufakis asks if today's politicians have the vision, or the ability, to corral corporatist power on one side, and the emerging nationalist movement on the other.
We're into the post-2008 world, one in which the owners of society, the largest corporations along with the international capitalists, portray austerity as our only answer. They stress the need for continued globalization and the upward transfer of wealth via tax cuts as the best chance to survive and prosper after the 2008 crash.
This is global capitalism at work: Continuing to extract all the wealth that it can in every economy with a compliant government.
People are getting near a breaking point. They want a better life, and they want to regain political control. The challenge for capitalists and their politicians is: Can they continue to distract the base, keeping them compliant with corporatism and the financialization of our capital markets?
Capitalism ought to fear nationalism, because a nationalist movement could easily rally the poor and the middle class against Wall Street and corporate America. But, for the moment, capitalism seems to be stirring the nationalist pot. To what end?
Whether a fight against Wall Street and Corporatism will emerge, whether it will evolve into a fascist-style rallying cry remains to be seen.
We're too early in this iteration of aporia to know or to see where we are going clearly. We need an alternative to today's global capitalism because the track we're on could easily turn the world into a gigantic Easter Island-like landscape.
What alternative to today's capitalism (if any) will develop? Will ordinary people have some say in the alternative?
Stay tuned.