The Daily Escape: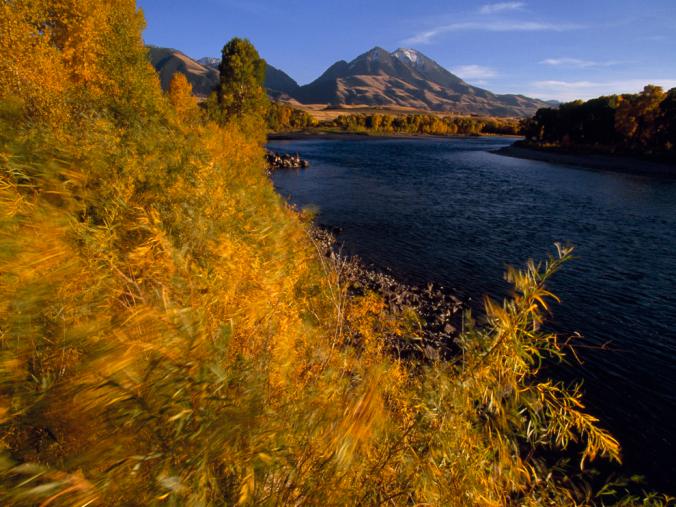 Fall in Paradise Valley, Yellowstone NP – photo by Annie Griffiths
The mid-terms are coming, and we are having difficulty focusing on some important issues, because America has a short attention span, and we've been Kavanaugh 'ed and Khashoggi 'ed so much lately.
Two issues that are linked are the amazing deficit caused by the Trump tax cuts, and the moves being plotted by Mitch McConnell, Paul Ryan and others to cut Medicare, Medicaid and Social Security.
Let's start with tax revenues. It was clear to critics that the 2017 GOP tax cut was going to quickly increase the budget deficit and add $ trillions of the national debt, and here it is:
The federal deficit grew by nearly $800 billion over the first fiscal year of Trump's presidency, during which the Republican Congress passed a tax cut targeted mostly to corporations and the wealthy, which is projected to add more than $1 trillion to the deficit over the next 10 years.
And it didn't take long for Republicans to insist that the deficits were actually caused by Social Security, Medicare, and Medicaid, not their tax cuts for corporations and the wealthy. From Vox:
Fresh off the news that the deficit is increasing under President Donald Trump, Senate Majority Leader Mitch McConnell told Bloomberg News that Congress should target Social Security and Medicare for cuts to address the growing federal debt.
The White House and GOP leaders promised America that the tax cuts would pay for themselves, but they haven't. The growing federal deficit hasn't caused Republican leaders to reconsider their tax policy. Instead, they argue that entitlement reform — Republican-speak for cuts to social safety net programs — is what's really needed to address the federal deficit. From McConnell's interview with Bloomberg this week:
It's disappointing, but it's not a Republican problem….It's a bipartisan problem: unwillingness to address the real drivers of the debt by doing anything to adjust those programs to the demographics of America in the future.
Republicans have opposed Social Security and Medicare since they were created. But because these programs enjoy overwhelming support from the American people, they would not normally talk about their plans for benefit cuts three weeks before an election.
But, they are doing just that.
This is a real issue, since those programs make up a large share of federal spending: Medicare was 15% of the federal budget in 2017, and it's projected to grow to 18% by 2028. Social Security is a bigger chunk of the budget (24% in 2016), and our aging population will put a greater strain on the program. Here is the budget breakdown: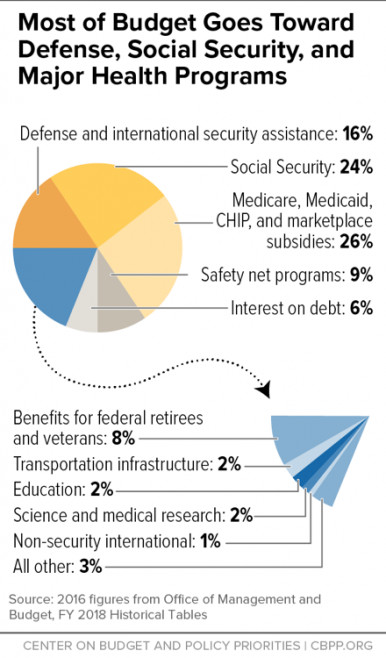 Democrats want to expand, not cut these programs. Republicans may see their last, best chance to cut them slipping away with the mid-terms. They seem determined not to let that happen, so this will be a big issue in the lame duck sessions. The GOP will use the cost of their tax giveaways as the excuse to do what they have wanted to do to social programs all along.
If the GOP is talking like this before the mid-terms, imagine the carnage if they keep control of both Houses of Congress!
People who want to defend Social Security and Medicare better work hard to get out the vote in November. And the latest news about the House isn't encouraging. Larry Sabato's Crystal Ball reports that Democrats aren't there yet:
A race-by-race analysis of Democratic House targets shows the party is close to winning the majority, but they do not have it put away, in our judgment, with Election Day less than three weeks away.

Barring a big, positive late change in the political environment in favor of Republicans, the bare minimum for Democratic House gains is in the mid-to-high teens. The needed 23-seat net gain is not that far beyond that and there are many different paths Democrats can take to achieve it.
He says Dems can count on 18, but need 23…
Assuming that the Dems won't go along with the GOP's planned social spending cuts, Republicans will try to blame Nancy Pelosi, Chuck Schumer and the Democrats, assuming their cuts to social programs fail.
Republicans will say "Democrats plan to raise taxes on tens of millions of middle-class Americans" to cut the deficit, and that's true. But, it would be just a part of the package of fiscal moves to cut the deficit, with the primary focus on clawing back some of the massive Republican corporate tax cuts.
Democrats need to talk this up in the next three weeks to counter the GOP's clearly articulated game plan.