The Daily Escape: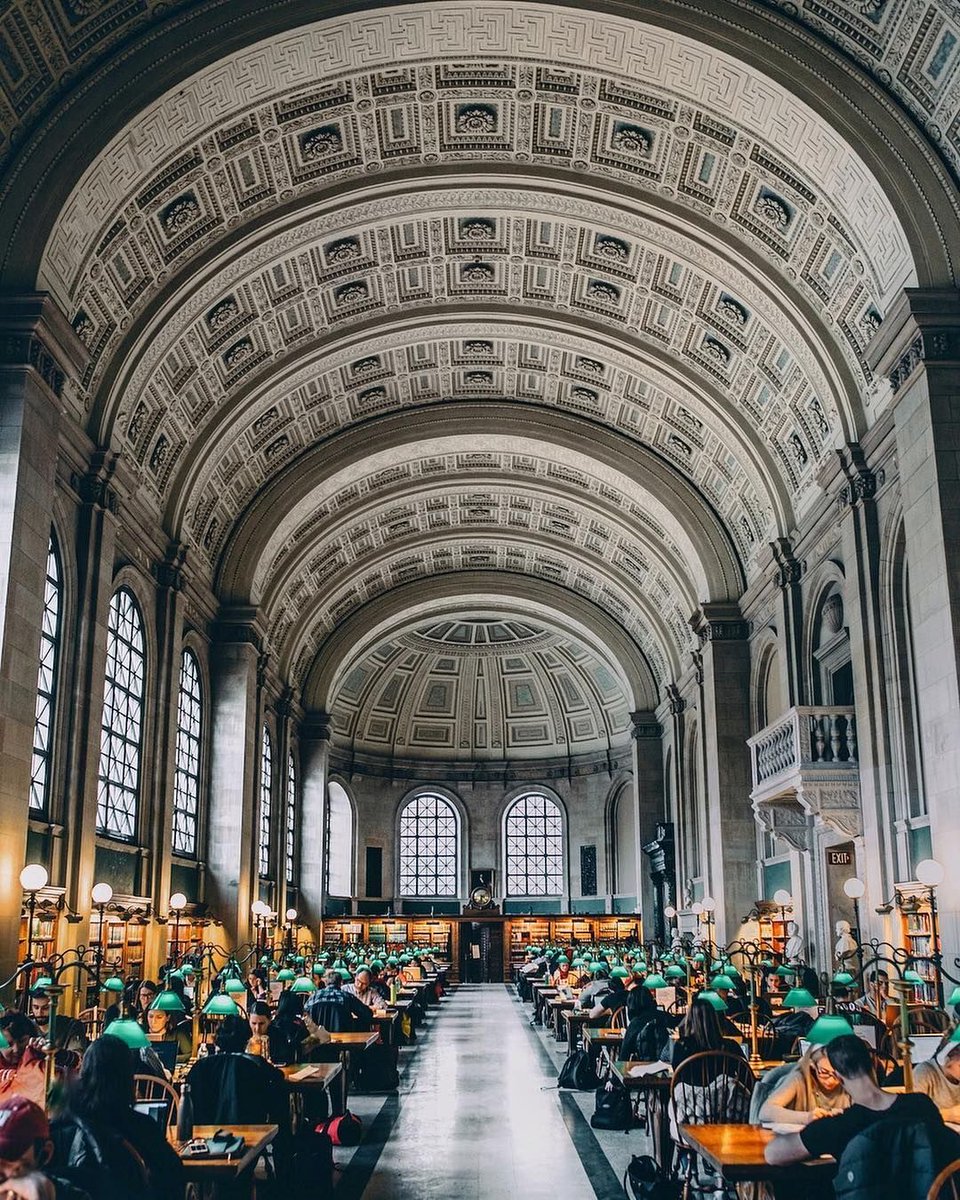 Boston Public Library – photo by joethommas
The NYT's David Brooks:
We're enjoying one of the best economies of our lifetime. The GDP is growing at about 3.5% a year, which is about a point faster than many experts thought possible. We're in the middle of the second-longest recovery in American history, and if it lasts for another eight months it will be the longest ever.
So everything's good, no? Not really. More from Brooks: (emphasis by Wrongo)
Researchers with the Gallup-Sharecare Well-Being Index interviewed 160,000 adults in 2017 to ask about their financial security, social relationships, sense of purpose and connectedness to community. Last year turned out to be the worst year for well-being of any since the study began 10 years ago.
And people's faith in capitalism has declined, especially among the young. Only 45% of those between 18 and 29 see capitalism positively, a lower rate than in 2010.
Brooks' conclusion? It's not the economy, we all just need more community connections.
His is another attempt to dress up the now-failing neoliberal economics. Things look good today from some perspectives, but our economy is crushingly cruel from others. Brooks seems to think that millions of Americans are struggling to pay their rent or mortgage, education loans, health care insurance or buy groceries because they have failed to master the art of networking in their neighborhoods.
Alienation is behind the rise of Trumpism, and the rise of populism across the world. In that sense, Brooks is correct, but the leading cause of people's alienation is economic inequality.
And the leading cause of economic inequality is corporate America's free rein, supported by their helpmates in Washington. Last week, Wrongo wrote about the exceptional market concentration that has taken place in the US in the past few years. He suggested America needs a revitalized anti-trust initiative. In The Myth of Capitalism, authors Jonathan Tepper and Denise Hearns write:
Capitalism without competition is not capitalism.
For decades, most economists dismissed antitrust actions as superfluous, so long as consumers were not the victims of price-gouging. Monopoly capitalism is back, and it's harmful, even if a company's core product (like Google's and Facebook's) is free to consumers. As we wrote last week, there's excessive corporate concentration in most industries, including air travel, banking, beer, health insurance, cell service, and even in the funeral industry.
All of this has led to a huge and growing inequality gap. That means there is little or no economic security for a large and growing section of the American population. People see their communities stagnating, or dying. They feel hopeless, angry, and yes, alienated.
One consequence is that we've seen three years of declining life expectancy, linked to growing drug use and suicides. We seem to be on the edge of a social catastrophe.
But our real worry has to be political. People could become so desperate for change that they are willing to do anything to get it. The worry then, is that few vote and a minority elects a strong man populist leader, simply because he/she tells them what they want to hear. That leader can then go out and wreak havoc on our Constitutional Republic.
After that, anything could happen.
Despite what Brooks thinks, we don't have a crisis of connections. It's a crisis of poorly paying jobs, job insecurity, and poverty. When people look at their economic prospects, they despair for their children. Doesn't it matter that in America, health care, education, and transportation all lag behind other developed countries?
The unbridled ideology of free markets is the enemy. Our problem isn't that individual entrepreneurs went out and took all the gains for themselves, leaving the rest of us holding the bag. It's more about how neoliberal economics is used both by government and corporations to justify an anti-tax and anti-trust approach that has led to extreme wealth and income concentration in the top 1% of Americans.
The reality is that the nation's wealth has become the exclusive property of the already prosperous.
We need to wake up America! We have to stop for a second, and think about how we can dig out of this mess. When America bought in to FDR's New Deal programs 75 years ago, we entered an era we now think back on nostalgically as "great".
And it isn't enough to talk about how we can look to Sweden or Norway as economic models. Both have populations of under 10 million, and our society is far less homogeneous than theirs.
We need a uniquely American solution to this problem. It will involve reforming capitalism, starting with tax reform, and enforcing anti-trust legislation.